Samaritan's Purse volunteers in Texas are acting as the hands and feet of Jesus to help hurting homeowners
Jammie Ward woke up startled, her heart pounding. In her dream, she was swimming against the current in raging floodwaters, passing the tops of inundated houses.
Roused from her sleep, Jammie wondered if this was just a chance nightmare or if there was something deeper, more significant.
"I knew something of the floods that had just happened in Louisiana, but I hadn't gone to bed thinking about them, especially since I don't have cable and hadn't been watching the news," she explained. "So I believe God was trying to get my attention and that I had to do something."
In the morning, the prekindergarten teacher from Abbeville, Louisiana, began researching options to help flood victims. A friend from church told her about Samaritan's Purse, so Jammie went to our website and discovered that we had responded to floods in Bossier City and West Monroe, both about four hours away, as well as in Orange, Texas, about two hours away.
VOLUNTEERS NEEDED— FIND OUT MORE
"At first I was going to go to West Monroe, but since I'm on a tight budget as a teacher, the deployment to Orange was closer and that would save me gas money," she said. Once volunteers arrive at our host church, meals are provided and sleeping quarters are available.
Jammie invested three days of her Easter break to come serve in Jesus' Name. At the end of her first work day, she and the rest of the volunteer team had the privilege of seeing the homeowner give her heart to Jesus. The Billy Graham Rapid Response Team chaplain took great care in presenting the promises of the Gospel and how the homeowner could be forgiven of her sins because of what Jesus Christ accomplished through His death on the Cross.
"Denise didn't feel worthy and didn't feel loved, so to see her come to Christ and have that weight lifted off her because of how much God loved her was such a beautiful sight," Jammie said.
Blessed to Serve
Joey Sanchez also took advantage of the Easter holiday to come alongside people in Orange—his hometown. He attends Mauriceville Assembly of God Church, which is hosting Samaritan's Purse during this deployment, and the pastor there recruited Joey to help out.
"I always take a week's vacation around Easter so this was a great way to spend it this year," said Joey, who works as a machinist at a chemical plant in nearby Port Neches.
"When Hurricane Rita hit in 2005, we got hit real bad, and I had a big tree through my house, with limbs in my laundry room," Joey explained. "Me and my son couldn't do all the cleanup, so a friend from church came over, and it was good to have somebody help us. So it's been good to now come over here and serve somebody in need."
God also led Jeff Colvin to volunteer last week. A retired police officer from Conroe, Texas, he drove two hours up to Orange to spend a day helping with a mud-out—prepping a home to be repaired.
"When I was about 18 years old, my parents' home in Alvin, Texas, was flooded by days of heavy rain," Jeff said. "Several family members lost everything, so I know firsthand what this homeowner is going through."
Just like he did back in the late 1970s, Jeff worked on tearing out waterlogged sheetrock and insulation and ripping up damaged flooring.
"God has blessed me, so I'm thankful that He gives me the opportunity to help serve," he said. "The Lord motivated me to come to Orange. I'm glad to help when I can."
Called as Christians to Help
That sentiment was also expressed by sisters Trina and Lily Higgins and their father Stacy. They're from Port Arthur, Texas, about 40 minutes from Orange. Trina graduated from high school last year, and Lily is in the 11th grade.
"We're called as Christians to help people, so this was good," Trina said. "I had never done construction work before until last week. I loved it—tearing out sheet rock and paneling, and scraping floors. We had a blast."
Lily agreed. "Our parents trained us to look for opportunities to serve people, and I too liked construction work," she said.
VOLUNTEERS NEEDED— FIND OUT MORE
And serving alongside her dad? "It's fun," Lily said. "He's always there to encourage us."
Stacy voiced fatherly pride in his daughters. "It's really good to have them involved, allowing them the opportunity to walk out their faith and to bless others in their time of need."
That was also the case for Melissa Thompson and several of her colleagues. They work at Altus Emergency Center, a free-standing emergency room in Lumberton, also about 40 minutes away. Melissa has been a nurse there for the past two years. The dozen coworkers spent one morning on a mud-out at the home of Larry and Joyce Addison.
"Volunteering is in our blood, so to speak," Melissa said. "We can support people not only in the ER but also in the community.
"I'm grateful that I can be Jesus' hands and feet to communicate His love," she added.
College Students Learning to Serve
Students from Liberty University in Lynchburg, Virginia, have also traveled to Texas to serve during this deployment. Samaritan's Purse is making a concerted effort to recruit more students from Christian universities as well as from campus ministries.
"This outreach is still in its infancy, but we're encouraged and pleased with how this effort is progressing," said Jason Sutherland, key volunteers and relations manager for North American Ministries.
"College students bring a lot of enthusiasm and energy, and they're enjoying it, as well as gaining expertise, especially from our older volunteers," he added. "They're seeing ways they're able to get involved with missions right here in the United States. Our hope is that we can plant a seed that as they get out of school and get their first job, they'll take the time to serve nearby, something they can do the rest of their lives."
Please continue to pray for our disaster responses in Orange County, Texas; West Monroe, Louisiana; and Bossier City, Louisiana. We still have well over 350 open work orders between the three deployments (as of April 5). Praise the Lord that more than 150 homeowners have been helped and more than 40 individuals have received Jesus Christ as Lord and Savior since our work began in early March.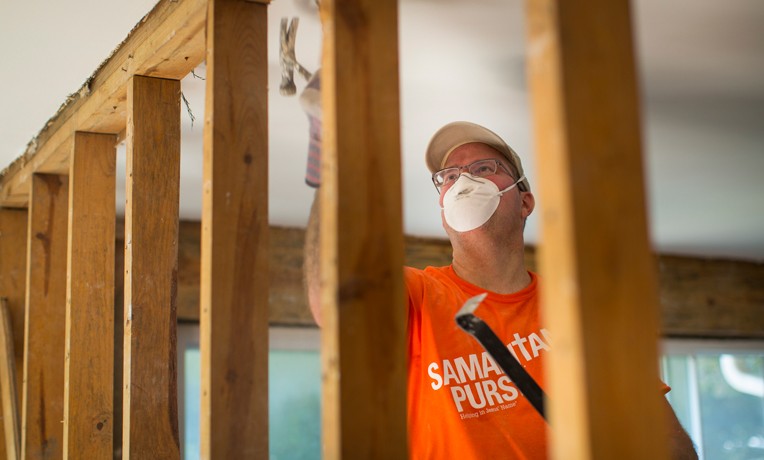 U.S. Disaster Relief
Samaritan's Purse mobilizes and equips thousands of volunteers to provide emergency aid to U.S. victims of wildfires, floods, tornadoes, hurricanes, and other natural disasters. In the aftermath of major storms, we often stay behind to rebuild houses for people with nowhere else to turn for help.
---
U.S. Disaster Relief 013622