Teams are out helping in Jesus' Name as California homeowners sift through the ashes.
U.S. Disaster Relief
013622
Learn more about volunteering by going to SPvolunteer.org.
Smoke still hangs in the air of Santa Cruz County, California, one month after the CZU Lightning Complex fires first struck the area, eventually burning thousands of acres and displacing more than 900 families. The small mountain towns' characteristic redwoods are painted even redder by streaks of fire retardant, and their lengthy branches are singed an eerie black.
"The whole state has been covered in smoke for the last 30 days," said Samaritan's Purse volunteer and local resident Mark Scianna. "This year is actually the worst fire season ever recorded."
In the wake of these fires, Samaritan's Purse deployed a Disaster Relief Unit on Sept. 12 from our West Coast Ministry Center in Fullerton, California. This tractor trailer, stocked with equipment and supplies, is pre-positioned there to enable us to quickly respond to natural disaster victims on the West Coast.
From our base of operations at Felton Bible Church, our volunteer teams have been diligently helping hurting families salvage personal belongings, sifting through the ashes for anything that may have survived the flames. The work is painstaking, both physically and emotionally.
One Family's Story
Dan and Rochelle Kelly always had a list of items to grab should they ever need to evacuate their home in the hills north of Santa Cruz. They had it down to a science, updating the list—including their dog, an heirloom teapot, and their wedding cake toppers—each year.
"We've packed up three times before this. One time we actually had it loaded in the car ready to get out but then they said it was OK," said Dan.
As large leaves crisp with extreme heat began to fall on their property, they knew that the fire had to be close and that it was time to put their list into action. "This was the first time we actually packed things up and left."
Still, they never thought that they were actually saying goodbye to their home of more than 40 years. "You have the plan and you pack up the car. But you really expect to come back and find your house still there. You never really think about it burning down like this did," Rochelle said.
The couple returned just days ago to find their home and the majority of their 20 acres of land completely destroyed by the blaze. Although they were able to take a majority of their irreplaceable belongings with them when they evacuated, they were immediately overcome with the emotional and physical burden of having to dig through the ashes of their home for anything worth saving.
"We said 'how are we really going to go through this stuff?' On top of everything else, it was just insurmountable to us," Rochelle said.
Not even hours later, a chance encounter led them to Samaritan's Purse and our staff provided Dan and Rochelle with their first glimmer of hope.
"It is such a blessing to give and see the emotions of these people that have had such a huge loss in their life," volunteer Mark said. "If we can just add a little glimmer of hope and joy, for just even a few hours, it warms my heart, it warms all of our hearts."
Samaritan's Purse volunteers spent two days working on the Kellys' home, carefully combing through the ashes to recover items like holiday decorations, jewelry, and Dan's coin collection. Most importantly, our team was able to remind the family that God loves them and they are not forgotten.
"To find out about you was a God-send," Rochelle said. "That is just taking such a burden off of us with helping us get that done. I'm just amazed that you guys are around. It's really emotional; so, to have someone do the labor and then we get to see what's coming out of it, just feels really good."
Please continue to pray for our teams as they provide physical assistance and spiritual encouragement in Jesus' Name to hurting families in Santa Cruz, California, and Medford, Oregon.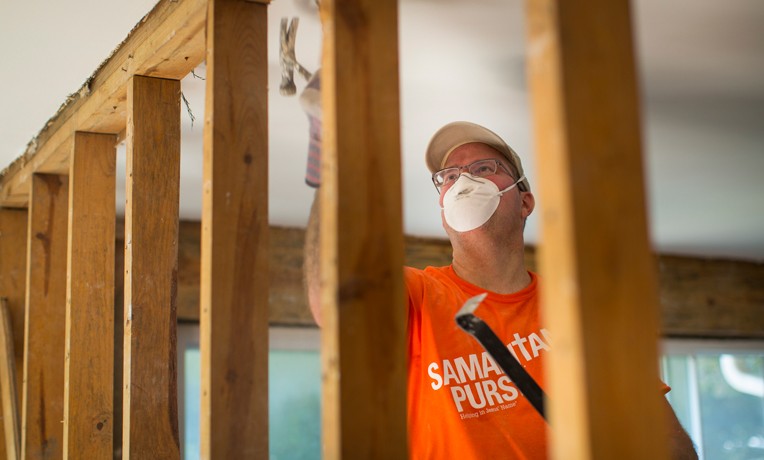 U.S. Disaster Relief
Samaritan's Purse mobilizes and equips thousands of volunteers to provide emergency aid to U.S. victims of wildfires, floods, tornadoes, hurricanes, and other natural disasters. In the aftermath of major storms, we often stay behind to rebuild houses for people with nowhere else to turn for help.
---
U.S. Disaster Relief 013622