Samaritan's Purse volunteer teams are helping Lee County homeowners recover after a deadly EF4 tornado, part of a violent storm system that crossed the Southeast and spawned about 30 tornadoes in total.
U.S. Disaster Relief
013622
March 13 Update: More than 1,000 volunteers so far have come out to serve homeowners in Jesus' Name. Samaritan's Purse continues the work in Alabama, and we've expanded our response just across the border into Georgia. We praise God that six people have received Jesus Christ as Lord and Savior.
—
On the afternoon that tornadoes ripped through Lee County, Alabama, Ashley Martin was coming back home from Georgia and talking on the phone with her mother. Her mother said sirens were sounding because twisters had been spotted. Then Ashley's mother said she could hear one coming. The next minutes felt like an eternity.
"She told me a tree fell on dad's car, and they were getting in the closet," Ashley recalls. "Then we lost contact."
When her mother again called, she was overcome with panic. "We're not OK! We're not OK. Dad is trapped! I can't get him out!"
Ashley's mother, younger sister, and father, Alabama State Trooper Sergeant Robert Burroughs, had just been picked up in their house by a tornado and scattered more than 100 yards across their property. It was a miracle that a twister with the force to snap trees and rake homes from foundations had not also taken their lives. Emergency first responders were able to rescue Officer Burroughs, who is still in intensive care recovering from broken ribs, lacerations, and other injuries.
When Samaritan's Purse volunteers arrived at the family's property this week, we searched through the ruins of their home to help them recover valuables strewn amid snapped pine trees. Among the salvaged treasures from the property, we found their cherished family Bible.
Souls Are Hurting
"This place was hit hard," said Edward Graham, son of Samaritan's Purse President Franklin Graham. "They're hurting. Their souls are hurting. They've lost about everything they've got. They need some help, and they need the help of people who are willing to come share Jesus Christ."
Since Monday, March 4, Samaritan's Purse has been on the ground in Lee County helping homeowners in Jesus' Name as communities grieve so much loss, including 23 people who were killed by the storm.
Our teams have been busy cutting up and removing fallen trees and debris, patching roofs, and recovering belongings alongside Billy Graham Rapid Response Team chaplains who also provide spiritual care and share the hope found only in the Gospel of Jesus Christ.
Volunteers arrived this week from all over the country to assist communities with clean up and recovery. First-time Samaritan's Purse volunteer Logan Briggs came from Pensacola with his grandfather Jim Briggs, also a first-time volunteer.
"Yesterday my granddad woke me up and said 'You want to go to Alabama with me?," Logan said. "He told me they need help cleaning up and fixing things after the tornado."
The Briggses are just two of hundreds of volunteers who have joined our efforts to help the hurting people in this area of southeastern Alabama. From our base of operations at First Baptist Church Opelika, we're serving in Beauregard, Smiths Station, and surrounding areas.
Light in a Dark Time
Jeff Meyers, pastor of FBC Opelika, said the storm that struck Lee County has turned into an opportunity to shine the light of Christ.
"After the events of Sunday, I woke up Monday to a text from an organization many of you are becoming familiar with," Meyers told his congregation during Bible study Wednesday night. "I have served with Samaritan's Purse in the past, and I thought it would be a wonderful opportunity [for them to base out of our church]. Within the next six hours they were on the ground, and we were planning how we would serve our community.
"This is a pretty dark hour but this could be the brightest hour of our community and of our church as we have the privilege of sharing the incredible message of Jesus Christ."
Other area churches are also seeing God work even in the midst of tragedy. Rusty Sowell, pastor of Providence Baptist Church in Beauregard, has led his congregation to collect and provide food, clothing, water, and other essentials to many families who've lost everything.
Providence placed crosses at the front of their church property as a memorial to the people who died in Sunday's storm. Billy Graham Rapid Response Team chaplains were also on-hand at the church this week to meet with grieving residents.
Pastor Rusty, also an experienced hospital chaplain, had the solemn duty of accompanying the county coroner as he informed families about the death of loved ones.
"It was humbling," Pastor Rusty said. "It was a weighty and sacred moment. I would remind myself to breathe. Just breathe. The best thing that any of us can do is just to be there. To have the magnitude of trauma that we witnessed here was a powerful hit. It really has hurt deep to the core."
A Growing Need for Volunteers
The need for volunteers continues as homeowners request assistance as they begin to put their lives back together. Please pray for homeowners, first responders, and for churches and our volunteers who are serving this devastated Alabama county.
"It's the opportunity to turn tragedy into glory," said volunteer Jackie Merrell who traveled from Huntsville in north Alabama. "It's an opportunity to point people to what really matters and to what's really important—eternally important."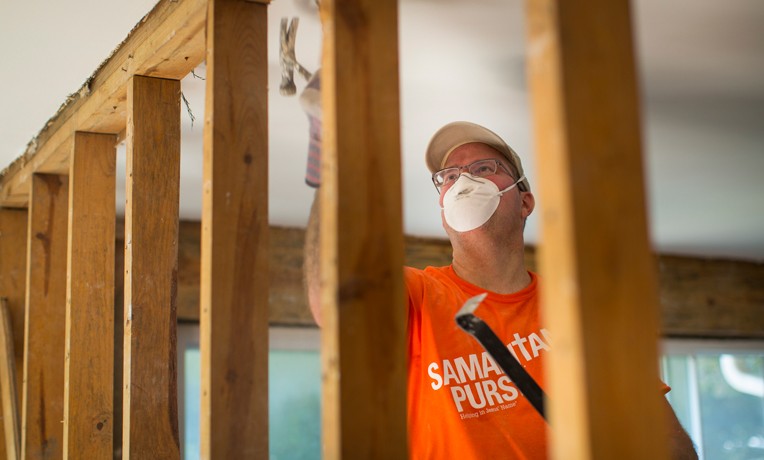 U.S. Disaster Relief
Samaritan's Purse mobilizes and equips thousands of volunteers to provide emergency aid to U.S. victims of wildfires, floods, tornadoes, hurricanes, and other natural disasters. In the aftermath of major storms, we often stay behind to rebuild houses for people with nowhere else to turn for help.
---
U.S. Disaster Relief 013622