Working in Jesus' Name, we are helping communities recover from this powerful storm.
U.S. Disaster Relief
013622
Samaritan's Purse has deployed to Spartanburg County, South Carolina, where an EF1 tornado left behind a 10-mile path of destruction on Thursday morning, Feb. 6.
Our volunteer teams began work on Feb. 8 and they have helped almost 100 homeowners remove trees and debris and tarp damaged roofs.
U.S. Disaster Relief staff are on the ground to help lead volunteers as we assist the hardest-hit communities. A Disaster Relief Unit—a tractor trailer stocked with critical relief supplies—as well as other vehicles are on site. Our base of operations is located at Bethlehem Baptist Church in Moore, South Carolina.
Nearly 200 volunteers have worked in Spartanburg, including Team Patriot members such as Casey Smith. Casey served for 15 years in the Marines before injuring his back and neck during a deployment to Afghanistan. Although he lives with pain every day, Casey still wanted to help others who are suffering and have critical needs.
"The servant's heart we had in the military didn't go away when we got out. Team Patriot is a way for us to continue that service," Casey said.
Team Patriot is a Samaritan's Purse project that trains veterans on how to volunteer in U.S. disaster relief. These volunteers and their spouses previously participated in Operation Heal Our Patriots, our project aimed at strengthening the marriages of U.S. service personnel wounded or injured during combat service after 9/11.
"You can choose to let the pain control you, or you can control it," Casey said. "I can be at home, sitting on my couch, getting nothing accomplished and helping no one. Or, I can use the talents and skills God has given me."
Please continue to pray for our volunteers and staff as they serve devastated communities in Jesus' Name.
Samaritan's Purse is also at work in South Carolina in Horry County, where we are rebuilding homes in areas hit by Hurricane Florence in Sept. 2018.
Note: This article was first published on Feb. 7 and has been updated throughout the disaster response.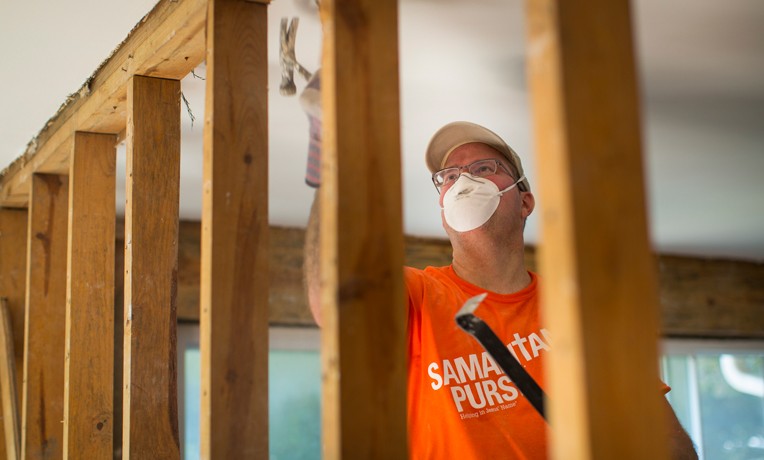 U.S. Disaster Relief
Samaritan's Purse mobilizes and equips thousands of volunteers to provide emergency aid to U.S. victims of wildfires, floods, tornadoes, hurricanes, and other natural disasters. In the aftermath of major storms, we often stay behind to rebuild houses for people with nowhere else to turn for help.
---
U.S. Disaster Relief 013622