Please continue to pray for those hurting and consider volunteering as we help suffering communities in the wake of unspeakable loss.
U.S. Disaster Relief
013622
Curtis and Thelma Yonts had just settled in for the evening when the first rains came—a comparatively light shower that left within about an hour, as they recall. It was no cause for alarm.
Then, after an evening of movies and family time, their two granddaughters went to bed in the bottom level of the Beaver Creek home. Everyone went to sleep.
The lifelong residents knew there were storms in the forecast, but of course could never have predicted what was coming. A storm 50 miles long poured down torrents of water, dropping about a dozen inches of rain in a matter of hours, filling up the hollows and narrow valleys in areas of eastern Kentucky.
"There wasn't any wind," Curtis recalled, pointing to video from security cameras that captured the quick rise of the destructive deluge. "Just a lot of lightning and a lot of rain. You could hear all of it on the metal roof."
What awakened the house, though, was the younger of the girls seeing the drains downstairs bubble and then overflow. Thankfully the granddaughters ran upstairs, because within six minutes the basement door exploded from its hinges under the pressure of floodwater.
Beaver Creek had grown into a river and was now inside their home.
The amount of rain that fell in the nighttime hours turned every streambed in the area into violent, deadly torrents. The flash floods exacted devastation across the region as families were awakened and then forced to flee for safety.
The same force that unhinged the Yontses' door also swept away homes and loved ones across multiple counties from Harland to Jackson. More than three dozen deaths have been reported as the search continues for missing residents.
Uniting for Ministry Amid Tragedy
Samaritan's Purse volunteer teams have been working in Floyd and Breathitt counties, helping homeowners remove mud and debris from their homes. In many cases this has meant clearing out rooms down to the studs before spraying for mold, which has threatened most homes after nearly a dozen days in their waterlogged condition.
"We've been flooded many times before, but this was different. It came at night and it came so fast. So many people displaced. So many people lost everything," said Willie Crase, Jr., pastor of Rock Fork Regular Baptist Church, one of our host churches in Floyd. "We've never had fatalities with the floods around here. Just yesterday I preached the funeral of a couple at a sister church who weren't able to make it out of their home."
Pastor Crase said many residents, members, and family lost everything. His own brother lost his home.
"It's been extremely hard. We've not seen it at this magnitude. Not in my lifetime," he said. "But it's been a blessing to see so many local churches coming together to provide for the community. This has been an opportunity for us to impact this community for Christ by serving people in need. That's why we were eager to partner with Samaritan's Purse. There was no question."
Blessing Homeowners with Hard Work
Butch Kitts is serving as one of our volunteers in Floyd County and was among those who worked on the Yonts' home. He knows the importance of Samaritan's Purse disaster relief work from his own son's story.
"I'm here because back in March my son experienced a tornado in Round Rock, Texas, that destroyed his house and the first people there were the orange shirts. There to give him a hug and help him before I could get there. It took me six days to get there," Kitts said, describing the twister that picked up his son's home and damaged many others. He was grateful for the volunteer teams who helped lift his son's spirits in the aftermath. "Now I'm here to help because of the service that y'all do and I want to be a part of that."
Since the beginning of our two-county flood response in eastern Kentucky, hundreds of residents have requested our assistance with clean up and more than 200 volunteers have joined our efforts in the area. Many more volunteers are needed as we will continue helping these communities in Jesus' Name for many weeks to come.
SIGN UP TO VOLUNTEER in BREATHITT COUNTY, KENTUCKY
SIGN UP TO VOLUNTEER in FLOYD COUNTY, KENTUCKY
As our teams presented a Bible to Curtis and Thelma Yonts at the conclusion of work at their home, Curtis expressed his gratitude with emotion.
"This old man don't normally cry," Curtis said. "But I don't know how we could have done this without you. We couldn't have. Thank you."
Thelma says this was an unexpected blessing for her and Curtis, who'd gutted parts of their home after last year's flooding.
"We have angels working in our home right now," Thelma said, amid the sound of volunteers tearing out drywall and tile flooring. "This is coal mining country. In eastern Kentucky we're not accustomed to asking for help, but we're so glad we called Samaritan's Purse. These are angels."
Please continue to pray for Kentucky that God would bring comfort to so many hurting families in the wake of such tragedy. Pray also for our volunteer teams and for the Billy Graham Rapid Respond Team chaplains that God would strengthen, protect, and equip them as they represent the Lord Jesus Christ in both word and deed in this region.
We also responding in flooded parts of St. Louis County, Missouri , which was hit hard during late July.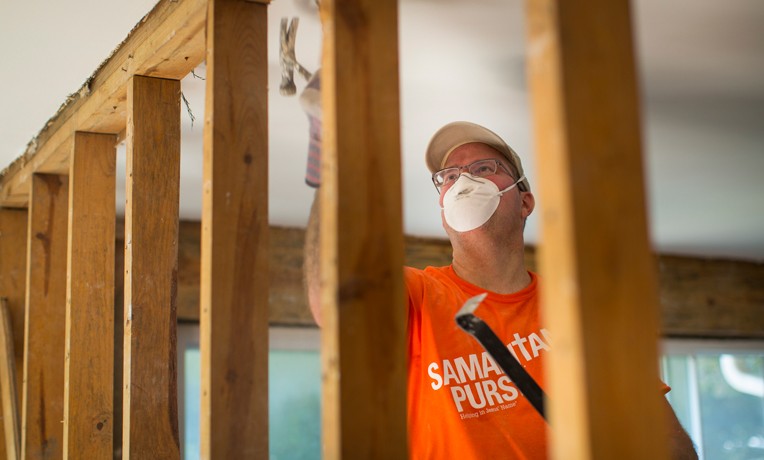 U.S. Disaster Relief
Samaritan's Purse mobilizes and equips thousands of volunteers to provide emergency aid to U.S. victims of wildfires, floods, tornadoes, hurricanes, and other natural disasters. In the aftermath of major storms, we often stay behind to rebuild houses for people with nowhere else to turn for help.
---
U.S. Disaster Relief 013622