Trish Dawson is among those who came to faith in Jesus Christ this summer in Alaska through Operation Heal Our Patriots.
Bless the Marriage of a Military Couple
013960
As Trish Dawson felt Lake Clark's frigid waters wash over her, she almost forgot the shocking cold in an adrenaline rush of happiness.
"I was just so happy—overwhelmed," Trish shared, eyes shining at the memory of her baptism.
Just moments before, on the beach at Samaritan Lodge Alaska, Trish had prayed with her husband and an Operation Heal Our Patriots chaplain. Trish repented of her sins and received new life in the Lord Jesus Christ. She understood that Jesus' love and forgiveness had overcome the emotional pain that once haunted her.
Overcoming the Pain of the Past
Years ago, Trish was deeply hurt by a religious group. Fellow members turned their back on her and publicly made it known that she was no longer welcome among them. Trish found herself in a messy wake of hurt and skepticism toward God.
Her spiritual struggles intensified as she dealt with her husband's ongoing post-traumatic stress disorder (PTSD). Jeff, an Army Sergeant, served eight overseas deployments.
"You just really never know what you're going to be faced with in the military," Trish said. "My husband and I haven't had any kind of spirituality within our marriage. For me, it had been a long time since I'd had a soft heart."
With a negative attitude toward religion in general, Trish was at first hesitant about participating in Operational Heal Our Patriots, as she knew Samaritan's Purse is a Christian organization. Started in 2012, Operation Heal Our Patriots is focused on strengthening the marriages of wounded veterans and their spouses, offering a weeklong experience in Alaska and long-term Family Care for years to come.
Trish's apprehensions quickly faded though as she and Jeff were encouraged by the chaplains, staff, and fellow military couples. She was being refreshed physically, emotionally, and spiritually.
Unexpected Breath of Fresh Air
Publicly announcing her salvation in Christ felt like a breath of fresh air for Trish. It was as if she'd been unknowingly holding her breath in expectation and could finally triumph over a past filled with religious hurt.
"Never did I think I was going to go to Alaska and get baptized," she said. "I just felt like it was the right thing to do."
Once she made up her mind, not even the freezing waters she'd refused to enter during the polar plunge earlier in the week could dissuade her. Jeff also encouraged Trish in her desire to be baptized.
"It just felt so right. I feel like I found more of my voice on that beach."
Trish said being surrounded on the beach by the military couples and chaplains was like being with family—unconditionally supported and loved during a vulnerable moment of confession, repentance, and salvation.
Radical Transformation
During their week in Alaska, the Dawsons spent hours talking through their marital struggles with Operation Heal Our Patriots chaplain Chris Siemers and his wife Lisa, an Operation Heal Our Patriots mentor. The days leading up to Friday's baptism were monumental in shifting Trish's perspective on God, community, and marriage.
"It was an emotional week with them. She came a long way," Chris said, describing how Trish started the week holding onto resentment and bitterness toward God. Yet, Trish ended the week by surrendering her life completely to Jesus.
Trish ended the week by surrendering her life to Jesus.
"At the beginning, it seemed like highs and lows," Chris said. "At the end of the week, especially the last day, it was all joy!"
Trish said that the conversations they had with the chaplains were unlike anything they'd ever experienced. The experience was different because the focus was on God and His Word and coming together around Him.
Bringing the Gospel Home
Trish didn't leave her faith in Alaska. Emboldened by a passion for Jesus, she's using her roles as both a hairdresser and a mother of five to share the Gospel with others. In the days since returning home to North Carolina, Trish has had encouraging interactions with women in her workplace.
When Trish shared about her baptism with one client, she learned that the woman had been praying for her salvation for years. "She just started crying," Trish said.
Things have changed for the better in the Dawsons' marriage, too, building off their public marriage rededication in Alaska. "Our dialogue is a lot different," Trish said, pointing out that she and Jeff are now comfortable praying together – something they never did before Alaska. "I know that is going to strengthen our relationship."
Trish is grateful for the community she found at Operation Heal Our Patriots and is looking forward to the annual reunion in November. "I can't wait. We're so excited to see each other again. I feel like our group made this really strong connection and we'll be friends for life."
The experience in Alaska allowed Jeff and Trish the space to be both challenged and built up, and they are committed to strengthening their marriage in the days ahead.
"Even just sitting in our cabin looking out at the view—you can't help but appreciate God's creation and you can't deny that fact being there," Trish said. "There are no words to express the experience my husband and I had. I'm excited for the future to see where all of this goes, and the relationship with OHOP and these new friends."
We praise God that lives are being transformed through Operation Heal Our Patriots. Wounded veterans and their spouses are coming to faith in Jesus Christ, rededicating their lives to God, and celebrating baptism. Please continue praying for God to work in the lives of all the military couples who are still to join us in Alaska this year.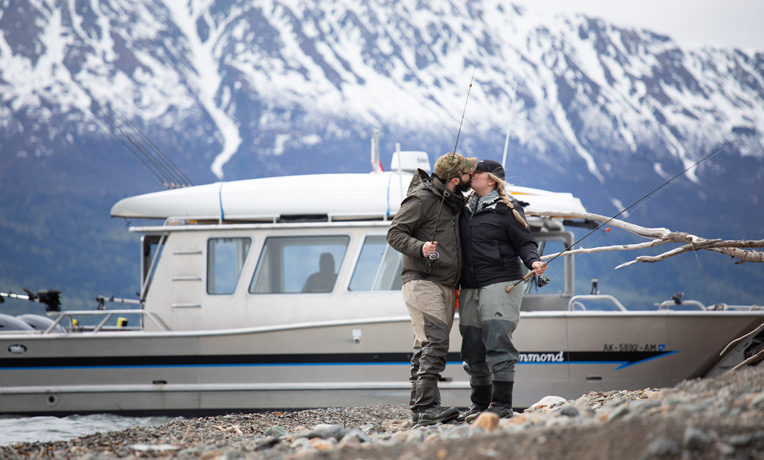 Bless the Marriage of a Military Couple
Operation Heal Our Patriots helps military couples build a strong spiritual foundation during a week of Biblically based workshops, relationship-building wilderness activities, and individual care by our retired military chaplains. We offer all this free of charge to these American heroes as a token of our appreciation for their service and sacrifice. Your gift will help us cover the costs—including transportation, lodging, activities, and long-term Family Care—so that we can help them find hope in the Lord.
---
Operation Heal Our Patriots 013960
Suggested Gift: $60