Samaritan's Purse staff and volunteers are helping homeowners in West Virginia
Samaritan's Purse staff are on the ground and volunteers have started work in response to the devastation caused by recent flooding in West Virginia.
GO HERE TO LEARN MORE ABOUT VOLUNTEERING
Residents of 44 West Virginia counties are reeling from property loss and the loss of loved ones swept away by waters that also destroyed bridges and roadways. Whole houses were reportedly carried away with people inside. The area received more rain on Monday, June 27.
One of our Disaster Relief Units—a truck stocked with supplies so that staff and volunteers can help homeowners clean up—is now based in Greenbrier County. An equipment trailer, shower trailer, and supply trailer have also arrived there at our host church, RHEMA Christian Center, in Lewisburg. Thirty-six volunteers started work on Tuesday, June 28. More are needed.
Another of our Disaster Relief Units will be based in Charleston, serving Kanawha County. Our host church is Mount Calvary Baptist. Volunteers will start in the field on Friday.
Billy Graham Rapid Response Team chaplains are also on the ground assisting with this response.
More than nine inches of rain in eight hours saturated the mountainous region causing streams and rivers to swell and overflow their banks. Last week's catastrophic event was the state's third-deadliest flooding on record.
"I just grabbed hold of a big tree until they came and rescued me," one woman told our teams on the ground. She said she held onto the tree for at least four hours.
Some homeowners waiting for rescue did not know whether they'd survive. They called loved ones to say goodbye but were nonetheless later saved.
U.S. Disaster Relief
013622
"We've had high water from time to time, but I don't remember houses being knocked off their foundations and all the devastation," one homeowner said. "It's really unbelievable."
The current death toll stands at 23. On Saturday, June 25, President Barack Obama declared three counties as federal disaster areas: Greenbrier, Nicholas, and Kanawha. More may be added.
"This is a tough scene. This is a difficult task," said Tim Haas, manager of U.S. Disaster Relief. "We ask you to pray for this community and we'd also ask you to pray for Samaritan's Purse staff and the volunteers who will come to help these homeowners mud-out these houses. There are hundreds of homes that have been flooded."
Bruce Poss is serving as project manager for the West Virginia response in Greenbrier County. "We've seen the news footage and we think 'Somebody should do something.' … This is a perfect opportunity for that person to do something and be part of a team that can help those homeowners."
Click on the image at the right or left edge to begin viewing a slideshow of recent images from West Virginia.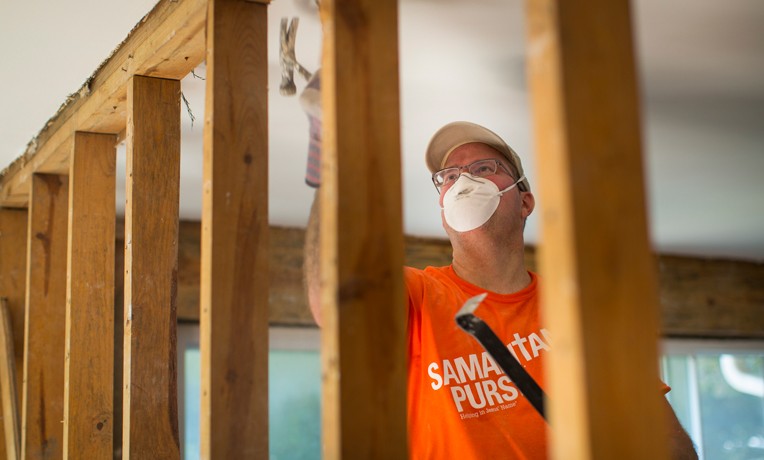 U.S. Disaster Relief
Samaritan's Purse mobilizes and equips thousands of volunteers to provide emergency aid to U.S. victims of wildfires, floods, tornadoes, hurricanes, and other natural disasters. In the aftermath of major storms, we often stay behind to rebuild houses for people with nowhere else to turn for help.
---
U.S. Disaster Relief 013622