As volunteers continue to serve West Virginia's flooded communities, residents are coming to Christ.
Nick Stout stepped into the current, and two hours later he'd negotiated a way to Sara Smith, his wife's grandmother.
His wife and mother-in-law were accounted for and safe, but no one had heard from the grandmother hours after flooding devastated the southern counties of West Virginia.
Nick crossed over fences and power lines to reach her, while trying to keep his head and phone above water. At one point he was nearly swept under a porch, and several times he feared electrocution. He hopes to join the Army Rangers one day, but he still probably wouldn't recommend the same risky route he took that night.
Though he was wearing a life vest, he encountered many other dangers besides drowning.
"I was crossing over power lines, and I could see and hear lightning," he said. "That scared me to death. But I guess God gave me the extra push to keep going."
"I guess God gave me the extra push to keep going."
Finally he arrived to find Sara sitting on an almost-floating couch and waited with her and her dog for nearly six hours more before a National Guard frontloader plucked them from the home's submerged porch.
He had bruises from where the grandmother gripped his arm too tight as rescuers whisked them away. They were among the "lucky ones" whose homes and family were battered but safe after flash floods swept through White Sulphur Springs, West Virginia, June 24-25.
Throughout the state nearly two dozen people were reported dead or missing, hundreds of homes were damaged—many swept from their foundations and destroyed—and thousands of residents were without power for days.
"I learned how to swim in that creek," said Nick's wife, Hannah, pointing to the babbling brook that had, only days before, swelled with dangerous flood waters. "I've never seen anything like this."
This is a common refrain heard in recent weeks throughout the area.
Also common is the gratitude homeowners have expressed as hundreds of Samaritan's Purse U.S. Disaster Relief volunteers converged to mudout homes in Jesus' Name.
Drew Sellers, 14, was among the youngest volunteers to respond to the devastated cities and towns of West Virginia. He was working with volunteer teams at Sara's house.
"I came here with my granddad," he said as he pried up flooring with a crowbar and, at times, by kicking it. "It's easier just to kick it. I play soccer. I left my soccer ball at home so I guess this makes up for it."
Eternal Weight and Future Generations
His grandfather, Bob Marriot, is a regular U.S. Disaster Relief Site Leader with Samaritan's Purse. He'd taken one grandson to the flood response in West Monroe, La., and was hoping to provide a similar experience for Drew.
"We need the next generation," Bob said. "I'm getting kind of old on this stuff. My bones hurt." But beyond that, Bob says the work is important enough to pass on to younger volunteers because of its eternal weight. The work of cleaning up a person's house is only the beginning.
"The most important thing isn't the labor we provide," he added. "The most important part is fulfilling the Great Commission. I personally was able to lead someone to Christ in Houston a few weeks ago. They accepted the Gospel right there. It caught me by surprise just as much as it caught them by surprise."
Next door neighbor Leroy Foster experienced severe flooding as well. He said the water moved in quick.
"When the water came I went out to check on the yard," he said. "By the time I got back in the house the dog was swimming in the front room."
But Leroy also experienced God's saving grace days after the West Virginia floods. As volunteers wrapped up work at his house, Rapid Response Team chaplains took the opportunity to share the Gospel with Leroy. He accepted Christ.
"I always tried to do good," he said, a fact agreed to by neighbors who said Leroy was always the first to help people in need. "I realize now that isn't the way you to go heaven. You have to be saved first. And I wasn't saved. Now I am. I'm going to start going to church and do better than what I'm doing."
"I Actually Feel Like I Can Finally Breathe"
God uses the tragedy of disaster as an open door for the Gospel, and so far during the West Virginia flood response more than 40 people have come to faith in Christ.
Rapid Response Team chaplains were also able to share the Gospel and Bibles with people from Scandinavian countries and from Poland, the Czech Republic, India, and the Philippines—all people working at the famed Greenbrier Resort.
"When disaster strikes it's sometimes so difficult to take that next," said Bruce Poss, a program manager for U.S. Disaster Relief, addressing volunteers in West Virginia. "They really don't know what to do next, but when you guys come in and you actually know what you're doing it gives them unbelievable hope. And it's such a picture of what Christ does in the lives of people. The old is out and the new is beginning."
And Nick Stout's mother-in-law, Carol Morningstar, echoed that very sentiment as she surveyed her mother's yard two days after volunteers began work there.
"I think the first thing that needs to happen after a flood is they need to just haul away all your stuff that's been ruined. It's just depressing. But this pile is different," she said, pointing to the waterlogged flooring and drywall that volunteers had cleared out to make the home ready for restoration. "This pile means something good, and I actually feel like I can finally breathe."
More than 1,200 U.S. Disaster Relief volunteers have responded so far to Greenbrier and Kanawha counties in West Virginia where hundreds of homes were devastated. Over the course of many thousands of volunteer hours, we've done mudout and other recovery work on more than 100 homes.
We are scheduled to receive volunteers until August 6 at our bases in Lewisburg (Greenbrier) and in Charleston (Kanawha). Our host church in Lewisburg is RHEMA Christian Center; our host in Charleston is Mount Calvary Baptist Church.
Please continue to pray for West Virginia residents affected by devastating floods and for Samaritan's Purse staff and volunteers responding to the needs. To learn more about volunteer opportunities, go here.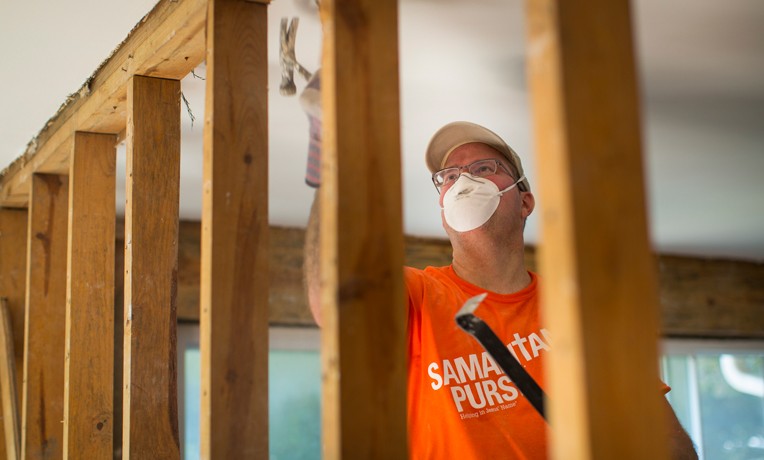 U.S. Disaster Relief
Samaritan's Purse mobilizes and equips thousands of volunteers to provide emergency aid to U.S. victims of wildfires, floods, tornadoes, hurricanes, and other natural disasters. In the aftermath of major storms, we often stay behind to rebuild houses for people with nowhere else to turn for help.
---
U.S. Disaster Relief 013622