The Army couple was baptized and rededicated their marriage in Alaska through Operation Heal Our Patriots.
Army Sergeant First Class Gabe Salas and his wife Celia traveled to Alaska for the week of their 14th wedding anniversary this June. There was no cruise involved, though, and they hadn't saved for years to go on the trip. The price was much higher than that.
Gabe is one of more than 52,000 men and women in our armed services who have been injured in combat, primarily in Iraq and/or Afghanistan, since 9/11. He suffers from a mild traumatic brain injury (TBI) and post-traumatic stress disorder (PTSD). Not only has the injury taken its toll on him, but also on his wife and five children.
By virtue of his injury, Gabe and Celia qualified to apply for Operation Heal Our Patriots, the Samaritan's Purse project that brings wounded military personnel—current or former/retired—and their spouse to Alaska for a week of Bible-based marriage enrichment. The Salases were overjoyed to be among 150 couples accepted into the U.S. program this year, out of nearly 800 applications.
Bless the Marriage of a Military Couple
013960
The week—packed full of outdoor activities and daily marriage classes—had a profound impact on Gabe and Celia, helping them break free from bad habits and patterns in their marriage. It brought them closer to each other and to their Lord and Savior, Jesus Christ. They were both baptized in Lake Clark and rededicated their marriage at the conclusion of their time in Alaska.
"It's been a blessing," Celia said.
Sticking Together Despite War Injury
Gabe and Celia were married in Chicago in 2003, during the week or so he had off between basic training and his first overseas tour to South Korea. He was 19; she was 18.
He went straight to South Korea and then immediately shipped off to Iraq for his initial combat deployment the following year. There he learned to push through pain. In those early days of the Iraq war, concussions were often passed over—"just move on" was the attitude. But, a few years later, when he returned to Iraq for his second combat tour, a rocket-propelled grenade exploded next to him and that injury proved too serious to ignore.
Gabe actually kept fighting insurgents for a month after the incident, committed to stand strong with his brothers-in-arms. However, when it became clear that he could no longer press forward—finally diagnosed with TBI, PTSD, and other issues—he was medevacked back to the United States. On the day he left in 2007, some of his fellow soldiers were killed in battle.
"Some of my men died over there, and I felt like if I would have been there that wouldn't have happened. I blamed myself for it," Gabe said.
It was that survivor's guilt, combined with his physical injuries, that plunged Gabe into what he described as a "dark hole." He began taking 27 pills in the morning and 26 at night. He self-medicated with alcohol. By 2008, Celia had had enough. Mother to their three children, she had stuck with Gabe through middle school, high school, and long absences due to his military career.
"I finally just had to put my foot down, because I felt he was just spiraling out of control," Celia said. "I had to tell him: 'It's either the medication and the alcohol or your wife and children. You decide.'"
The next day Gabe came home and told her he was done with that life. He poured his alcohol down the drain, she flushed the pills, and they signed up for marriage and individual counseling.
"I needed to get my act together for me, my wife, my kids," Gabe said.
Their marriage improved. In the nine years since then, they added two more children and Gabe did one final combat tour to Afghanistan. He was medically retired from the Army in 2013. However, things have been far from smooth. The Salases still faced challenges they didn't know how to overcome.
Keeping Christ at the Center
Dealing with TBI and PTSD is a long-term process that requires readjustment on the part of both spouses. Expectations have to be renegotiated. Anger issues are common. Communication can break down. And, Gabe and Celia have had to deal with other difficult issues regarding extended family. That's all on top of the "normal" challenges involved in caring for a family of seven.
So, the couple was ready for an intense week of marriage resiliency training. Their interpersonal communication had broken down in certain areas. Also, as Christians, they knew they needed to make Christ the focus of their lives and relationship, but they weren't quite sure how. They wanted to go deeper.
Gabe and Celia found what they were looking for as they listened to our retired military chaplains offer Biblical principles for living.
"These classes shed light on everything that we were in the dark on," Gabe said.
The couple began putting the communication tools they learned into practice immediately. Their time together in Alaska was not marked by conflict but by productive discussion.
"We've actually been able to talk about certain things that we haven't been able to [before], because of the anger, the bickering, the back and forth," Gabe noted.
Celia felt encouraged, too.
"We came here recognizing we had some issues and we knew what the issues were," she said, "but we didn't know how to move forward to fix the issues or attempt to work on them. The classes are giving us the tools that we need to move forward. As long as we keep utilizing these tools we'll definitely have a happier marriage and more blessed marriage.
"There is a way to fix this, by putting God in the center of it all."
Both the marriage rededication ceremony and their baptisms at week's end demonstrated and cemented their desire to follow Him more closely. Celia said their time in Alaska confirmed to her that they can trust the Lord with everything in their lives.
"There's a purpose, God has a plan," Gabe said.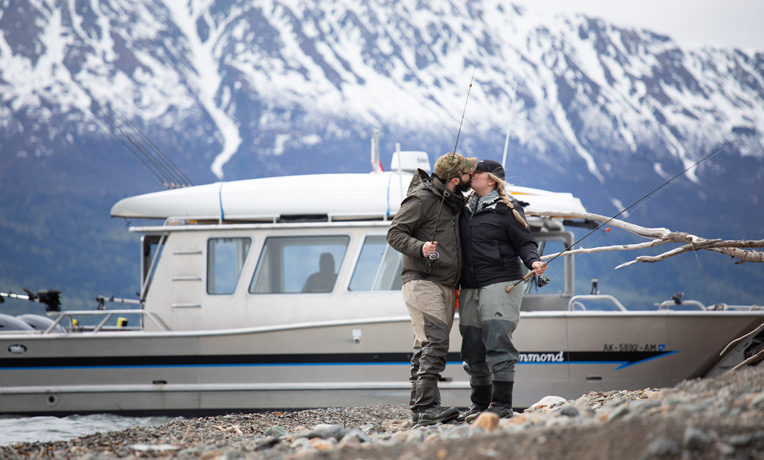 Bless the Marriage of a Military Couple
Operation Heal Our Patriots helps military couples build a strong spiritual foundation during a week of Biblically based workshops, relationship-building wilderness activities, and individual care by our retired military chaplains. We offer all this free of charge to these American heroes as a token of our appreciation for their service and sacrifice. Your gift will help us cover the costs—including transportation, lodging, activities, and long-term Family Care—so that we can help them find hope in the Lord.
---
Operation Heal Our Patriots 013960
Suggested Gift: $60