An amputee who attended Operation Heal Our Patriots climbs the highest mountain in the world
Charlie Linville has never been shy about taking on a rigorous challenge. First, he enlisted in the U.S. Marine Corps and served in Iraq in the infantry and then with the Explosive Ordinance Disposal team in Afghanistan. Next, he overcame a traumatic injury that forced him to be medically retired—and almost took him down for the count. Finally, he became the first combat-wounded veteran to scale Mount Everest, the world's highest mountain.
But now, weeks after accomplishing this historic feat, the 30-year-old father of two seemingly finds himself in uncharted territory.
"I'm looking for a steady job now, going back into a normal life per se," Charlie said. "I have to figure out how to be normal."
It's a new challenge to tackle.
Charlie grew up in Boise, Idaho. As a high school senior in 2004, he was introduced by a friend to Mandi. She was born in Ohio but grew up in Roseville, California, before her family moved to Boise when she was about 12. She played on the high school's softball team.
"She was smitten, and she pursued me," Charlie said, laughing. "But I was kinda a punk, bumbling through life."
Charlie tried college for a semester but quickly discovered he was in the wrong place.
"I could have gone and done the typical college party scene, but it wasn't for me," he said. "We just happened to be in two wars at the time, and I decided to devote my life to something other than parties."
So Charlie enlisted in the U.S. Marine Corps and told Mandi he was headed to Camp Pendleton in San Diego, California. That action took her by surprise, but she hung tight with him and cherished every letter he wrote to her from boot camp. They were married August 26, 2006.
A year later, the couple happily received the news Mandi was pregnant with their first daughter, Taylor. Their joy, though, was tempered by the fact he was heading to Fallujah, Iraq, for a year. But they adapted . . . and survived.
Upon his return, Charlie applied to the Explosives Ordinance Disposal program and was accepted. Appealing to him was how he could take devices that were meant to kill or maim and dismantle them.
"Instead of taking a life in combat, I could help save a life," he said.
But it would also mean serving in Afghanistan for a year, and Mandi staying back in Okinawa, Japan, with Taylor and their second daughter, Dyllan. The long deployments began to take a toll on their marriage.
Injury Causes Marital Strife
Disaster hit on January 20, 2011. While deployed to Helmand Province, Charlie was called to the scene where two Marines had stepped onto roadside bombs, with each losing both legs. As he conducted his post-blast analysis, Charlie, too, was struck by a hidden bomb. He suffered a traumatic brain injury, two amputated fingers on his right hand, and a mangled right foot. Fourteen surgeries over an 18-month period—characterized by constant pain and painkillers—couldn't save the foot, so he had his leg amputated just below the knee in 2012. He was medically retired in September 2013.
The injury cast a dark shadow on Charlie and Mandi's relationship. It forced Mandi to transition from wife to caretaker, sapping her of strength and patience. Charlie was also having a tough time. He wrestled with the "demons created from war" and contemplated suicide.
People on the outside didn't know about their intense internal turmoil.
"People would tell us, 'Oh, you guys are so perfect,'" Mandi said. "But privately, things were chaotic all the time and so confusing, so hard. Honestly, we were at each other's throats. We were doing inexcusable things to each other that married couples shouldn't be doing. It was a nightmare."
Both thought of ending their marriage until a friend—and fellow wounded veteran—told them about a project of Samaritan's Purse called Operation Heal Our Patriots. Charlie and Mandi applied out of desperation and were accepted to go to Samaritan Lodge Alaska.
While there for a week of marriage enrichment in June 2015, the couple was exposed to the Bible. They had each gone to church when they were young, but neither knew anything about what it meant to know and follow Jesus Christ personally.
That all changed when the two heard that Jesus Christ came to Earth on a rescue mission. He died on a cross for their sins, and, if they repented and turned to Jesus Christ as Savior, He would forgive and change them. Charlie and Mandi committed their hearts to Jesus Christ and were baptized in the chilly waters of Lake Clark.
"If we had not gone to Alaska, I know we would not be together right now," Mandi said.
GO HERE FOR STORIES FROM OPERATION HEAL OUR PATRIOTS 2016
Life After Injury
God's protection on Charlie and his three climbing mates was evident throughout their ascent of Mount Everest in May. Charlie had met Tim Medvetz, founder of The Heroes Project, just before his surgery to remove his right foot. The Heroes Project enables wounded combat victims to climb the highest mountains on each of Earth's seven continents. The two hit it off, and Tim knew Charlie had the intestinal fortitude to take on the 29,029-foot mountain.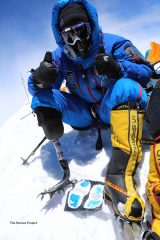 They had twice attempted to ascend Everest but to no avail. In 2014, they had to put their dream on hold when an avalanche killed 16 Nepalese guides, shutting down the mountain. They tried once again in 2015, but a 7.8-magnitude earthquake rocked Nepal, killing more than 8,000 people. The earthquake also triggered an avalanche that claimed the lives of 19 climbers and Sherpas at Everest Base Camp. Out of deference for those who had died, Charlie and Tim cut short their mission to join Team Rubicon, a veteran's organization, to help distribute relief supplies to disaster survivors in Nepal.
But from April 17, 2016, through May 23, 2016, they once again tackled Everest—and this time conquered it. Despite winds at times howling at 60 miles per hour and wind-chill temperatures hovering around 30 degrees below zero, they reached the summit on May 19.
The dangers had been real. As they neared the top, they were stuck one day in their tents because of high winds.
"I was praying to God, 'Please let our tent hold up,'" Charlie said. "If it had not, I don't think I would have made it out of there alive."
God answered and provided good conditions to finish the ascent. With his right leg throbbing in pain and fighting exhaustion, Charlie was still able to push on.
"God gave me the strength, and I was rejuvenated to be able to get down," Charlie said.
Now that he's back in Idaho, Charlie trusts his achievement will encourage other wounded veterans that there's life after injury.
"I'm hoping to spread the message to this 'adapted community,' who may be struggling with whatever issues, that they can get off the couch and get out of the house and no longer live imprisoned," he said.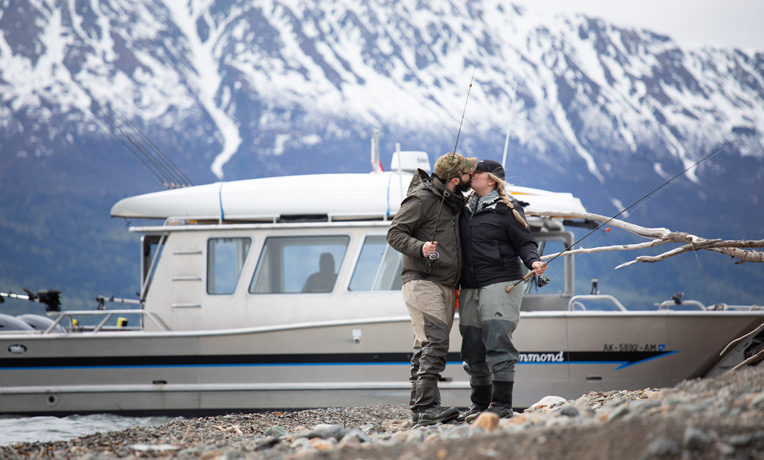 Bless the Marriage of a Military Couple
Operation Heal Our Patriots helps military couples build a strong spiritual foundation during a week of Biblically based workshops, relationship-building wilderness activities, and individual care by our retired military chaplains. We offer all this free of charge to these American heroes as a token of our appreciation for their service and sacrifice. Your gift will help us cover the costs—including transportation, lodging, activities, and long-term Family Care—so that we can help them find hope in the Lord.
---
Operation Heal Our Patriots 013960
Suggested Gift: $60