In Memory Of
Captain Charles Roy Biggs, Jr. - Southern Pines, NC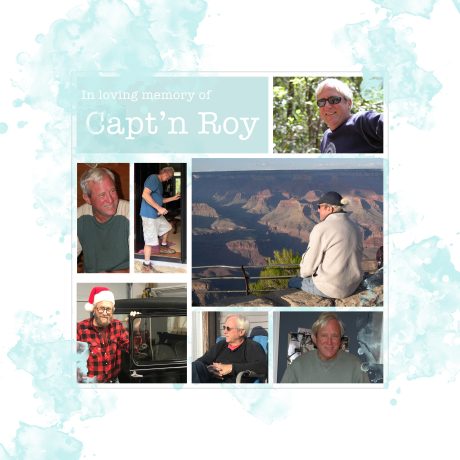 Everyone who enters this world will leave it, but not everyone lives life to the fullest in-between. Charles Roy Biggs, Jr. truly pursued life to its full potential until the point Acute Myeloid Leukemia took his earthly life on September, 28 2022. He was 75.
Losing his parents at the age of 16, Roy never attended college, but successfully climbed the corporate ladder as a Program Manager with Digital Equipment Corporation. He acquired a 'PhD in life' by always learning. He firmly believed in the value of having mentors and being a mentor. There was hardly an area of knowledge in which he did not have some level of proficiency. He lived his life willingly assisting or teaching his friends anything from home construction projects, engine repair, sewing upholstery, programming a computer, or even baking a loaf of his famous sourdough bread.
Roy enjoyed adventure whether it was in his early adult years off roading with the Jeep Club, racing a sailboat on Lake Norman or later in life exploring Alaska on his Harley or traveling across America with Sarah on his Goldwing with camper in tow. After leaving lake life in Mooresville, Captain Roy relished time on the open waters of South Carolina navigating his 42' Post either chartering fishing expeditions, cruising 'the ditch', or going to the Bahamas with friends and family. During his last year with AML, his adventure was limited to short road trips with 'Ruby May', his 1929 Model A Tudor.
Left with many priceless memories of gatherings by the lake or on the country estate are his loved ones whom he has intimately touched with his love and wisdom: his bride of 43 years, Sarah Shaw Biggs; three daughters, Kimberly Biggs Fennie (Scott), Shannon Biggs Harris (John), Amy Clark O'Reilly (Patrick); and adored grandchildren, Kathryn and John, Hannah (Robert) and Cole and Jacob, Sami and Daniel; great-grandson, Sawyer; foster family, Boojie and Dave Winfree, Karin and Krista; and brother, Frank. Predeceased family include his parents, Charles Roy and Ruby Smith Biggs and brother, William Niles Biggs.
The family invites you to celebrate Roy's life at Aberdeen First Baptist Church 700 N Sandhills Boulevard, Aberdeen, North Carolina, on October 16, 2022, at 2:00 p.m. The family will receive friends following the service.
*All obituaries are submitted by family and friends of the deceased.
Please enter the amount you would like to give and click continue.
US Disaster Relief