In Memory Of
Raymond Louis Peterson - Peabody, MA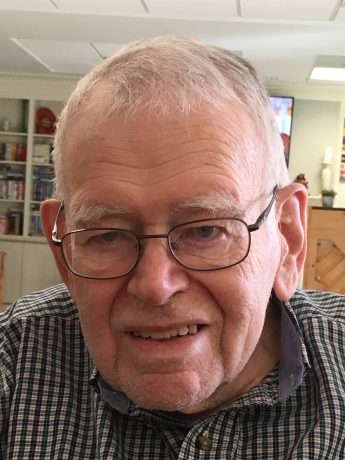 Raymond Louis Peterson, age 88, of Peabody, MA, passed away on March 29, 2020.
He was the devoted husband of Shirley Lillian (Gustafson) Peterson for 66 years. He was born and raised in Worcester, MA, and a long-time resident of Beverly Farms, MA.
Ray, a mechanical engineer, received his BSME at Worcester Polytechnic Institute and MSME at Northeastern University. Most of his career was spent at United Shoe Machinery, American Shoe Machinery, and Beringer.
Ray was loved as a reliable man of integrity whose faith guided his life. His values inspired him to become deeply involved in leadership and service with North Shore Community Baptist Church, North Shore Christian School, North Shore Christian Men's Choir, and Hamilton Congregational Church.
A talented musician, he served as a violinist for multiple local orchestras, including Cape Ann Symphony Orchestra, and played and sang frequently at church. Ray was also a "Mr. Fix-it" around the house as well as with vehicles and equipment of all kinds.
Ray had a gift for solving problems and was quick to joke and find playful humor in all circumstances. His favorite pastimes included board games and puzzles. A lifelong Red Sox fan, he enjoyed attending games with his family. He also played softball with the church team, took family camping trips each year, and enjoyed travel to Europe, Israel, and Scandinavia. These trips were chronicled in slides and pictures that the family enjoyed watching, along with images from countless parades and gatherings attended over the years.
Ray is survived by his wife, Shirley, and his three daughters and their husbands: Martha and Steve Heassler of Gloucester, Norma and Byron McCluskey of Sudbury, and Carol and Mark Bedrosian of Gloucester. He is also survived by his six grandchildren: Kathryn and Paige Heassler, Frederick and Theodore McCluskey, and Josiah and Boaz Bedrosian. He is predeceased by parents Hannah and Alfred Peterson, and brother Warren.
A memorial service will be scheduled at a later date.
*All obituaries are submitted by family and friends of the deceased.
Please enter the amount you would like to give and click continue.
Where Most Needed