Helping Women Around the World
Our work brings urgent relief to women after disasters, provides care for mothers and babies, and brings hope around the world.
In February, catastrophic earthquakes killed 50,000 people and displaced hundreds of thousands more in Turkey. Miray* and her family were among those whose lives were turned upside down.
Miray is disabled and unable to walk. When the second earthquake struck, their house began to crumble. "It was like an apocalypse," Rabia*, one of Miray's sisters, said.
Rabia and another sister quickly picked up Miray. But as they were running out of the house with her, they tripped. Miray tumbled to the pavement and badly injured her knee. Miray and the other eight members of her family eventually found shelter in a small school classroom with about 30 other people. But Miray's injury worsened. Her sisters brought her to the Samaritan's Purse Emergency Field Hospital where our team drained a lot of blood from her knee and placed it in a cast.
"This hospital was our only option," Rabia said, giving thanks for the care that Miray received from our doctors and nurses. "This is super!"
Women are always left especially vulnerable in times of natural disaster, war, and disease. We rush to help those in need, bandaging their wounds and providing for urgent needs like food, water, and shelter. In all we do, we remind women that God loves them and will never forsake them.
Around the World
Samaritan's Purse has a variety of projects that help women and offer the hope of the Gospel of Jesus Christ. Some meet immediate needs; other provide care over years, especially in the area of maternal and child health. Here are some examples from across the globe:
Over the past year in Ukraine, Samaritan's Purse has distributed more than 135 million pounds of food to those in need.
In January, Ivanna* heard the Gospel and received a food basket from us at a church in the war-torn Donetsk region. Included in the basket were pasta, rice, beans, grains, oil, and more. "We are so thankful," she said. "We are retired, our pensions are very low, and this is very helpful." At the same distribution, Anhelina* received food for her family of eight, including children from 7 months to 18 years old. She and her husband are out of work, since the area's factories are closed due to the conflict. "War influences everything," she said.
---
In South America, a Samaritan's Purse clinic in Colombia is offering hope for a brighter future to expectant mothers who've fled their homes in Venezuela.
Wuileidy fled Venezuela and survives in Colombia by selling plantains on the street. Her two young daughters are both borderline underweight. The Samaritan's Purse clinic was able to help this 21-year-old mother with medicine and nutrition supplements. "We are very grateful," she said.
Wuileidy was also very interested in our chaplain's Gospel presentation, which he delivered as the clinic opened in the morning. "I really liked hearing the chaplain," she said, noting this was the first time she had heard such things. Our chaplain followed up with her and prayerfully looks forward to more conversations.
---
Many mothers in remote villages have never had the opportunity to learn how to recognize the signs of malnutrition in their children.
Cambodia is among the countries where we are working in Southeast Asia. Sreymon's life changed when Samaritan's Purse began a maternal and child health project in her community. Our staff taught the mothers and pregnant women how to properly take care of their babies and children, with a special emphasis on the first 1,000 days of a baby's life. "I'm really happy that my family is healthy after I applied the lessons that I learned with Samaritan's Purse," she said.
Because Sreymon is a Christian, she is also passionate about sharing the Gospel with families in her village. Through her mentorship of other mothers, she's able to connect with them on a spiritual level as well. She hosts a weekly Bible study in her home with these mothers and is seeing them grow in their knowledge of God's Word.
---
Our work in Africa, in countries including Liberia, Niger, Kenya, and the Democratic Republic of the Congo, gives women easier healthcare access.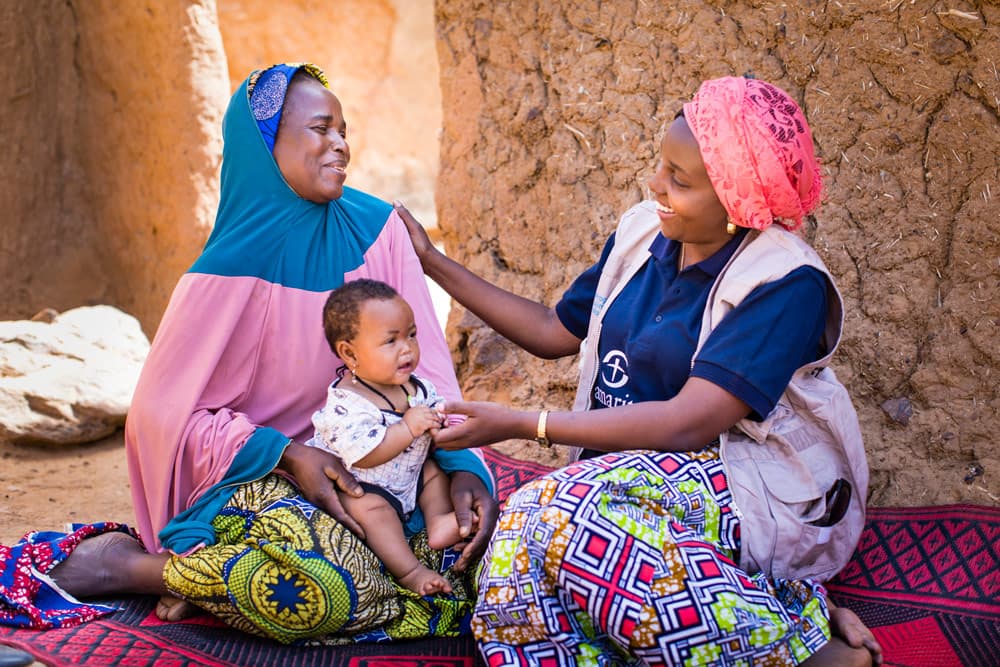 We partnered with a community in southern Niger to open an integrated health center in an area with historically high malnutrition rates. Fatima is among the women who benefit from the new facility. In the past, she said, "It was very difficult to get access to a health center, let alone a doctor. Sometimes children lost their lives because there was no health center."
Please pray for vulnerable women around the world. Pray for our staff as they continue to bring both physical relief and spiritual comfort to mothers in desperate need.