Local mothers learn about how to care for their families in rural Karamoja.
For mothers in the Karamoja region of northern Uganda, life is difficult. The harsh environment of their homeland makes planting problematic and harvests slim. Getting water every day is a challenge when the streams are dry and the rains haven't come. Local mothers are sometimes unable to feed their children.
Care for Mothers and Babies
013717
"As a mother, the biggest challenge is hunger," Nataparin Turkan said. A mother from the Lokaal village, she has seven children and sells firewood to make money to purchase food. "There is a lack of rain. All the things have burned down. Nothing is sprouting from the ground."
Most women in this area support their families by selling firewood or charcoal, which requires a long walk into town. If a mother is too tired, she is often unable to feed her family that day.
"When the body is weak, that is when we don't have an opportunity to feed the children," Lomilo Aleper said. She also has seven children.
The challenges these women face is daunting, but the mothers of Karamoja are finding strength and hope through a Samaritan's Purse training program.
Knowledge is Power
Elected by their communities, the maternal and child health program trains groups of women, called Leader Mothers, on health, hygiene, nutrition, literacy, and financial savings. The Leader Mothers are then tasked with taking this knowledge and sharing it with other women throughout their communities. The results have been tremendous.
"Ever since this training started, it has been the simple things like self-hygiene, nutrition, and nutrition for mothers," Anna Adupa said.
Before the training, most of the mothers did not know the signs of malnutrition in children, how to practice basic hygiene, or that an expectant mother should be accompanied by her husband to the hospital. Due to cultural superstitions, mothers would even ignore their malnourished children.
"Now we are able to treat malnutrition properly," one of the mothers, Anna Adupa, said. "The number of children who die is low."
The knowledge that the women receive is life changing and helps make their communities healthier.
"What I learned most is how to prevent childhood pneumonia, and to use mosquito nets to prevent malaria," Anna said. Lessons on chest infections and malaria are covered in the second and third lessons, while HIV is covered in the fourth lesson. Though some of the knowledge provided in the trainings might seem basic, it's essential information that wasn't available to these mothers before because most cannot read or even sign their name.
Learning to Read
This program is not just about sharing information on health and hygiene, it's also about bringing education and literacy to a community. Most villages in rural Uganda have limited access to schools or secondary education opportunities. This is especially true in Karamoja.
School attendance has traditionally been discouraged by families, but things are beginning to change. Now there is a strong interest in adult literacy and financial savings courses, which provide a valuable new set of skills for children and their families.
Through the savings program, families are able to save money and start small businesses that could one day bring them out of poverty. The lessons are taught by using the story of Joseph in Egypt and his interpretation of Pharaoh's dreams, which allowed him to provide for his family during a famine. Joseph's story resonated with the students, especially since Karamoja is experiencing a drought, and helped build their understanding of the Biblical foundation of saving.
"Even it is Biblical to save," one of the participants said.
Literacy lessons are also incredibly important, and the Bible is a tool the teachers often use with their students. Teaching women in Karamoja how to read can help them better navigate a hospital or read their child's immunization records so they know when they are due for another shot. This is essential information that the mothers cannot access without basic reading skills.
As the sole breadwinner and supporter of the family, the women hold a profound influence over their communities. Pastor Helen Grace, one of the program's leaders, shared that this community grow and develop cannot without the support of the women.
"We have to reach the women," she said.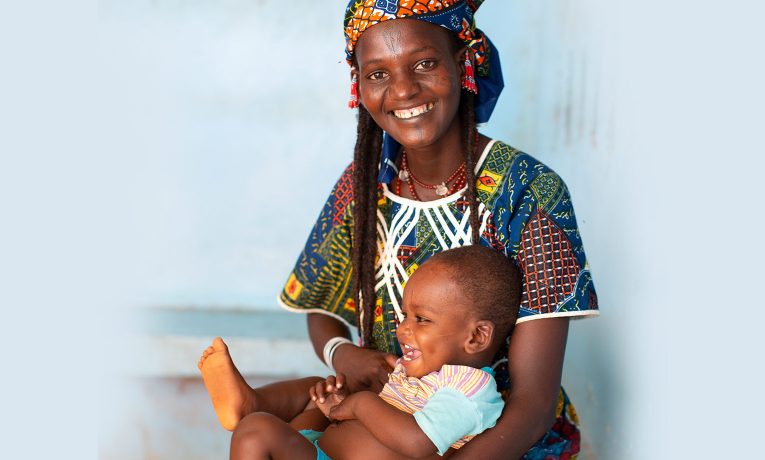 Care for Mothers and Babies
Tragically, hundreds of young mothers and thousands of newborns die every day from preventable causes. Your gift can help Samaritan's Purse reduce the mortality rates of women and their young children by improving obstetric care, teaching essential nutrition practices, and increasing access to quality healthcare.
---
Prenatal & Maternity Care 013717
Suggested $75