Residents of the Northern Marianas are now receiving desperately needed help as our teams ramp up their work.
International Emergency Relief
013310
The Pacific island of Saipan has always been plagued by powerful storms but Typhoon Yutu packed more force than almost anyone expected.
"It was like the end of the world for me and my family," resident Marie Cris said of the late October typhoon. "The walls are concrete but you could feel the walls shake like an earthquake."
With the equivalent strength of a Category 5 hurricane, Yutu toppled trees and dismantled homes across Saipan, which is part of the Northern Mariana Islands, a U.S. commonwealth. Thousands of families are now in need of basics like food, water, and shelter.
"Of all the typhoons that have passed through this island for the last 30 years, this is the worst and most horrifying event that I have experienced," said Pastor Manuelito Ray of Cornerstone Christian Church.
He and his wife Femie remained in their home, which is attached to the church, as Typhoon Yutu desolated Saipan. With high winds shaking the walls and tearing away the roof, the couple and their son gathered in the middle of the home, trusting that the Lord would protect them."I said, 'Lord, only in your hands are we safe,'" Femie said. "'There is no place to hide, except that we trust you.'"
After surviving the storm, Pastor Ray and Femie gathered their congregation soon after to lament, share stories, and worship the Lord in the mist of their devastation. They also desperately wanted to respond to the needs of their community but felt they lacked the required capacity.
They led the congregation in a prayer, "God, I know You have a purpose, and You are going to send resources from East and West, North and South. Even people we do not know—You are going to respond because of this great need and You love us so much."
That very evening Femie received a call from Samaritan's Purse, which has a disaster response team on the ground and airlifted 30 tons of relief on Nov. 4. The connection proved fruitful, and we are now partnering with Cornerstone Christian Church as a warehouse and base of operations to distribute emergency shelter tarps, solar lights, and water filtration units to the areas hardest hit by the storm. Each day, teams are going into communities ravaged by the storm and providing physical and spiritual aid to hurting families.
Thus far, more than 500 families have received aid from Samaritan's Purse through door-to-door and local church distributions.
Long-time Saipan resident Angelita lost her entire roof to Typhoon Yutu's catastrophic winds. As a result, precious possessions have been all but destroyed by subsequent rain.
"There is no guarantee how long [recovery will take]," Angelita said. "Some say it will take three to six months before complete rehabilitation should take place." Attending a Samaritan's Purse distribution at Cornerstone Christian Church, however, gave her hope.
We provided Angelita with a heavy-duty plastic tarp to serve as a temporary shelter, a water filtration unit to remove harmful bacteria, and a solar light to illuminate the darkness. "What you have given us, I would say it really helps a lot. From having fresh water, from the tarp, no one who came will have a leaky home," she said.
Samaritan's Purse is committed to helping many more families on the Northern Mariana Islands of Saipan and Tinian recover from the storm.
"We praise God for the coming of Samaritan's Purse. You are exemplifying the love of Christ in a very tangible way," Pastor Ray said.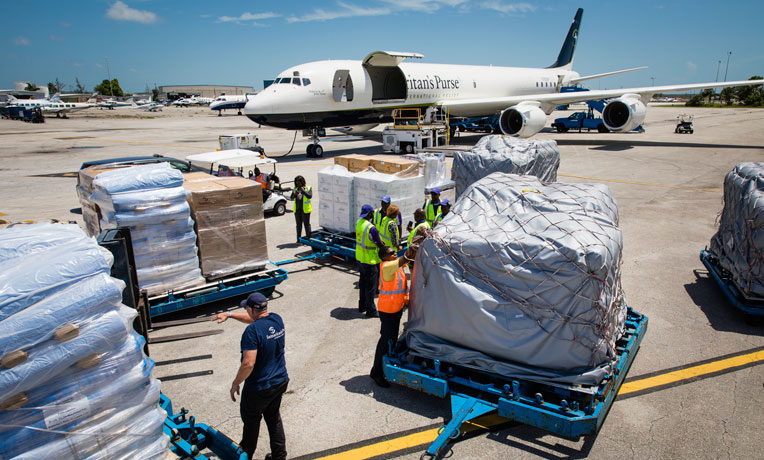 International Emergency Relief
When natural disasters strike or armed conflict causes people to flee, Samaritan's Purse responds quickly to bring relief to those in urgent need. We can provide food, clean water, and shelter, among other necessities. One way we help in disaster situations is by handing out "family survival kits" that include warm blankets, buckets with water filters, cooking utensils, soap, and other daily essentials. For just $45, we can provide a lifeline to a family that has lost everything, to help them get back on their feet.
---
International Emergency Relief 013310
Suggested Gift: $45