A surgeon and his wife bring hope to the hurting at Chitokoloki Mission Hospital in Zambia
His first operation of the morning went smoothly—a skin graft on the hand of a 12-year-old boy bitten by a puff adder. Removing his gloves, Dr. Kevin Kerrigan washed his hands in a corner sink while attendants prepped the next young patient for surgery. Anesthesia had taken effect, and the little girl's anguished cries stopped.
More delicate grafting would have to be applied to Anna's badly burned body. Five weeks before, the 7-year-old had been warming herself by the fire outside her family's dwelling when she got too close to the flames. Third-degree burns scorched the back of her legs, thighs, and buttocks. If infection does not set in, Anna's chances of survival are good. Kerrigan and the operating room staff join in prayer around her.
"Anna will need a number of grafts in stages. The graft we are taking today comes from her back," explained Kerrigan. "Anytime you have burns that cross the joints, there is risk of contractures. We want to cover the joint surfaces first with the skin grafts to keep scar tissue from forming."
It's a tedious procedure, but Kerrigan and his wife, Leslie, a nurse, have made the long journey from Spokane, Washington, to the bush country of southern Zambia to help save the lives—and quality of life—of patients like Anna.
The Skeleton Crew
This monthlong trip marks the couple's second visit to Chitokoloki Mission Hospital through World Medical Mission. When the Kerrigans came in 2015, they saw that surgeons were using handheld Wembley knives to perform skin grafts. A dermatome machine is more precise and a must for patients with extensive burns.
Kerrigan had seen the dermatome used at other mission hospitals and was well-practiced in operating it himself. He began praying that God would provide a machine for Chitokoloki.
"About four months ago, a friend put me in touch with a doctor who found one in an old warehouse. It hadn't been used since 2007," he said. "They refurbished the dermatome, and it is one of the medical supplies we brought with us on this trip. It's a quantum leap from what the hospital here had before."
Skin grafting is just one procedure among many in Kerrigan's multifaceted work as a general surgeon. He also does Caesarean sections and hysterectomies, orthopedic procedures, and cancer-related operations. Surgery days at Chitokoloki are Tuesdays and Thursdays. The rest of the week, he helps oversee the clinic and makes rounds seeing patients in the hospital wards.
"It's a skeleton crew here," said Kerrigan, who is filling in for one of the hospital's full-time doctors while he is out of the country attending a family wedding. "It's not just surgeries that I do. I am helping with family medicine, pediatrics, and non-surgical cases. We get involved in everything."
Disappointment Becomes a Divine Appointment
After his retirement as a naval surgeon in 2007, Kerrigan had more flexibility to go on short-term volunteer trips. Since then he has served nearly a dozen times with World Medical Mission, primarily in Africa on two-to-three month assignments.
"As long as our health allows, our plan is to use our retirement years to make trips overseas," Kerrigan said. "God has blessed Leslie and me in so many ways. We feel that we should use the talents He has given us to serve Him by serving other people."
Long before their introduction to World Medical Mission, the couple had already been serving the Lord on the mission field with other organizations. That includes six years as full-time medical missionaries in the Amazon of eastern Ecuador—a wonderful experience, Kerrigan said, for their boys.
His first trip to Ecuador took place during medical school and was not at all what he expected. Kerrigan was an agnostic at the time.
"A friend who had been a missionary kid signed me up for it. I had no idea what a mission hospital was. I was very disappointed, but I figured I could put up with it for three months," Kerrigan recalled.
"I could see there was something in the lives of those missionary doctors that was missing in mine. They had a peace and a purpose in life that I wanted. It's a long story, but through that experience I came to know the Lord."
That same hospital is also where he met Leslie, a nursing student from California who had come to serve during a mission trip. He and another doctor gave her a tour of the facility, and a romance quickly bloomed.
The couple now has five grown children and 19 grandchildren. Describing his wife as his "right hand," Kerrigan says, "We make rounds together, we go to clinic together, we do operations together. That's the fun part of it."
There are times of joy, too, especially when they see God's unmistakable hand of healing at work in their patients.
Completing the Rounds
It's 8 a.m. the next day, and Kerrigan is doing group rounds with a team of doctors. He looks for Lawrence, the boy bitten by the snake who required skin grafting on his hand. Unable to locate him in the ward, the staff searched and found him playing outside in the hospital courtyard. Lawrence is excited when he learns he will be released later today.
In the ICU ward, the first bed past the doorway holds Anna. She is lying on her stomach with a sheet raised slightly above her back and legs to protect her skin. Her grandmother and another female relative sit next to her bed.
Although she is in obvious pain, Anna rolls a red matchbox car across her pillow. She picks up a doll and holds it in her hand. Small actions, yes, but also sure signs of hope and a will to live.
Those moments of victory inspire Dr. Kerrigan and his wife to keep serving on the mission field, no matter where God leads them.
"You know that you are making a difference in people's lives," he said. "And if you can serve God by serving other people, it fulfills you spiritually too. There's no substitute for that."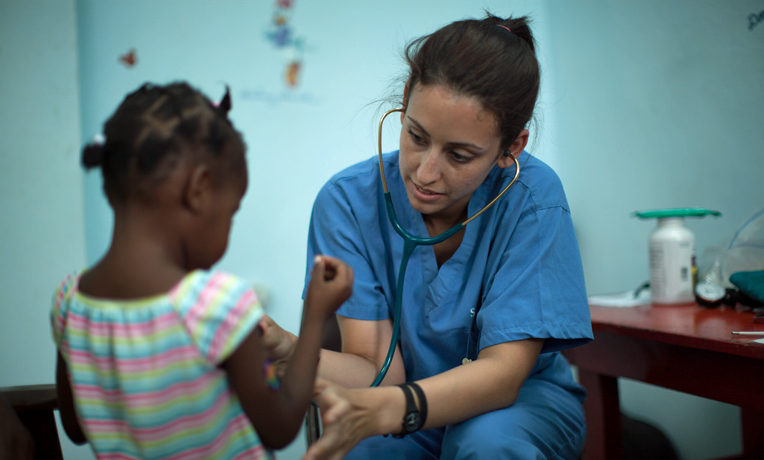 World Medical Mission
World Medical Mission was established in 1977 to assist general surgeons who wanted to volunteer for short-term mission trips. Today, hundreds of volunteer Christian physicians, dentists, and other medical personnel work in mission hospitals and clinics around the world. We also staff a biomedical department and warehouse that provides critically needed equipment and supplies to these medical facilities.
---
World Medical Mission 012004