Samaritan's Purse is working to improve the lives of mothers and their children in many countries across the globe.
Motherhood unites women across cultures. Once you hear your baby's first cry, you know life will never be the same.
Tragically, hundreds of young mothers and thousands of newborns die every day from preventable causes. Samaritan's Purse is working to reduce these mortality rates by improving obstetric care, teaching essential nutrition practices, and increasing access to quality healthcare. Through our Maternal and Child Health (MCH) programs in 11 countries, we serve about 35,000 women across the globe each month. These learners are becoming leaders as they share information with others and create healthier communities.
View the slideshow below to see some of the thousands of inspirational mothers we have the privilege to work with around the world. We praise God for them.
---
We celebrate these women, along with countless others both in faraway places and at home, who exhibit grace, self-sacrifice, and tenacity for the good of their families every day.
UGANDA
Colorinda lives in Karamoja, Uganda, and has become a leader in our MCH program. She has learned how to better care for her family, identify malnutrition in children, and practice good hygiene. She is serious about imparting her knowledge to others in her community.
"I not only learn, I teach. I not only teach, but do. I not only do, but care. I am  a friend, a teacher, and an advocate," she said.
---
BOLIVIA
In Bolivia,
Victoria
carries her baby across mountainous terrain for over an hour to reach the Samaritan's Purse nutrition workshop. She smiles when her name is called to represent her community.
Through our trainings, Victoria has recently become registered as a new mother nutritionist. She teaches important parenting techniques to fellow community leaders, such as the specific types of foods babies need at different ages.




---
DEMOCRATIC REPUBLIC OF THE CONGO
Alphonsine was raised by her grandmother in the Democratic Republic of the Congo, a nation in central Africa.
"She was at my side when I was a young girl," Alphonsine said. "When my father died, she took care of us; until now she is with me, and she has always supported me. Because of her grace, I have grown up in a family."
"I praise her courage and strength, and I thank God for her with all my heart."
Now Alphonsine is passing along this love and care to other women in her community as a volunteer in our MCH program—teaching women in her community about nutrition.
"The lessons that I have given them have borne fruit, because the mothers are already understanding and applying these recommendations within their families."
---
VIETNAM
Through our MCH program, Samaritan's Purse provided
Pla
, a 22-year-old Hmong mother in the northwest highlands of Vietnam, with nutrition and hygiene training, vegetable seeds for planting, and supplemental food for her baby girl. The little one went from moderate acute malnutrition to a normal weight over a period of six months.
"Every morning I wake up at 4 and make breakfast for the family. Then, at 7:30, I start to go to the field and bring my child with me," Pla said. "I finish my field work at 5 p.m. and continue to prepare dinner for my family at 6:30. If I'm raising pigs, I cook the meal for the pigs and finish everything and go to bed at 8.
"I like having Samaritan's Purse staff come and teach us how to cook, how to prepare a good meal for my child."
---
LIBERIA
Before an unprecedented outbreak of Ebola last year, our team in Liberia supported an active MCH program. That program was put on hold as we focused on stopping the spread of the deadly virus. Today, as the situation improves, our MCH work will once again reengage to help mothers and children. Ebola prevention messaging will become a part of the program.
Dorothy, 46, is a mother of six children, a nurse by profession, and a member of the Rapid Isolation and Treatment of Ebola (RITE) team in Grand Kru County. What she has learned is the same critical information we'll be providing to other mothers in this West African nation.
"The RITE strategy is very key in responding to an Ebola outbreak," she said. "If we had this training prior to the outbreak, it wouldn't have spread so wildly. We the mothers are so compassionate when our children fall sick. We disregard the fact that Ebola spreads through contact with an infected person. With the knowledge I've gained from this training, if my child starts to show signs and symptoms of Ebola, I will not 'rush to die' or infect the rest of my children by touching without any protective gear. I will find some protective equipment like gloves or plastic and quickly isolate my child before any step is taken."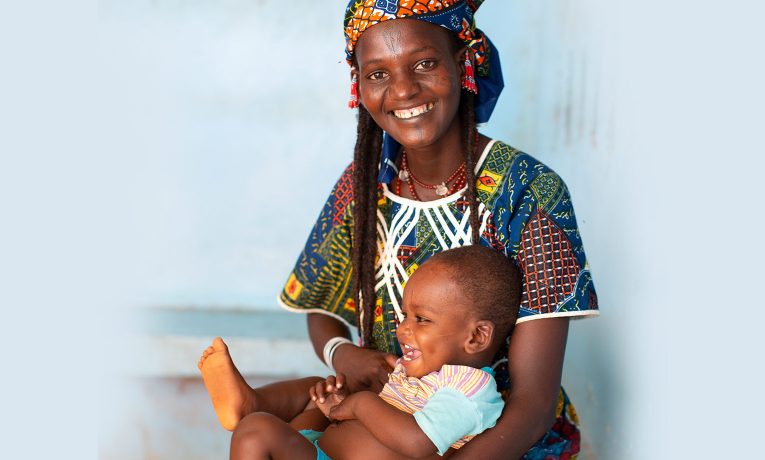 Care for Mothers and Babies
Tragically, hundreds of young mothers and thousands of newborns die every day from preventable causes. Your gift can help Samaritan's Purse reduce the mortality rates of women and their young children by improving obstetric care, teaching essential nutrition practices, and increasing access to quality healthcare.
---
Prenatal & Maternity Care 013717
Suggested $75