Samaritan's Purse teams have completed their work in Baldwin County, serving hundreds of families in the wake of Hurricane Sally.
U.S. Disaster Relief
013622
Volunteers from across the country demonstrated God's love and shared the hope of the Gospel with families struggling in the aftermath of Hurricane Sally. After a nearly four-month deployment to Baldwin County, Alabama, Samaritan's Purse teams have assisted 699 homeowners with the daunting tasks of mud-outs, clearing yard debris, tarping damaged roofs, and cutting up and removing downed trees.
Hurricane Sally was a powerful Category 2 storm that slammed into the Gulf Coast and dumped up to 30 inches of rain in some areas. Many residents went days or even weeks without power.
Samaritan's Purse quickly mounted a disaster relief response, setting up our base of operations at First Baptist Church of Foley just a few days after the storm had passed. We are thankful for the volunteers who invested more than 28,000 hours into being the hands and feet of Jesus Christ throughout the hardest-hit communities.
Throughout the response all of our volunteers and staff complied with COVID-19 local and federal safety guidelines, including wearing masks and social distancing.
God at Work
Samaritan's Purse saw God leading this relief effort from the beginning.
"He orchestrated everything and made it obvious that this is where we needed to be," said Rachael Miller, an assistant program manager with U.S. Disaster Relief.
Our staff were passing through Foley on their way to assess storm damage in other areas along the Gulf when they got a flat tire and had to stay overnight in Foley. Through an incident that seemed inconvenient at the time—a roadblock to fulfilling other plans—our team connected with community members and the staff at First Baptist and discovered the critical need in Foley and Baldwin County.
"God directed us to stay here," Rachael said, and God has worked in mighty ways during this deployment, including 76 salvations.
Some decisions for Christ were made by homeowners who heard the Gospel through the witness and testimony of Samaritan's Purse volunteers and Billy Graham Rapid Response Team chaplains. Yet, we also saw neighbors and community members come to faith in Jesus Christ through divinely-appointed interactions with our teams.
One day, a man riding his bicycle stopped in front of a house where Samaritan's Purse volunteers were clearing a downed tree. He wanted to know about Samaritan's Purse and why the team was there. Before long, he was sharing his heart with the team, explaining that he was so angry at God because of the death of his daughter. He had pushed away his family and turned to drinking to help ease his pain.
But after talking with our volunteers, and being encouraged with the eternal hope of the Gospel, the man rededicated his life to Christ.
"After searching for peace in the things this world has to offer, he turned back to the only One who can give him that true peace," Rachael said. "What an amazing God we serve, to orchestrate the perfect timing for this man to come by."
Rachael shared that throughout the deployment, every time the team had a need, they saw God provide. He ordered their steps and made His loving, comforting presence known during a difficult time.
"Every day we saw God move, provide hope and grace, and direct our paths."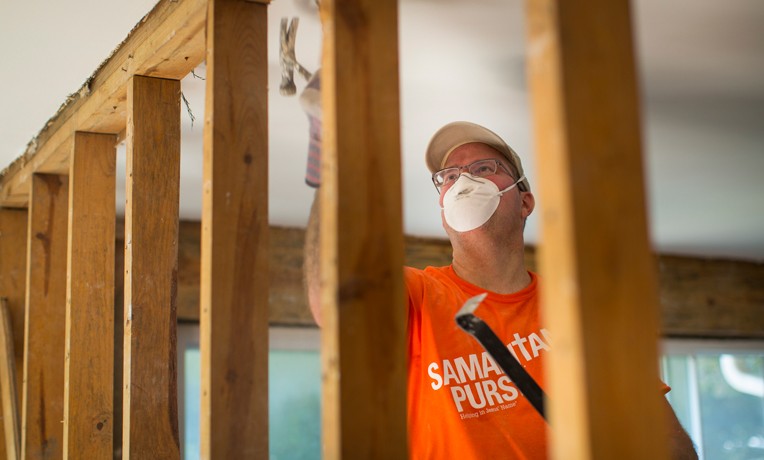 U.S. Disaster Relief
Samaritan's Purse mobilizes and equips thousands of volunteers to provide emergency aid to U.S. victims of wildfires, floods, tornadoes, hurricanes, and other natural disasters. In the aftermath of major storms, we often stay behind to rebuild houses for people with nowhere else to turn for help.
---
U.S. Disaster Relief 013622