The Mayfield tornado is one of many storms that have strengthened Janet Thomason's faith in God and the importance of prayer in all circumstances.
U.S. Disaster Relief
013622
For five minutes, Janet Thomason sought shelter in a broom closet as an EF4 tornado passed through her neighborhood. The 190 mile-per-hour winds devastated her community—destroying six of the seven homes on her street.
Janet and a friend had immediately gone into a closet as the sirens began to sound. Then they heard the wind pick up. They used pots and pans to protect their heads as they sat waiting, hoping the tornado would at least spare the closet with them inside. Janet knew though that their ultimate protection was God. She turned to prayer for protection and peace, trusting God with their lives.
"I really thought this was going to be my last night on earth," Janet said. "I thanked God for the blessings He had given me in my lifetime, and I prayed that I could come to heaven and be with Him. I thought that was it."
Janet called her brother. As the storm hit, she told him tearfully that she didn't expect to make it to the end of their phone call.
"We prayed and I told him I loved him," she said. Mercifully, the Lord spared their lives. "The Lord got us through."
When they came out from hiding, her home was miraculously still standing.
In the darkness, Janet could make out the outlines of downed trees surrounding her home. "When we stepped out of the closet there were leaves and grass," Janet said, describing those moments of gratitude that she and her friend were still alive. "I was shouting 'I smell pine! I smell pine cones!'"
By God's grace nobody on her street was injured, though many homes were destroyed. "Everybody in the neighborhood was safe. It was an answer to everybody's prayers," Janet said.
Prayers Answered through God's People
Samaritan's Purse was on the ground in Mayfield, Kentucky, just hours after the storm that hit on December 10. Thus far, more than 1,600 volunteers from across the country have helped some 400 families remove downed trees, clear debris, tarp roofs, and salvage personal belongings.
An army of Samaritan's Purse volunteers dressed in orange marched down Janet's street. One team helped Janet clear tree limbs from around her home and place tarp over a section of her damaged roof.
Teams helped neighbors recover belongings and provide spiritual support and encouragement.
"Oh my gosh, it's a God send," Janet said. "I never dreamed that it was teams and crews like this that did this type of work. Y'all have got to be blessed ten times over."
Even more than the physical labor, Janet saw the love of Christ reflected in the smiles and hard work of our volunteers.
"That's Jesus – y'all are representing Him right here on earth right now. He is still alive in all of us and working to help us every day through all our struggles, through this, through everything," Janet said.
As a result of her prayers and God's provision, Janet's faith in God has been fortified in the wake of this storm. Though she has endured many trials in her life, she knows that God is good and will sustain her. "I've lost a husband and brother and [God] is who gets me through and I know He gets other people through."
As Samaritan's Purse volunteers presented Janet with a Bible signed by the volunteer team, Janet thanked each one of them for coming to her home. She also prayed that God would continue to bless them as they return to their own homes.
"I've told them God bless them all and go with them in life and keep them safe," Janet said. "They were a godsend to me. Working in Jesus' name is what it's about."
Samaritan's Purse has helped more than 600 families recover from these tornadoes in Arkansas and across Kentucky. On Christmas Eve, we hosted a special Christmas Eve lunch for families in Mayfield, the hardest-hit community. Though many of them were unable to spend Christmas as they normally would, we wanted to remind families that God loves them and they are not alone or forgotten.
For more information on how you can volunteer to help tornado victims, visit SPVolunteer.org.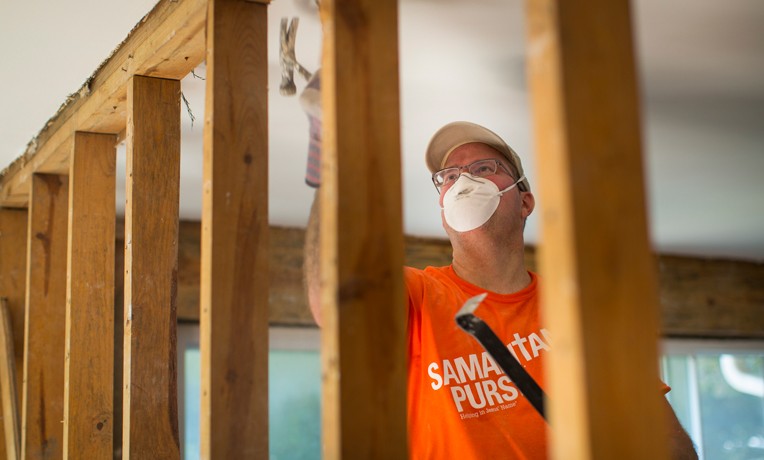 U.S. Disaster Relief
Samaritan's Purse mobilizes and equips thousands of volunteers to provide emergency aid to U.S. victims of wildfires, floods, tornadoes, hurricanes, and other natural disasters. In the aftermath of major storms, we often stay behind to rebuild houses for people with nowhere else to turn for help.
---
U.S. Disaster Relief 013622