Samaritan's Purse volunteers are demonstrating Jesus' love in Wisconsin and Illinois following historic rainfall and flooding.
Two weeks ago, Ed Duffett was startled awake at 4 a.m. He had slept restlessly that night, having just brought his wife Rose home following a three-week stay at the hospital and four more weeks of rehabilitation after she suffered a stroke. The torrential rain that started the day before was still pelting the roof of their longtime home in Silver Lake, Wisconsin.
Ed sensed danger outside so he peered through his back door and saw that the nearby Fox River was rising and murky water covered his back lawn.
He knew that floodwaters could cascade down his back stairs and into his basement and crawl space at any moment.
"I went into high gear and started pulling things out of our crawl space that had sentimental value," Ed recalled. "Rose worked 18 years for American Girl, so I grabbed her collection, as well as 18 Barbie dolls that she had received one Christmas at a time for 18 years."
Then came bigger projects. A cabinet maker by trade, Ed carried some of the cabinets from downstairs up to the main floor. He raised his washer and dryer off the ground.
U.S. Disaster Relief
013622
"God gave me the strength to tackle some of the heavier appliances down in that area to protect them, including the hot water heater and air conditioner," Ed explained.
When the water reached the garage, Ed knew he and Rose should leave the house. They returned that night and were overwhelmed by the damage they found. The water had indeed flooded the downstairs, but Ed was thankful because it could have been much worse.
An Overwhelming Task
Ed began the arduous cleanup effort himself and made headway but he knew he needed help. Hearing that Samaritan's Purse was in town, he reached out.
SIGN UP TO VOLUNTEER
This week our volunteers arrived and got to work, pulling out waterlogged flooring and walls. They took debris to the curb and cleaned up, then sprayed for mold.
They also loved on the couple, showing them the compassion of Jesus. They heard about the tragic death of their son, Lance, a two-time amateur world champion wake skater—like skate boarding on water behind a boat. He died in a water accident four years ago.
The Billy Graham Rapid Response Team chaplains also came by and provided emotional and spiritual care. They were encouraged by Ed's positive spirit and steady confidence in the Lord to strengthen them and provide day by day.
So far, through the witness of the chaplains, volunteers, and staff, six people in Wisconsin have prayed to receive Jesus Christ as their Savior.
Each volunteer who worked on their house signed a Bible for the couple. After the Bible was presented to Ed and Rose, chaplain Bob Segari prayed: "Dear Heavenly Father, thank You for the opportunity for the group of Samaritan's Purse volunteers to work on their house and restore this home. And to show them Your love.
"Please wrap Your arms around Rose and Ed and give them Your peace and help them get through this storm. We pray this in the precious Name of Your Son Jesus Christ our Lord."
Choking back emotion, Ed thanked our team members. "I'm grateful for your help. We could not have done this without you. Words don't do enough to express how we feel for you and all you've done."
A Two-State Response
To date, just shy of 200 volunteers have come alongside more than 60 families in southeastern Wisconsin and assisted them in their time of need. We've got dozens more work requests to go, so volunteers are still needed.
But not just in Wisconsin. Samaritan's Purse is also active in northeastern Illinois. Heavy rains and the Fox River—which reached a record high of 16 feet—devastated that area, too.
Our team members started this week to assist distressed homeowners there in Jesus' Name. The Chapel in Libertyville, Illinois, is serving as our host church.
"The waters are still up in several areas, and we are seeking ways to connect with homeowners and help them with their needs," said Keeth Willingham, Samaritan's Purse program manager overseeing the Illinois deployment.
"The work requests are coming in rapidly and we anticipate serving with our church partners to minister to everyone we can reach."
Volunteers Come from Near and Far
Our deployment in Wisconsin is drawing volunteers from around the country as well as from the local area. Ivan Erway, from Erie, Pennsylvania, first went out assessing what kind of work we needed to do. A couple of days later he got to help fulfill many of those work orders.
"It's such a blessing to be able to do what Jesus commanded us to do and go and love and serve others in need," he said.
J.R. Krogh grew up in Racine, one of the areas ravaged by the flood. He lived there for about 40 years but now resides in Atlanta. When he read online about the extensive damage, he knew he had to return and lend a helping hand.
"I've served at disaster sites around the United States and in Mexico and Japan," J.R. said. "But it came much more personal when it was where I grew up."
That's also true for Elizabeth Maney, who's from nearby Waterford and who volunteered Tuesday with her parents on her 14th birthday. "My mom and dad used to go on mission trips with my three older brothers but I was too little," she said. "But when I turned 14 and since this was nearby, I finally got to take part and help people with them."
That made her parents quite proud. "My wife, Tanya, and I were saved early on in our marriage, so we wanted to do family things together for God," Jim said. "Elizabeth is our youngest, and now it's very satisfying to be able to serve with her."
Tanya agreed. "We were looking forward to volunteering with Samaritan's Purse when Elizabeth turned 14, never thinking it would be in our own backyard," she said. "God worked that out."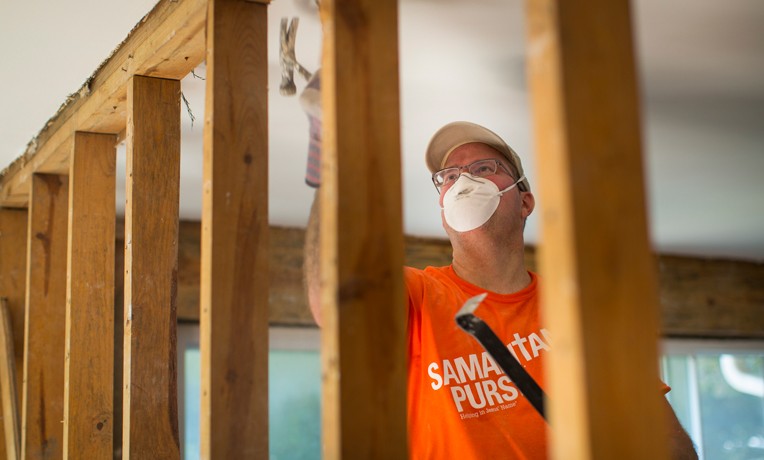 U.S. Disaster Relief
Samaritan's Purse mobilizes and equips thousands of volunteers to provide emergency aid to U.S. victims of wildfires, floods, tornadoes, hurricanes, and other natural disasters. In the aftermath of major storms, we often stay behind to rebuild houses for people with nowhere else to turn for help.
---
U.S. Disaster Relief 013622