Just as Samaritan's Purse volunteers are assisting homeowners in southern Wisconsin, we will now also help residents in northeastern Illinois devastated by floodwaters.
Samaritan's Purse is deploying to northeastern Illinois to set up a second location to provide disaster relief cleanup and recovery following major flooding when heavy rains pummeled the area and swelled the Fox River to record levels.
U.S. Disaster Relief
013622
Illinois Governor Bruce Rauner issued disaster declarations for Cook, Kane, Lake, and McHenry counties.
We already have volunteer teams in southeastern Wisconsin, ministering to residents who were affected by the same slow-moving storm system that initially dumped 6-8 inches of rain in some areas just over a week ago.
Our base of operations in Illinois is The Chapel, located at 1200 American Way, Libertyville, IL 60048. A disaster relief unit—a tractor trailer stocked with supplies and equipment—has been dispatched to the area.
Showers of Blessings in Wisconsin
Summer rains can often bring relief from sweltering temperatures and humidity. But for flood-weary residents of southeastern Wisconsin, thunderstorms can only raise their anxiety level.
SIGN UP TO VOLUNTEER
With more rain in the forecast late this past week, Samaritan's Purse volunteers serving in the Burlington area huddled to pray after breakfast, before heading out to work in homes damaged by recent floodwaters.
God had the last say on the weather forecast—the rain cleared out just as our teams were preparing to go out.
"As one person said to our team lead, it was like there was a bubble around Burlington and the surrounding areas," said Randy Corn, Samaritan's Purse program manager coordinating this deployment. "We didn't see another rain drop the entire day."
To date, more than 100 volunteers have fanned out across Kenosha, Racine, and Walworth counties along the Fox River to come alongside homeowners still reeling from severe flooding caused by historic rainfall a little more than a week ago.
We're helping families in Jesus' Name clean out their flood-damaged homes. Teams are tearing out damaged drywall, removing waterlogged flooring, clearing debris, and spraying chemicals designed to stop mold growth.
Mt. Zion Christian Church in Lake Geneva is our base of operations. More volunteers are needed to help us handle the significant number of requests for assistance. Billy Graham Rapid Response Team chaplains are also on hand to provide spiritual and emotional care.
One of our teams served at the home of Aaron and Laura Fissinger, who have two young children. We worked in their basement, removing all the paneling and drywall and then spraying for mold.
"My husband woke up about 3 a.m. He got out of bed and stepped right into water," Laura said. "The storm was horrible. Our vehicles were trapped here. The problems just started going from there."
This flood brought back tough memories for Betsy, a first-time volunteer at that site.
"My husband and I experienced a flood back in 2006, so we know what it feels like to lose everything and to be sort of overwhelmed," Betsy said. "I hope I can provide some comfort to Aaron and Laura and show God's love to their family."
God opened a unique door for Betsy to assist the Fissingers. She asked Laura how she could help. Laura took Betsy into a back room and said she was overwhelmed with a mountain of dirty clothes. Betsy took three very large baskets of clothes to another local volunteer's home and washed, dried, and folded eight loads of laundry before returning them.
When Betsy arrived with the clean clothes, Laura started crying and tears flowed among our volunteers as well. Our team completed gutting, cleaning, and spraying the basement.
"We thank God for allowing us to be His hands and feet while witnessing His mighty power as we serve," Randy said.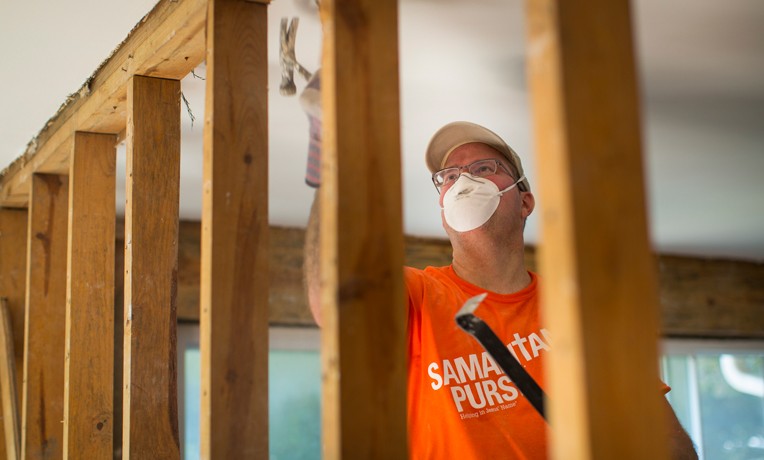 U.S. Disaster Relief
Samaritan's Purse mobilizes and equips thousands of volunteers to provide emergency aid to U.S. victims of wildfires, floods, tornadoes, hurricanes, and other natural disasters. In the aftermath of major storms, we often stay behind to rebuild houses for people with nowhere else to turn for help.
---
U.S. Disaster Relief 013622