Nearly 80 military couples attended an Operation Heal Our Patriots reunion this weekend in North Carolina
Storms in life will come, but, if you're in the boat with Jesus, your ship is not going to sink. That's what Samaritan's Purse President Franklin Graham told U.S. military couples who gathered this past weekend at The Cove near Asheville, North Carolina.
Each of the couples had previously traveled to Alaska for a week of marriage enrichment training in 2012, 2013, or 2014 through Operation Heal Our Patriots, the Samaritan's Purse project that extends God's healing to married military couples who have had a spouse injured in combat or combat operations since 9/11. They had come to The Cove for their annual reunion.
"We find ourselves in storms in life and we wonder how we're going to get out," Graham said as he spoke on Luke 8:22–25, the story of Jesus calming the sea.
"When we call upon the name of the Lord, He's there," he said. "He saved (His disciples) and He will do that for each and every one of you."
READ MORE: A couple renews their vows at the Operation Heal Our Patriots reunion
Couples heard from a variety of speakers in large group and breakout sessions, with most focused on helping families deal with post-traumatic stress disorder and traumatic brain injury.
Retired Army Lieutenant General Mike Rochelle addressed the gathering on Saturday night and noted that a heavy burden is placed on the active military, who make up less than 1 percent of the U.S. population.
"These are our modern-day heroes. They've made tremendous sacrifices—their families as well as the service members," Rochelle said later in the weekend. "It means a tremendous amount to me to give a little back to them."
Giving Back to Help Others
Retired Marine Brigadier General Jim Walker, Operation Heal Our Patriots executive director, kicked off the weekend by encouraging couples that they can bring the program's core message—a healthy marriage and strong faith in Christ are needed for long-term healing—to families in their own communities.
"Each of you can be a mini-Operation Heal Our Patriots," he told reunion attendees. "There are couples you can help."
Ben Hebert, who recently retired after 21 years of service in the Navy and Marine Corps, and his wife, Heidi, are catching that vision. The Florida family is now excited about pointing other couples with similar experiences toward Christ. Their desire to extend God's love to their community represents a major shift from their situation just a few years ago.
The couples' marriage nearly fell apart after Ben, a corpsman, was injured and lost a fellow Marine during a 2009 ambush in Afghanistan. There was nothing Ben could have done to save him, but he felt responsible for the death of his brother-in-arms.
In the throes of post-traumatic stress, Ben became chronically irritable and struggled with sleeplessness and weight gain. He and Heidi argued constantly.
"He was miserable. He barked at you. You couldn't do anything right," Heidi said.
Ben said, "We had some rough years. We about split up because of my issues."
The Heberts stayed together though and managed to find some degree of healing before attending a week of marriage enrichment in Alaska in June 2013. That's when they realized they were missing out on so much more. They knew they needed a right relationship with their Creator.
When they returned from Alaska they began attending church, which they had stopped doing many years earlier. Then, the two of them received Jesus Christ as Lord and Savior at the 2014 Operation Heal Our Patriots reunion also held at The Cove.
"Last year's reunion was life-changing for us," Heidi said. "He [Christ] is going to fix you from the inside out. You don't have to fix yourself first."
Ben and Heidi are now active members of an evangelical church in Pensacola, Florida, and attend a weekly small group. They will be baptized next weekend.
"Life is a lot better now," Ben said. "Christ changes you. There's no doubt about it. It's about that relationship with Christ."
"This Nation and the Nations"
During this most recent reunion, the Heberts also connected with another couple passionate about sharing Christ, especially in the military community. Pat and Lauren Cole, Operation Heal Our Patriots alumni from mid-September 2013, are moving from Georgia to Louisville, Kentucky, where Pat will begin his studies toward a Master of Divinity at The Southern Baptist Theological Seminary.
Pat served in the Marine Corps from 2003–2009 and did two combat deployments to Iraq. He fought in Fallujah in 2004–2005.
"I had a nasty bout with post-traumatic stress and depression," he said. "It's God's grace that has allowed us to be where we are today after [nearly] a decade of marriage."
Pat said God has brought a lot of healing and restoration into his life over the years. Both he and Lauren acknowledge their time in Alaska with Samaritan's Purse built on that foundation.
Both the Coles have been actively working in military ministry at their Georgia church. Lauren remembers feeling so alone when Pat began struggling, and she now reaches other women with the hope she has in Jesus Christ. The young couple see seminary as preparing them further "to bring the Gospel to this nation and the nations," Pat said.
Just before the reunion ended in prayer, General Walker listed some general resources available to wounded veterans. Then he concluded by pointing everyone back to the focus of the event.
"While all that help is there, there's just one source of hope and that's the Lord."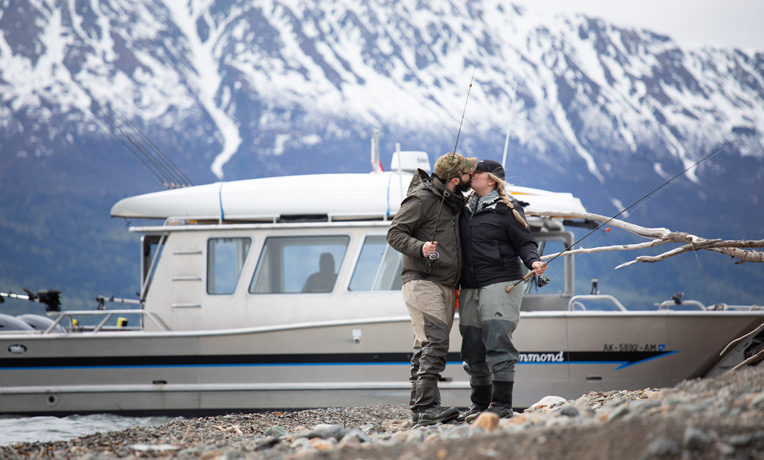 Bless the Marriage of a Military Couple
Operation Heal Our Patriots helps military couples build a strong spiritual foundation during a week of Biblically based workshops, relationship-building wilderness activities, and individual care by our retired military chaplains. We offer all this free of charge to these American heroes as a token of our appreciation for their service and sacrifice. Your gift will help us cover the costs—including transportation, lodging, activities, and long-term aftercare—so that we can help them find hope in the Lord.
---
Operation Heal Our Patriots 013960
Suggested Gift: $60