Edward Graham joined the LU Serve group and Liberty University leaders to help homeowners clean up their properties after Hurricane Idalia.
U.S. Disaster Relief
013622
Carrie Torres, living in a camper the last few weeks with her three teenage boys, had called everyone she could think of for help. All leads had turned up cold, and she feared she'd face the large hardwood trees alone. More than a dozen fallen trees surrounded her mobile home, and at least one large timber had crushed one end of the structure.
"There was just no way we could have cleaned all that up," she said. "We've been through multiple hurricanes, but never anything like this."
Hurricane Idalia had ripped through Taylor County, Florida, in late August. Samaritan's Purse began work there shortly after the storm, cleaning up trees and debris and removing mud and ruined belongings. Recently, a group from Liberty University, part of the LU Serve program, joined our efforts in the Sunshine State. And that's how the LU Serve team met Carrie. The students quickly got to work on her property, Friday, Sept. 29, this time joined by a few additional volunteers.
Samaritan's Purse COO Edward Graham served today in Perry, Florida, along with Will Graham, executive vice president and evangelist with the Billy Graham Evangelistic Association; Liberty University Chancellor Jonathan Falwell; and Liberty University President Dondi Costin.
"Samaritan's Purse and Liberty University go way back. And they're all about creating champions for Christ," said Edward Graham. "LU serve gives them the opportunity to serve communities in need and to strengthen the local church."
"We have some of the best students that come out," said LU Serve Advisor Liz Hayes. "They want to be here. They're eager to serve. They're very strong workers. It's been so cool to see them step up."
During their week of service, the group of 10 students helped eight homeowners clean up homes and property while sharing the love of Jesus Christ with hurting families.
At the conclusion of our work, Carrie expressed her gratitude to the team for accomplishing in an afternoon what would have taken days otherwise. She was presented a special Billy Graham Study Bible signed by the team.
"I can't thank you enough," she said.
Our work continues in Idalia's wake throughout both Taylor County, Florida, and in Valdosta, Georgia. Please pray for homeowners as they recover and for our teams as they work.
Samaritan's Purse is also still at work on the island of Maui. Rebuild projects are underway in Kentucky and Alabama. For more information on volunteering, please go to SPVOLUNTEER.ORG.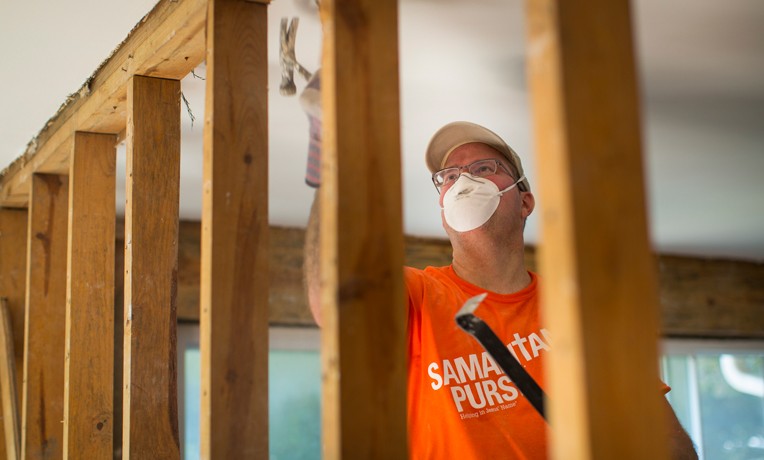 U.S. Disaster Relief
Samaritan's Purse mobilizes and equips thousands of volunteers to provide emergency aid to U.S. victims of wildfires, floods, tornadoes, hurricanes, and other natural disasters. In the aftermath of major storms, we often stay behind to rebuild houses for people with nowhere else to turn for help.
---
U.S. Disaster Relief 013622