An orthopedic surgeon returns to Kenya with World Medical Mission to mentor a new generation of Christian doctors.
World Medical Mission
012004
"An American missionary in Uganda was medevacked here with a broken hip. He's in the ER now. Can you go see him?"
Dr. John Newell had just arrived at Tenwek Mission Hospital in Kenya after two days of travel from North Carolina when he received news of the missionary's medical situation. The orthopedic surgeon immediately headed to the emergency room, slipping in unnoticed while a medical resident and the injured missionary and his wife engaged in a discussion about surgical options.
Newell stood in the background, listening intently as the missionary, Kenneth Hopson, recounted that he had fallen down the stairs at his home and went to a local hospital for tests and treatment. A surgeon there diagnosed a broken upper femur and recommended a relatively simple, half-hour procedure that would involve placing three screws into the bone. However, Hopson was familiar with the care provided at Tenwek's facility and wanted a second opinion.
Providing Expert Advice
Dr. Eric Yegon, an orthopedic surgical resident who is in his fifth and final year of training at Tenwek, described the nature of Hopson's fracture and why he recommended total hip replacement as the best choice to provide a predictable and permanent result.
Newell finally made his presence known. "I agree with everything Dr. Yegon has explained," he said.
Yegon whirled around to find his friend and mentor smiling with affirmation. Their reunion brought joy to the two surgeons and reassurance to the missionary that he was in good hands.
For Newell, who was making his seventh trip to Tenwek as a World Medical Mission volunteer, it was an especially fulfilling moment.
"I've worked with Eric since he was a first-year orthopedic resident. Now he's the chief resident," said Newell. "Making that connection with Eric was a great start to this trip."
Investing in the Next 30 Years
Two days later, Yegon and Newell teamed up with another orthopedic surgical resident and a staff surgeon to perform the hip replacement. The missionary community at Tenwek also rallied around Hopson and his wife, taking care of their needs and treating them like family. After a couple of weeks of recovery, the Hopsons were able to return to Uganda.
That experience is an example of why Newell, who retired from his practice in Boone, North Carolina, in 2017, returns to Tenwek for the primary purpose of teaching and nurturing future Christian surgeons in Africa who are supported by PAACS, the Pan-African Academy of Christian Surgeons.
"When I go for three weeks, I do 50 to 80 cases, but that in itself has limited lasting value," said Newell. "On the other hand, when I go and help a resident develop confidence and expertise, he will be in his country doing those cases consistently and safely for the next 30 years."
Using Retirement to Bless Others
Newell's surgical career in Boone brought him into contact with staff at World Medical Mission, as his office was located about three miles from Samaritan's Purse headquarters. After retirement, he researched and prayed over where God would have him use his surgical skills on the mission field.
He settled on Kenya as a good place to start. The first visit to Tenwek impressed him so much that he keeps coming back.
On these trips, Newell typically takes at least one suitcase filled with donated surgical equipment from the Samaritan's Purse medical supplies warehouse. In May, he dragged three 50-pound suitcases. The high-quality materials—including complete sets of instruments and implants—were donated by the hospital in Boone. World Medical Mission covered the cost for the extra baggage.
Choosing to Operate Despite Challenges
Newell said the medical cases at Tenwek are among some of the most challenging he has ever faced. Within a week of his arrival at the hospital, the instruments he brought were needed for a particularly difficult total hip replacement case. The elderly patient had a severe acetabular protrusio deformity.
At first Newell was reluctant to operate on the patient, given the procedure's complexities. The residents at the hospital had even less experience. There was a real risk of complications.
In a role reversal of sorts, it was Dr. Yegon, the young medical resident, who sat down with Newell and urged his mentor to exercise a little faith.
"I respect Eric, and it is a common philosophy among the residents that 'if we don't do it, nobody will,'" Newell said.
Over the next several days, the patient was readied for surgery. That gave Newell time to research and prepare for the case.
With lots of prayer, and a group effort involving the same quartet of surgeons who operated on Kenneth Hopson, the surgery "came out really, really well," he said.
"Following the procedure, I had a good talk with Eric about what he had learned. Becoming a mature and careful surgeon requires doing cases that are difficult. Struggling is sometimes required," Newell explained. "In the process, you learn how to optimize things, overcome barriers, and become more accurate, even with difficult anatomy. I had a very good time working with the team."
For the veteran surgeon, it was one of many "God moments," from the first day of the trip when he met Hopson and was reunited with Dr. Yegon until the final day.
"Does God not want me to do hard things? Does He want me to always be in my comfort zone? Obviously not," Newell reflected. "We go on a mission trip thinking we are going to do some really good things. In reality, we're the ones whose hearts are changed."
"For me to do this well, I just have to consistently trust that God will prepare me and guide me," he said.
Leaving a Legacy
With each visit, Newell's desire is to be a better educator and encourager. He is inspired by the Christ-like, self-sacrificing, and humble spirit of the medical residents, and he feels honored to play a small part in grooming them for their careers.
"My hope is that my legacy is one of encouraging people, building relationships, and bringing essential equipment that the surgeons can't get easily," he said. "When I see the quality and faith of these residents, it gives me confidence that I am investing in people who are stellar. They can go anywhere in Africa or in the world and will do a great job, bringing glory to God. That legacy warms my heart."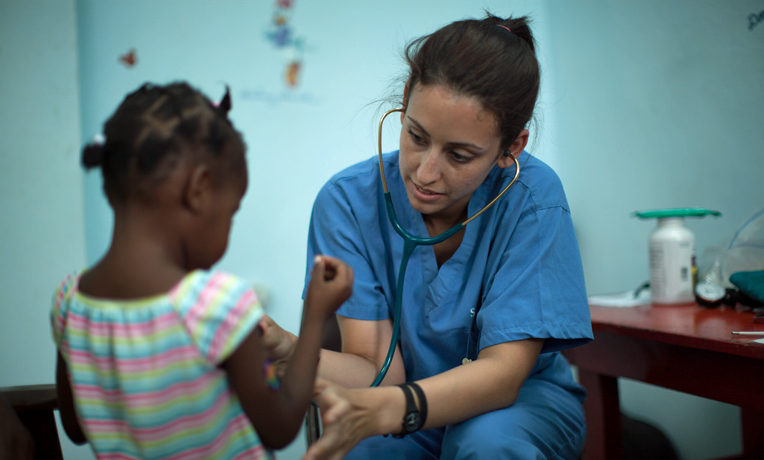 World Medical Mission
World Medical Mission was established in 1977 to assist general surgeons who wanted to volunteer for short-term mission trips. Today, hundreds of volunteer Christian physicians, dentists, and other medical personnel work in mission hospitals and clinics around the world. We also staff a biomedical department and warehouse that provides critically needed equipment and supplies to these medical facilities.
---
World Medical Mission 012004