Jesus' love encourages homeowners' hearts after their world is turned upside down.
The January 21 tornado that tore through Hattiesburg and Petal, Mississippi, ripped up Shirley Chatman's roof. As she and her family salvaged what valuables they could from her home, she became concerned that they would not be able to cover the house before an impending rain.
U.S. Disaster Relief
013622
However, she need not have worried, because her family did not have to do the work alone—Samaritan's Purse volunteers arrived just in time to help.
"We couldn't do this by ourselves," she said as Samaritan's Purse volunteers covered her roof with a tarp and helped her clean up inside. "You get more strength when you do it together—more strength physically, mentally, and spiritually."
That boost of strength meant a lot to another Hattiesburg homeowner, Youlunda Michel, as well.
"It's a godsend," she said about Samaritan's Purse volunteers clearing her front yard of uprooted trees. "I've been sitting here and getting sad and kind of depressed, looking at it all. Clearing the yard helps get things back to normal, or at least come closer to that, and that's what I need—to get things back to normal."
But with her house severely damaged, returning to normal will be a process.
Volunteer Johnny McCrary worked on Youlunda's home. "It just breaks my heart to look at this," he said.
SIGN UP TO VOLUNTEER
Johnny and his wife, Kathy, are from nearby Petal, Mississippi, which also sustained tornado damage. Kathy volunteered with Samaritan's Purse after the February 2013 Hattiesburg tornado.
"Sadly, after these tornados and Hurricane Katrina, we're starting to get experienced at this," he said. "We pull together. Even after the third time of seeing this, it still blows your mind when you go into the neighborhoods and see the devastation."
HELPING EACH OTHER
A dozen soccer players from William Carey University, which sustained widespread tornado damage, volunteered with Samaritan's Purse in their community.
Soccer player Paul Bracken from Dublin, Ireland, had a scare during the tornado when he and a friend were headed back through campus and the wind jammed their car into bushes on the side of the road. The car stayed upright, and they emerged unharmed.
Paul and three WCU teammates, who happen to hail from England, helped fellow volunteer Ramona Carter and her husband, Leeroy, recoup what belongings they could from Leeroy's family home. The house was damaged when rain leaked through holes in the roof.
"That's what it's about—everyone pulling together," Leeroy said.
Goalkeeper coach Ross Brooks led the volunteers' Bible presentation to the Carters. Every homeowner Samaritan's Purse helps receives a Billy Graham Study Bible signed by the volunteers.
"We at William Carey University are here for you," Ross said.
DRAWING PEOPLE TOGETHER
In the blocks surrounding William Carey University, it's hard to find a structure untouched by the tornado.
"The storm came up just like that in the middle of the night and was over in 30 seconds," said Nathaniel Hibbler, who lives a block away from the university. "But you couldn't see the damage right away because it was dark. When daylight came, it looked like someone had dropped a bomb."
Tall trees that once provided the Hibblers' property with shade from the sun were projectiles in the storm.
Nathaniel's adult son, Shawn, lives next door to his parents and was sheltering with them during the storm. His home crashed feet off its foundation and large trees crushed the back of the house. The falling trees were so strong that they bent solid iron bars into a ball.
Samaritan's Purse volunteers from seven states helped the Hibblers cut and clear the fallen trees, including Robin and Allan Birkey from Indiana who also recently volunteered with Samaritan's Purse in Albany, Georgia, after early January storms there.
Also helping on the Hibblers' home was Leslie Camp, who just moved from Georgia back to Mississippi, where 15 years ago a tornado struck her house. This was her first time volunteering with Samaritan's Purse.
"I've loved the ministry of Samaritan's Purse," she said. "I'm glad that I had the opportunity to serve the community in this way."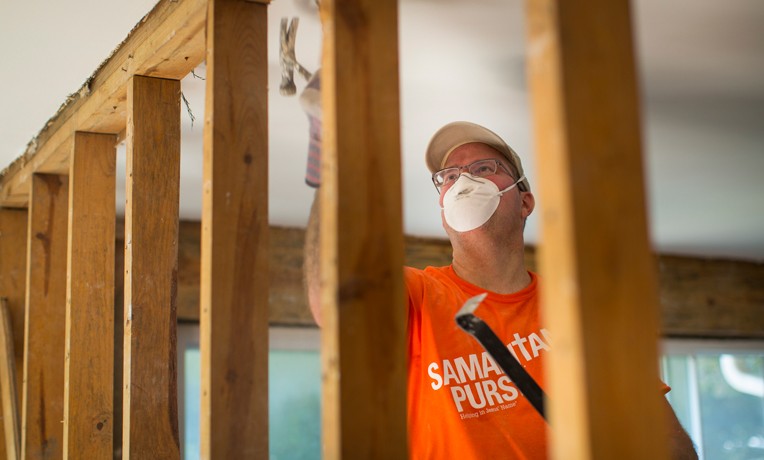 U.S. Disaster Relief
Samaritan's Purse mobilizes and equips thousands of volunteers to provide emergency aid to U.S. victims of wildfires, floods, tornadoes, hurricanes, and other natural disasters. In the aftermath of major storms, we often stay behind to rebuild houses for people with nowhere else to turn for help.
---
U.S. Disaster Relief 013622