Samaritan's Purse is responding to disaster relief needs in Albany after two destructive storms in January—and dozens have placed their faith in Jesus Christ.
After a severe storm hit Albany, Georiga, Jan. 2-3, Samaritan's Purse assessed Lester Johnson's property. During the damage assessment, our team shared the Gospel with the 83-year-old homeowner, and he prayed to receive Jesus Christ as Lord.
SIGN UP TO VOLUNTEER
The next day, Lester decided to become a Samaritan's Purse disaster relief volunteer and joined a team to help his neighbors clean up their properties. Then, a team helped him remove damaged trees from around his yard.
In the weeks since then, Lester has volunteered with Samaritan's Purse more than a dozens times, most recently helping homeowners after a tornado tore through Albany on Jan. 22, killing 16 people in Georgia.
The storms that hit Albany twice in one month took different paths, so homes hit earlier in the month were spared from another direct hit. But many people who had avoided storm damage the first time now need help to recover from the tornado. Volunteers have helped approximately 350 Albany homeowners so far with disaster relief needs, with more than 200 additional work orders to be completed.
New Life at 83
Lester's home was spared during the first storm, but his property was littered with fallen trees. The 83-year-old needed help clearing them from around his house. Palmer and Sharon Pisle, full-time disaster relief volunteers with Samaritan's Purse, responded to Lester's request for help by conducting a damage assessment at his home.
Palmer asked Lester if he would be with God in heaven had he not survived the storm. Lester said he hoped so. Palmer told him that he could know for sure and led Lester in a prayer to receive Jesus Christ as Lord and Savior.
U.S. Disaster Relief
013622
Lester said he felt an immediate sense of calm and wellbeing.
"The feeling just hit me right away," Lester said. "I felt good, like a weight had been lifted."
"That's the Holy Spirit at work in you already," Palmer told him. "This is just the beginning."
Palmer talked with him about the importance of seeking Christian discipleship and fellowship through a local church. He told him about how churches are involved in the disaster relief efforts and invited him to join them.
Sharon said the conversation went like this:
Lester: "I'm 83—What can I do?"
Palmer: "I'm 74—you can come help."
The next morning, Lester joined a volunteer team and has continued volunteering. His tasks have included raking yards clear of debris, fallen branches, and leaves.
After Lester's team finishes for the day and the Pisles return from assessing homes, they've met for dinner a couple of times at Gillionville Baptist Church, which is hosting the volunteers.
"It's just been a joy to see the Holy Spirit really start working in him," Palmer said. "Usually, we see the salvation experience, but we don't get to see the discipleship afterward. With Lester, we've gotten to see both."
Lester isn't the only person Palmer has led to the Lord during home assessments. A couple accepted Jesus as Lord after Palmer asked them where they would be if they hadn't survived the storm. Then, when the Pisles stepped in as team leaders for a group of volunteers, homeowner Jerry Stamper accepted Christ when Palmer asked him the same question about how to be sure about eternity.
Samaritan's Purse volunteers and Billy Graham Evangelistic Association chaplains have reported leading more than 50 people in Albany to faith in Jesus Christ in less than a month.
"I've Waited Long Enough"
Lester has quickly become a volunteer that other Samaritan's Purse volunteers gravitate toward.
One volunteer took him shoe shopping, outfitting him with sturdy work boots.
Lester's team leader Bob Wittenborn from Illinois said he has a soft spot in his heart for Lester because "he cares about his neighbors so much. He made sure his neighbors were OK and got help after the storm."
Lester has spent most of his life thinking that being good and working hard would earn him a place in heaven.
"I always thought I was a good person," Lester said. "I didn't realize that I needed to take the next step."
Lester's mother had him when she was 15. As the oldest of nine children, Lester bore the responsibility of helping his mother raise them since his father was consumed by alcoholism.
Lester grew up in southwest Georgia and returned a couple of years ago after living more than 50 years in Florida. He used to build and repair theme park rides there.
Still not one to sit idle, Lester wants to help others affected by the storms.
"You helped me, so I want to help you," Lester said about becoming a Samaritan's Purse volunteer.
He said volunteering has given him a sense of purpose, especially since he's embraced the reason for helping others—in Jesus' Name.
"There's no use in waiting around," he said. "I've waited long enough.
"The Lord is going to lead me right. I've got faith in that. He picked me up—He isn't going to put me down. I feel like I'm wrapped in God's hands now."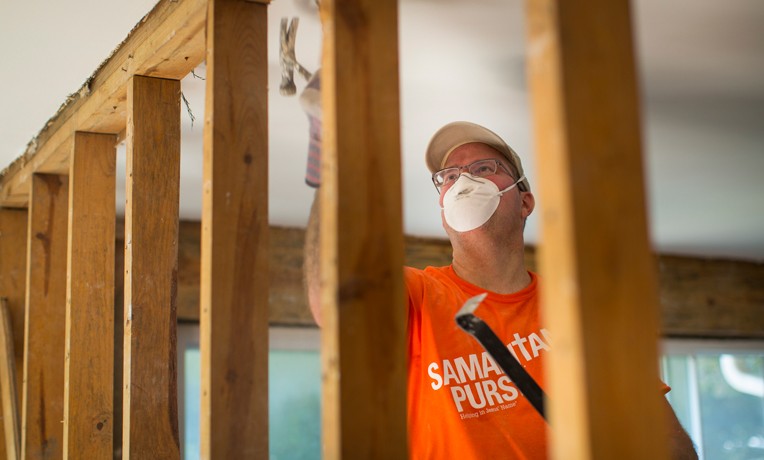 U.S. Disaster Relief
Samaritan's Purse mobilizes and equips thousands of volunteers to provide emergency aid to U.S. victims of wildfires, floods, tornadoes, hurricanes, and other natural disasters. In the aftermath of major storms, we often stay behind to rebuild houses for people with nowhere else to turn for help.
---
U.S. Disaster Relief 013622