Meet the Kinards: With time away from everyday life and days spent learning from God's Word, the lives and marriage of this wounded veteran and his spouse were transformed at the edge of the Alaskan wilderness.
Bless the Marriage of a Military Couple
013960
Army Corporal Hamilton Kinard's 15-month deployment to Iraq was a turning point in his military career. At age 19, he had joined the military "to make my dad happy. I hadn't done much with my life up to that point and I wanted to make a difference. I wanted to help somebody."
In 2005, as he stood atop a Humvee in the Iraqi desert manning a gun during a night convoy, his vehicle ran over an IED charged with a 155 artillery round—an explosive projectile that insurgents had obtained covertly and had repurposed for killing American soldiers patrolling their towns.
The Humvee was flipped and Hamilton was thrown into the road. Amazingly he was alive with no severe external injuries to speak of. But it was that incident and many others that led to a diagnosis of Post Traumatic Stress Syndrome—a medical condition that has caused many wounded veterans to experience the traumas of combat long after the fact and often in the midst of everyday life.
In the years since leaving the Army in 2010, Hamilton met Britnee, married, and started a family. Though he is no longer in the military, his combat experiences continue to churn inside him, eliciting anger and frustration that his family doesn't deserve.
In Alaska this July, though, the Kinards experienced a breakthrough as they attended a week of marriage enrichment through Operation Heal Our Patriots. As Hamilton and Britnee joined other military couples on wilderness excursions and in the marriage classes led by our chaplains, God worked on their marriage and their hearts.
"The classes really made us look at ourselves and answer some important questions we'd been avoiding for a long time," Britnee said. "We've seen some issues come up this week that we wouldn't have really been able to deal with in previous years. It really makes you look at yourself and figure out where we were going wrong. I'm very quick to point out everything that he's done wrong, but I've never looked at what I've done wrong."
Souls Searching, Souls Saved in the Wilderness
"That book," Hamilton said, referring to the workbook that walks couples through a Biblical view of marriage, family dynamics, and healthy communication. "It made me mad and happy at the same time. Mad that I found out who I was and happy that I found out who I was."
During the classes, excursions, and counseling with our chaplains, Hamilton realized his greatest need as a father and husband was to give his life to Jesus Christ. On Thursday night July 23, he received Jesus Christ as Lord and Savior. The next day the Kinards recommitted their marriage to God, and on that same day Hamilton was baptized in Lake Clark alongside five other participants.
He and Britnee also wrote on a piece of paper the burdens they had carried with them to Alaska. They nailed that paper to a log and burned it on the fire at Samaritan Lodge, symbolizing that they're leaving those burdens behind.
"I used to hold a lot of hatred," Hamilton said. "But coming here this week showed me, and I don't like who I was. I'm not a crying person but the whole week I've wanted to fold over."
Hamilton said he came face to face with anger stemming from his combat experiences and even far back from his younger years. He also had to face regret over things he'd done in his past. Praise God he also came face to face with a Savior who forgives and saves sinners from themselves.
"Understanding what I had before it's lost—that's world changing," he said. "And what I've gained here is also world changing. It's powerful. I've got a lot of changing to do, but I'm excited for the future and I haven't been excited for the future in a while. It's liberating, man. It's a breath of fresh air."
Please continue to pray for the many military couples who will join us this summer in Alaska, and pray for those who have already returned home. Pray that God would strengthen them in their faith and in their marriages and families.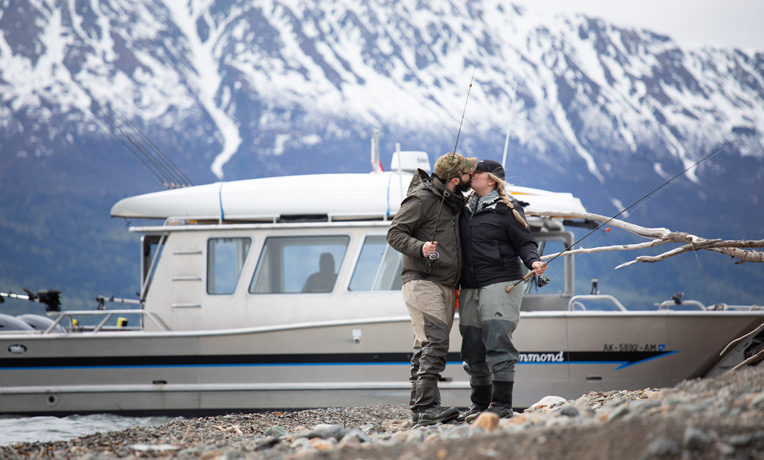 Bless the Marriage of a Military Couple
Operation Heal Our Patriots helps military couples build a strong spiritual foundation during a week of Biblically based workshops, relationship-building wilderness activities, and individual care by our retired military chaplains. We offer all this free of charge to these American heroes as a token of our appreciation for their service and sacrifice. Your gift will help us cover the costs—including transportation, lodging, activities, and long-term Family Care—so that we can help them find hope in the Lord.
---
Operation Heal Our Patriots 013960
Suggested Gift: $60