Veterans and their spouses mark Patriot Day at Samaritan Lodge Alaska.
As the nation commemorated the 14th anniversary of 9/11, a small band of brothers still suffering from the wounds and trauma of the war on terror were gathered together in the Alaskan wilderness to experience God's healing grace.
Along with their spouses, they came to the penultimate week of the fourth season of Operation Heal our Patriots, a project of Samaritan's Purse that has brought more than 500 couples to the shores of Lake Clark since its inception in 2012.
Under the golden-birch shadow of Tanalian Mountain, the ten couples spent the week of 9/11 exploring the surrounding trails, rivers, and forests and listening to retired military chaplains share powerful truths from God's Word on Christ-centered marriage and living.
The results of multiple deployments to the deserts and mountains of Iraq and Afghanistan were still painfully obvious. Some walked with canes. One needed a specially designed wheelchair. Several were still battling the residual, debilitating effects of post-traumatic stress disorder.
At the conclusion of their week of marriage enrichment, they gathered on Friday afternoon, September 11, around a warm fire in the Alaskan chill for a special ceremony to remember the infamous day 14 years ago when Islamic terrorists hijacked four planes and flew them into New York's twin towers, the Pentagon, and a field near Shanksville, Pennsylvania, killing about 3,000 people.
Earlier on Friday, many participants marked newfound healing and hope in the Lord. Six couples rededicated their marriages to God and each other. Five individuals were baptized. Seven individuals received salvation in Jesus Christ during the week.
Responding at the Pentagon
Among those saved and baptized were Army Master Sergeant Josh Grzywa and his wife Neysa. For Josh, the memories of 9/11 are still up close and intensely personal.
That Tuesday day began with the hum of his normal routine. Josh's unit known as the Old Guard of the Third Army Regiment, was responsible for rendering service to fallen soldiers at Arlington Cemetery, as well as attending to special visiting dignitaries.
On September 11, 2001, Josh arose at 4 a.m. and prepared to assist an Australian official who was visiting the Pentagon.
"There was nothing out of the ordinary," Josh recalled. "It was just a routine morning. The day before our unit had visited Gettysburg, and it had made a big impression on me since we had not been in battle before."
Just a few hours later the battle began.
"Like so many, we had heard about the attack on the twin towers and were watching television," Josh said. "I saw the plane go into the second tower. My military mind began to go into action. I remember thinking something wasn't right."
Planes nationwide were immediately grounded. Since his unit was based in the nation's capital, Josh was accustomed to seeing planes arrive and depart from Reagan International Airport. One plane, however, was coming in abnormally low. It was American Airlines Flight 77, the aircraft that struck the Pentagon seconds later, killing 30 people.
With needed assets and vehicles, half of Josh's platoon was immediately deployed.
"It was absolute chaos," Josh recounted. "There were flames and smoke coming from the building. Debris was scattered everywhere. That is when I remember thinking, 'this is real, we're under attack.'"
As the numbing days went by and Josh's unit continued cleanup efforts, the initial shock and chaos turned into more focused anger. "I joined during a time of peace, but I knew now we were going to war."
God Has a Plan
Josh was deployed to Iraq where he fought until a mortar blast from enemy forces caused a severe concussion and damaged his lower spine. He underwent surgery on multiple vertebrae to repair the injury. He still suffers nerve damage that affects his back and legs.
His wife Neysa, gently encouraged him to fill an application to attend Operation Heal our Patriots, and after a few years of prompting, he applied and was accepted.
"Well, God obviously had a plan, and it was His plan for us to be here," he said. "We're growing stronger as a couple and I am forever grateful to Samaritan's Purse for bringing us here. It's like nothing I have ever seen or experienced."
On the eve of 9/11, both Josh and Neysa received God's saving grace by trusting Jesus as their Savior.
"Josh and Neysa came to Christ as a couple, " Chaplain Jim Fisher said. "They found healing from the Savior from the wounds of war, and they now have a desire to extend that healing to others."
Neysa, a former ballerina, confirmed their hopes to speak into the lives and marriages of other wounded veterans.
"Every person comes into a marriage with some baggage," she said. "When you add in deployments and injuries, it gets tougher. We know seven friends who since this May have thought about suicide. They felt like it was their only option. Now maybe we can help them."
God Has Done Great Things
Samaritan's Purse President Franklin Graham, whose third son has seen multiple deployments overseas, thanked the veterans for their service to the nation.
"We thank God for the wounded veterans who have sacrificed much for our nation in the war on terror," Franklin Graham said. "Three thousand Americans were killed on 9/11, and we don't want to forget the thousands more killed in battle along with those who suffered terrible injuries.
"This has been an incredible year at Operation Heal our Patriots. Some came here with their marriages in deep trouble—headed for divorce—and they left with their marriage restored. Many have been saved and baptized. A number have rededicated their lives and marriages to Jesus Christ. God has done a great work."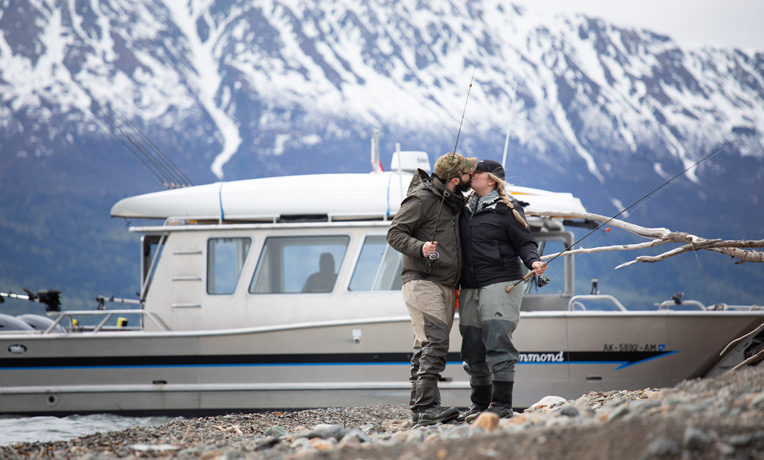 Bless the Marriage of a Military Couple
Operation Heal Our Patriots helps military couples build a strong spiritual foundation during a week of Biblically based workshops, relationship-building wilderness activities, and individual care by our retired military chaplains. We offer all this free of charge to these American heroes as a token of our appreciation for their service and sacrifice. Your gift will help us cover the costs—including transportation, lodging, activities, and long-term Family Care—so that we can help them find hope in the Lord.
---
Operation Heal Our Patriots 013960
Suggested Gift: $60