Samaritan's Purse volunteers helped a single mom in Florida recover after Hurricane Ian and showed her that she could learn to trust again.
U.S. Disaster Relief
013622
When Hurricane Ian slammed into southwest Florida as a Category 4 storm on September 28, it battered the Gulf Coast town of Fort Myers with 155-mph winds, catastrophic rainfall, and an epic surge of water.
Vivian chose to ride out the storm with her 16-year-old daughter believing that, no matter how horrific the hurricane was, the water would never rise high enough to reach her elevated porch and come crashing through her front door.
She was wrong.
VOLUNTEERS NEEDED: FORT MYERS | ENGLEWOOD | PUNTA GORDA
"My daughter and I were watching the storm out the front window and water swallowed our car and then came up on the porch," Vivian said. "Then it started coming in under the door and through the walls. I told her we have to get out of here."
The two of them raced to the back door where they planned to wade across the yard to a two-story apartment that Vivian owns. The yard had been replaced by rising water.
"We had to swim through the backyard over to the apartment steps," Vivian said. They stayed on the upper floor of the apartment for around 12 hours until the floodwaters receded.
A New Pair of Boots
Then Vivian walked a mile to her church—barefoot.
"I kept the shoes that I don't wear most of the time up on the top shelf of my closet, like my high heels," Vivian said. "My sensible everyday shoes were on the floor and got ruined. So I had no shoes to wear and I was afraid that I might step on nails or some other debris and cut up my feet. So I decided to walk to my church, Citygate Ministries, which is about a mile away, to see if I could get a pair of shoes."
At the church, Vivian was given a new pair of boots to wear. She was thrilled.
"I was so happy that I now had a pair of boots to walk home in," she said. And while she was at the church, she saw several disaster relief trucks from Samaritan's Purse in the parking lot and learned that volunteer teams were helping homeowners clean up their properties.
Samaritan's Purse quickly sent Disaster Relief Units–tractor trailers filled with relief supplies and equipment–to begin responding to hurting communities after the storm passed. Volunteers began work Oct. 1 and are now serving in three southwest Florida locations to mud-out houses, tarp roofs, and clear trees and debris from properties.
Vivian had no flood insurance and she had recently left her job in an effort to improve her health as she battled cancer. This recently included a series of cancer surgeries and treatments that required periods of recovery and left her drained.
The hurricane seemed to hit at the worst possible time, but when the volunteers showed up just at the right time, Vivian believed that God had shown up, too, in answer to her prayers.
"It really is God. Since the hurricane happened, it's been a wave of people coming in and loving on me and praying for me. It's just been wonderful. I never knew there was this much love."
"When I got back to the house, a friend of mine from the church was there and I told her that I filled out an application with Samaritan's Purse but that I didn't know how long it would be before they would come. I hoped they'd come before mold set in," Vivian said. "So, she said, 'Let's pray that they come fast, even by tomorrow.'"
When they finished praying, they walked outside and a Samaritan's Purse truck pulled up in Vivian's driveway with two assessors to survey the damage. A team of volunteers arrived the next morning to begin removing drywall, spraying for mold, and hauling debris to the curb.
"I was blown away by how fast God answered our prayer," Vivian said. "And I'm so amazed that people from Arizona and North Carolina and other places are willing to volunteer and help me and not want anything in return.
"I'm a recovering addict. I'm not used to people being nice without wanting something. It's so hard for me to trust people. But this is so different. It really is God. Since the hurricane happened, it's been a wave of people coming in and loving on me and praying for me, including Edward Graham. It's just been wonderful. I never knew there was this much love."
Blessed to Bless Others
Vivian was so grateful for the work that Samaritan's Purse volunteers did for her that she signed herself up to volunteer to help others. She's beginning to view this latest storm in her life as a blessing.
"This has been a beautiful experience," Vivian said. "It's made me realize there is so much to be grateful for and praise God for. The best part of this whole experience has been God showing me, through others, how much He loves me."
Please continue to pray for those suffering throughout southwest Florida and for our staff and volunteers as they serve as the hands and feet of Jesus. If you would like to volunteer, please go to spvolunteer.org to learn more.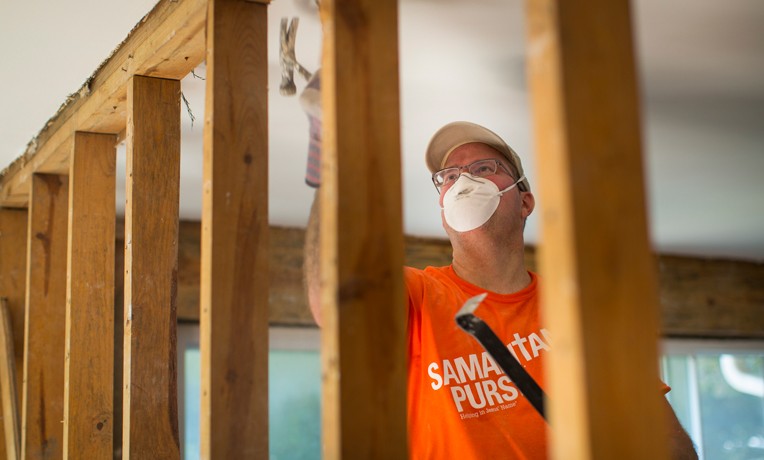 U.S. Disaster Relief
Samaritan's Purse mobilizes and equips thousands of volunteers to provide emergency aid to U.S. victims of wildfires, floods, tornadoes, hurricanes, and other natural disasters. In the aftermath of major storms, we often stay behind to rebuild houses for people with nowhere else to turn for help.
---
U.S. Disaster Relief 013622