In Alaska, Andrew and Aimmie Jenkins experienced new life in Christ and now are growing, serving, and leading through our ongoing Family Care ministry.
Bless the Marriage of a Military Couple
013960
Aimmie Jenkins was surprised in Louisiana to see her war-injured husband, former Army Staff Sergeant Andrew Jenkins, mudding out homes; cutting up and carrying trees; and tarping damaged roofs. After more than a decade of watching him painfully and slowly recover from injuries he sustained in Iraq and Afghanistan, she was suddenly watching the man she married come back to life.
"God showed up," Aimmie said. "Andrew was doing work that I have not seen him do in years."
The Jenkinses were serving with our Team Patriot project after Hurricane Ida ripped through communities, tearing up homes and flooding neighborhoods.
Since 2019, Team Patriot has deployed Operation Heal Our Patriots couples to U.S. Disaster Relief work sites. The program provides a vital service opportunity for Alaska alumni in conjuction with our Family Care ministry—the ongoing discipleship and community component of Operation Heal Our Patriots.
For Andrew and Aimmie, the timing was perfect for serving in Louisiana. They'd just spent several days watching the U.S. military withdraw from Afghanistan and it felt like a hard punch to the gut.
They called Operation Heal Our Patriots staff and the idea of a Team Patriot deployment was mentioned. New Orleans needed help and the Jenkinses needed to get their hands busy with purpose.
"Andrew was really struggling," Aimmie said. "We both were really struggling. He had nearly lost his life in Afghanistan. He'd seen many others lose their lives. He felt like his sacrifice was for nothing."
As they served in New Orleans, the hard work helped them channel anger and grief into meaningful labor, and it opened them up to new encounters with God's redemptive work in the midst of tragedy. Andrew said the experience reminded him that God was still on the move and that He was allowing them to be a part of His plan.
"At the end of the day you're drained, but even as tired as you are you still go to bed full of joy because you've seen God move and you've heard other people talk about the things that God is doing through the work," Andrew said. "It's like nothing I've ever experienced before."
An Unexpected Opportunity
While on the Team Patriot deployment, the newly-developed Key Leader program came up in conversation. This program is a veteran-led component of the Family Care ministry in which Key Leader couples connect with other Alaska alumni in their area to build community and grow in their marriage and relationship with Jesus Christ.
Aimmie and Andrew jumped at the idea. They wanted other couples in their community to remember that God was still working—long after Alaska.
The Key Leader program seemed like a God-ordained opportunity to share their story and lives with other couples in a way that pointed people to the Good News of Jesus Christ.
"I just want our story to open doors for the Gospel," Andrew said. "For the longest time, I didn't talk about anything. Nothing. But now, if I can connect with someone through my injury, through our marriage struggles, our hopelessness, then I want to open the door and show them Jesus Christ."
A Rocky and Redemptive Path
The Jenkinses came to Alaska in 2016 as their marriage teetered dangerously toward a disastrous end. An affair had come to light months before arriving at Samaritan Lodge Alaska, but the foundations of their relationship and family were already crumbling.
The problems began soon after Andrew returned from combat, where he experienced multiple mental and physical injuries over the course of four deployments—three to Iraq and one to Afghanistan. Horrendous IED blasts, gunfights, and the horrors of war took their toll, and led to new battles at home. Hope for real change seemed impossible.
Both Andrew and Aimmie grew up going to church, but they neglected God for many years. In Alaska, though, they began to experience God in a new way as He began to individually heal them. He began to heal their marriage, too, as they started seeing each other in the light of God's love.
"I remember a long walk down the runway at Samaritan Lodge with one of the chaplain's wives," Aimmie said. "She asked, 'I know what hurts you about your husband. But what do you find good about him? What do you still love about him?' This was the first time, she was the first person, who showed me that he was worth fighting for."
Through the marriage classes and counseling with chaplains, the couple acquired tools for expressing hurt and emotion. They also learned what it meant to have a relationship with God through Jesus Christ.
They experienced forgiveness in their marriage, and they also experienced forgiveness from God.
"I began to view myself almost like a newborn, almost like a little baby, just trying to relearn everything I thought I knew about God because now I have a relationship with Him," Andrew said.
A Full Circle—From Brokenness to Ministry
It's been almost six years since Andrew and Aimmie returned from Alaska, but God has continued to strengthen their faith and marriage through the Family Care ministry—annual reunions, local gatherings, training events, service opportunities, and our chaplains—and a strong local church family.
Theirs is a full circle story of God turning brokenness into miraculous opportunities for redemption and healing as they serve in the midst of others' brokenness.
"We don't exactly know what we're doing. We're new to the Key Leader role," Andrew said. "But we're trusting that God will continue to lead us."
At the 2022 Operation Heal Our Patriots Reunion in April, they shared their story publicly for the first time. The Reunion also gave them an opportunity to meet other military couples in their area.
"After everything that God has done in our marriage through Samaritan's Purse, how can we not give back?" Aimmie said. "How can we not say, 'Hey, this is what God has done, and He can do it for you, too'?"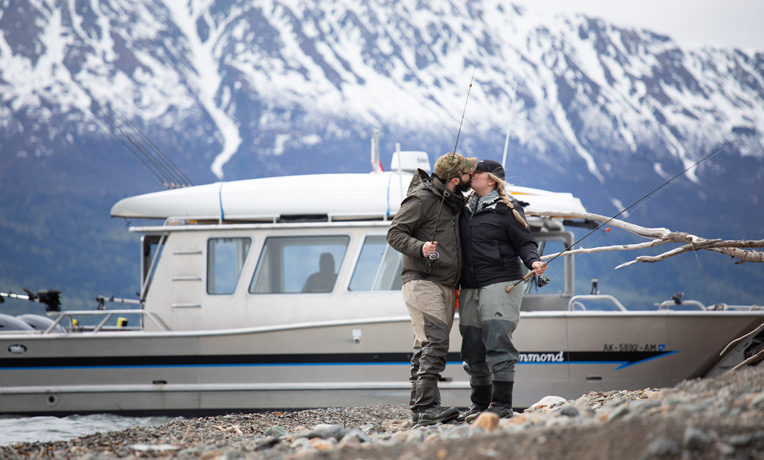 Bless the Marriage of a Military Couple
Operation Heal Our Patriots helps military couples build a strong spiritual foundation during a week of Biblically based workshops, relationship-building wilderness activities, and individual care by our retired military chaplains. We offer all this free of charge to these American heroes as a token of our appreciation for their service and sacrifice. Your gift will help us cover the costs—including transportation, lodging, activities, and long-term Family Care—so that we can help them find hope in the Lord.
---
Operation Heal Our Patriots 013960
Suggested Gift: $60