Samaritan's Purse pilots, planes, and ground crews in Alaska have made ministry possible in the state's remote villages.
If you want to rebuild a church in the remote reaches of Alaska, you can't just pack up a tractor trailer and hit the highway. These towns and villages are located hundreds of miles off the road system. One doesn't just drive there, even in the best of vehicles under the best of conditions.
WATCH THE VIDEO ABOVE TO LEARN MORE
The 35 construction projects Samaritan's Purse has completed in Alaska since 2006 required barges to carry the bulk of materials out to sea and around the state before arriving weeks later at their destinations. The additional materials, fuel, food, shelter, and volunteers were brought in through numerous back-and-forth trips on hours-long flights from our base in Soldotna, just south of Anchorage.
All of this required reliable air transportation, and this is why Samaritan's Purse relies on a fleet of aircraft in Alaska and our multi-talented teams that operate them.
Aircraft Are the Only Way to Traverse Alaska
"There is a road system in Alaska, but it doesn't go to the places we go. When God called me to be a missionary, I didn't know mission aviation was a thing. God brought the whole thing together," said pilot Mike Barlow, Deputy Director of our Mission Aviation Services Alaska team. "We are getting people from A to B, to where they need to be so that the Gospel can be proclaimed and the love of Jesus shared here in the state of Alaska."
A team of dedicated pilots and mechanics ensure that our King Air, CASA, and Caravan aircraft are maintained to the highest standards and ready to fly at a moment's notice.
"We fly year-round, so we stay ready year-round," said pilot Dan Spooner, Chief Pilot with Mission Aviation Services.
This includes the weekly summer flights transporting military couples and Samaritan Lodge Alaska staff for Operation Heal Our Patriots, trips to Mystic Lake to the north carrying law enforcement and first responder couples, in addition to the long hauls into Alaska's interior for projects in the villages.
During the winter months, Spooner says they're flying fuel and supplies to our ministry outposts, often requiring them to land on frozen lakes.
"The uniqueness of Alaska allows people to come up here and to let down their barriers to stand in awe of the beauty and the vastness of what they see around them," he said. "This points them to their need for the Creator of all this—our Lord Jesus Christ."
We praise God for how He continues to work through the gifts of planes, pilots, and ground crews of our Mission Aviation Services team in Alaska.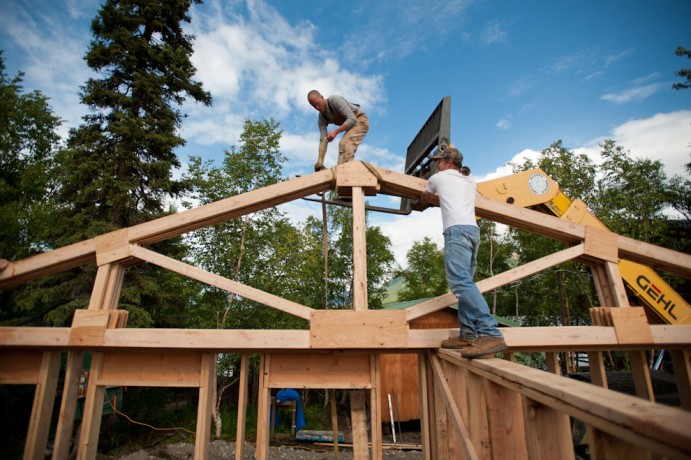 Alaska Projects
Samaritan's Purse staff and ministry partners aim to bring practical help and the Good News of Jesus Christ to native peoples in Alaska and the surrounding region.