Volunteers needed to bring hope in Jesus' Name to Texas families struggling to start over
After devastating water levels of more than 52 feet on the Brazos River in early June, the water in Brazoria County, Texas, only started to recede this weekend. Some roads remain closed, and areas of the county are still not accessible. The floodwaters have caused millions of dollars of damage in the county.
Samaritan's Purse is continuing its flooding response in Texas in order to bring physical relief and spiritual comfort to families in Brazoria. Volunteers are needed to come alongside homeowners to help remove debris and mud and install insulation, drywall, and flooring.
Our Disaster Relief Unit will be based at Life Foursquare Church in Angleton, Brazoria's county seat. Volunteers will begin work Wednesday. We expect to be in Brazoria at least six weeks.
Brazoria is about one hour south of Houston, where our staff and volunteers have been working since the April 18 flooding. The floodwaters damaged more than 1,000 buildings and homes in the metro Houston area, resulting in more than $5 billion in damage.
In May, many of these same homes were flooded once again, and we returned to the Montgomery County area to continue our ministry. Work there is still ongoing.
Since the Texas flooding began, Governor Greg Abbott has declared a state of disaster for 31 counties.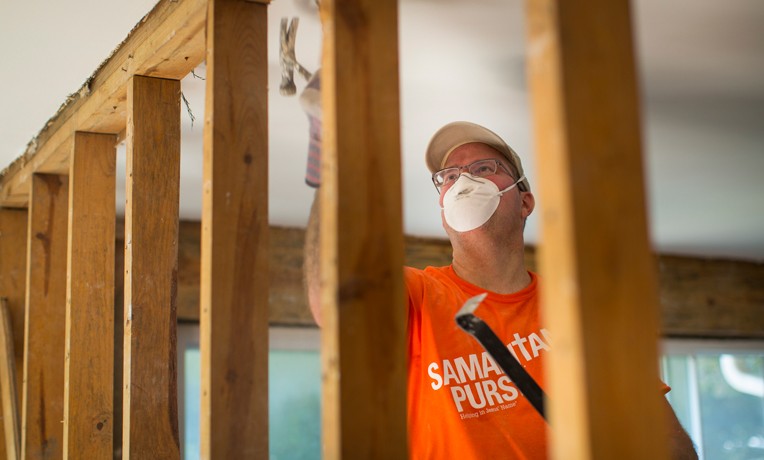 U.S. Disaster Relief
Samaritan's Purse mobilizes and equips thousands of volunteers to provide emergency aid to U.S. victims of wildfires, floods, tornadoes, hurricanes, and other natural disasters. In the aftermath of major storms, we often stay behind to rebuild houses for people with nowhere else to turn for help.
---
U.S. Disaster Relief 013622