Samaritan's Purse sends staff and volunteers after torrential rain earlier this week led to devastating flooding in the Houston area
Relentless downpours continue to pummel the metropolitan Houston area, and Samaritan's Purse is again deploying to the area to come alongside flood-weary residents in Jesus' Name.
Volunteers are desperately needed to assist the number of families who need help. Many of their homes were inundated during what local residents called the Tax Day Flood—which took place on April 18—only to be flooded once more this past week. More heavy rain is in the forecast.
U.S. Disaster Relief
013622
We will be focusing on the smaller communities north and northwest of Houston, including Conroe, Magnolia, Hockley, Spring, and Tomball.
"The mother of one of our team members had just had the drywall put up and had the repairs all done when this new round of heavy rain happened," said Wayne Shoemaker, Samaritan's Purse program manager for this latest deployment. "This time her home had two more feet of water than it had the first time."
Our team in West Monroe, Louisiana—who completed a 12-week deployment over the Memorial Day weekend—transferred their Disaster Relief equipment to The Woodlands Church, which hosted our staff the first time we were in Houston. That deployment ended May 21.
"There's a very high concentration of housing five, 10, 15 minutes from the church," Shoemaker said. "In one particular area, 5 feet of water rushed into about 200 homes.
"That's why we're here. It's another opportunity the Lord is allowing us to have to assist homeowners and share the love of Jesus Christ and to display the Parable of the Good Samaritan."
We will be removing mud and waterlogged belongings and then tearing out damaged drywall, insulation, and flooring. Mud outs are time consuming, and an army of volunteers is needed to tackle the mounting number of work orders.
Billy Graham Rapid Response Team Chaplains are also on hand to provide spiritual and emotional care.
During the first Houston deployment, we completed 140 jobs with the help of 960 volunteers. At the same time, 33 residents gave their hearts to Jesus Christ. Two were Vietnamese brothers, who requested help during the final day to pull out some cabinets and to spray for mold. Palmer Pisle headed up that volunteer team, and, when they presented a Bible to the brothers when the work was completed, Palmer boldly asked, "Do you guys know where you'll be going when you die? Are you sure you're going to Heaven?"
One said, "I'm working on it," while the other responded, "I think so." Palmer took the time to explain how Jesus Christ came to die on a cross for our sins and that we can receive eternal forgiveness if we repent and trust Him for our salvation. Both prayed to receive Christ as their Savior.
Shoemaker requests prayer for physical strength to perform the mud outs, spiritual sensitivity to minister to the needs of the homeowners, and open doors to proclaim the Good News.
"This has been a deadly flood with six lives lost, and that has an impact on family and friends and the community," he said. "Some people are discouraged and confused, and they're feeling, 'I've spent my money, I've spent my time, only to have this happen again.'
"We want to do everything we can to help those who are suffering and to show and to share the love of Jesus Christ."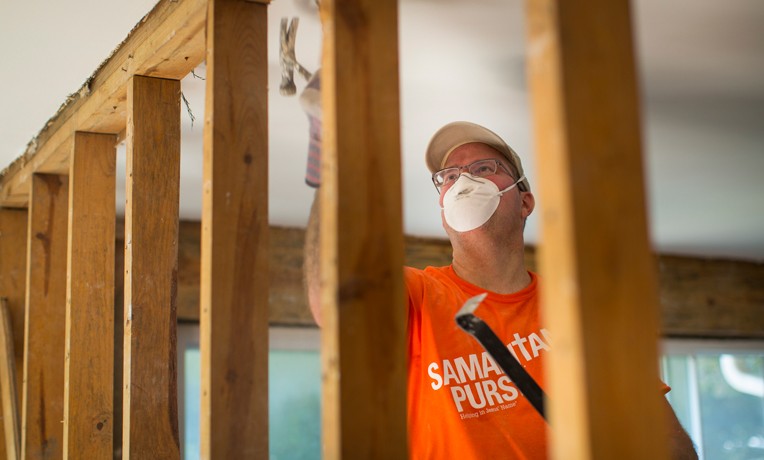 U.S. Disaster Relief
Samaritan's Purse mobilizes and equips thousands of volunteers to provide emergency aid to U.S. victims of wildfires, floods, tornadoes, hurricanes, and other natural disasters. In the aftermath of major storms, we often stay behind to rebuild houses for people with nowhere else to turn for help.
---
U.S. Disaster Relief 013622