Volunteers will help homeowners in Jesus' Name as portions of Jackson, Mississippi, were deluged by the Pearl River.
U.S. Disaster Relief
013622
Samaritan's Purse staff have deployed to Jackson, Mississippi, to help hurting homeowners as many houses were recently inundated by the Pearl River. Waters crested at 36.7 feet—the third highest mark on record and a height not seen on the waterway in nearly four decades.
A Samaritan's Purse U.S. Disaster Relief Unit—a tractor trailer filled with relief supplies and equipment to help affected homeowners—is on the ground, and volunteer teams are out working.
"Mississippi families are overwhelmed and hurting after devastating flooding," said Franklin Graham, president of Samaritan's Purse. "We will help them recover physically from the storm while reminding them that God loves them. Please pray for God's peace and comfort as they get back on their feet."
Working from our base of operations at Colonial Heights Baptist Church in Ridgeland, volunteers are coming alongside hurting homeowners in Jesus' Name to assist with the labor-intensive work of mudding out houses—removing water-damaged drywall, insulation, and flooring; clearing debris; and helping to salvage treasured belongings.
Please pray for homeowners who are in need of the comfort and hope only God can provide them. Please continue lifting up the community of Pendleton, Oregon, which was also flooded recently. Our volunteers continue work there.
Note: This article was originally published Feb. 18 and significantly revised Feb. 23.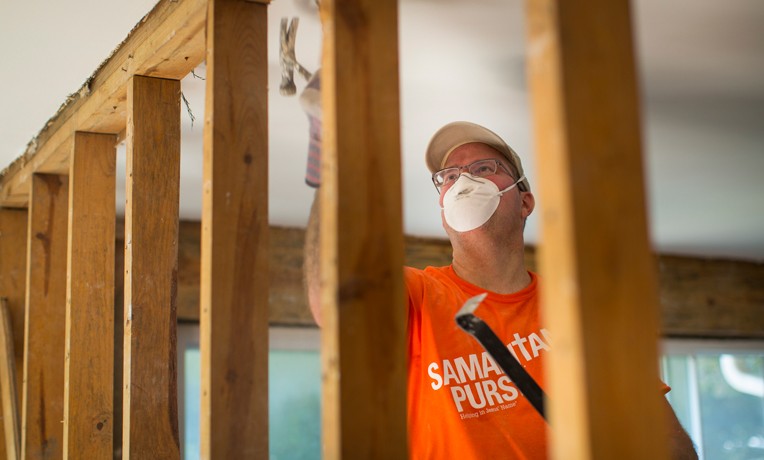 U.S. Disaster Relief
Samaritan's Purse mobilizes and equips thousands of volunteers to provide emergency aid to U.S. victims of wildfires, floods, tornadoes, hurricanes, and other natural disasters. In the aftermath of major storms, we often stay behind to rebuild houses for people with nowhere else to turn for help.
---
U.S. Disaster Relief 013622