Disaster relief teams are set up in Louisiana, Tennessee, Mississippi, and South Carolina.
U.S. Disaster Relief
013622
Hundreds of Samaritan's Purse volunteers are working hard across the South at our four disaster response sites in four different states. They are helping hurting homeowners after severe storms spawned dozens of deadly tornadoes in Louisiana, Tennessee, South Carolina, and Mississippi. More than 30 people died in these storms and hundreds of homes are damaged or destroyed.
Among other volunteers, North Carolina Lt. Governor Dan Forest and his son Max were at our South Carolina site to serve those struggling in hard-hit Seneca. They helped to remove yard debris as well as sheetrock and insulation.
Three U.S. Disaster Relief Units–a tractor trailer loaded with relief supplies and equipment–rolled out on Monday en route to the region as we began serving communities in and around Seneca as well as Monroe, Louisiana; Laurel, Mississippi; and Chattanooga, Tennessee. A fourth truck left Tuesday morning.
Staff members and Billy Graham Rapid Response team chaplains are on the ground and leading our volunteers as they serve in Jesus' Name.
"As many communities are asked to stay at home, my heart breaks for families that now have nowhere to go—losing loved ones and homes in a matter of minutes," said Franklin Graham, president of Samaritan's Purse. "Samaritan's Purse is coming alongside them to help families physically start to recover from the tornados while reminding them that God loves them and they are not forgotten. Please join me in praying for God's peace and comfort to cover them."
Mississippi Governor Tate Reeves said the storms were "as bad or worse than anything we've seen in a decade."
"We are used to tornadoes in Mississippi," he said. "No one is used to this."
Our volunteer teams will help clear yards of trees and debris and place tarp on damaged roofs throughout communities where twisters wreaked havoc on neighborhoods.
Monroe/West Monroe is still recovering from catastrophic flooding that struck that area of the state in early 2016. Samaritan's Purse volunteers worked there for months cleaning out water-logged homes.
Our host churches for this response are:
WFR Church
3201 North 7th Street
West Monroe, LA 71291
First Baptist Church of Laurel
607 West Fifth Street
Laurel, MS 39440
LifePoint Church
1926 Blue Ridge Blvd
Seneca, SC 29672
Calvary Chapel
3415 Broad Street
Chattanooga, TN 37409
Please pray for these hard-hit communities and for our staff and volunteers as we seek to be the hands and feet of Jesus Christ during a time of so much uncertainty.
All staff and volunteers will strictly adhere to COVID-19 federal and local guidelines to ensure their safety and the safety of homeowners and residents. We are requesting local, day volunteers only, similar to our recent Arkansas response.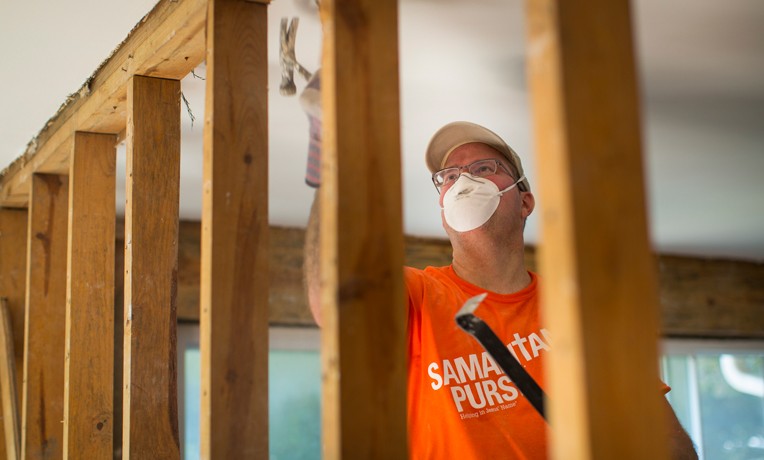 U.S. Disaster Relief
Samaritan's Purse mobilizes and equips thousands of volunteers to provide emergency aid to U.S. victims of wildfires, floods, tornadoes, hurricanes, and other natural disasters. In the aftermath of major storms, we often stay behind to rebuild houses for people with nowhere else to turn for help.
---
U.S. Disaster Relief 013622