Samaritan's Purse is training traditional birth attendants in northern Vietnam to help moms have safer pregnancies.
About 1 a.m., 19-year-old Tan began having labor contractions.
"It was my first time giving birth, and I was terrified," she said. The pain was nearly unbearable.
Tan's husband knew they needed help and immediately called their neighbor Ha, who had recently completed a traditional birth attendant training with Samaritan's Purse in northern Vietnam.
The rains were relentless that day. Ha maneuvered up and down muddy hills on her motorbike to reach the young couple's bamboo home. Fearing something wasn't right, Ha went with them to a health clinic and then to a hospital more than an hour away.
Care for Mothers and Babies
013717
A Village Transformed
"The doctor at the hospital took me right away to do a C-section," Tan explained.
Tan gave birth to a healthy baby boy. Although frightened by the experience of going to a hospital and having surgery, Tan was grateful for Ha's support and advice.
"I was overjoyed [when she came to help]," she said. "I felt peace."
Tan wouldn't have gone to the hospital if not for Ha's insistence. Most women in her remote village give birth at home because it's tradition. They aren't aware of the importance of going to a local clinic for check-ups or giving birth at a healthcare facility.
Ha is just one of dozens of women trained by Samaritan's Purse to help reduce the number of women and babies who die from preventable causes related to pregnancy, childbirth, and postnatal care. Our traditional birth attendants in Vietnam's highlands teach mothers-to-be about proper nutrition and how to keep themselves healthy during pregnancy.
Ha came regularly to Tan's home to teach her how to care for a newborn. "I am thankful for the Samaritan's Purse program that allowed Ha to study so that she could help me," Tan said.
Ha has also helped other mothers in her poor farming village such as May. Both May's family and her husband's family have always been farmers and they work hard to care for their two children.
"We grow rice and watermelons. I had to carry my newborn baby with me on my back when I went to work in the fields," she said.
Ha encouraged May to visit the local clinic for check-ups and to receive micronutrient powder supplements for her daughter and iron tablets for herself, both provided by Samaritan's Purse.
Ha also taught the young mother how to feed her children nutritious food, something May learned for the first time.
"I didn't know my daughter was malnourished until we went to the clinic," May explained. "Now, she has more of an appetite, she is gaining weight, and she is healthier."
Training to Save Lives
Although Ha's father is a local health worker, men in her culture do not usually provide obstetric care. This means that without a traditional birth attendant (TBA) in their village, most mothers-to-be lack the care they need.
"What I really like about being a TBA is when I can help save a life," Ha said. "I give mothers advice on how to have a healthy pregnancy, a good diet, and how to breastfeed the baby."
Before Ha became a TBA, mothers-to-be in her village worried about their pregnancy. Now, equipped with skills and knowledge from her six-month training, Ha is able to relieve some of their anxiety. "The mothers are happy and very thankful to me," she said. "They trust me."
Nong Ngoc Khanh, director of the hospital where the Samaritan's Purse training is held, said the TBA program is especially important in northern Vietnam because villages are isolated by rugged mountain terrain.
"The women have to work so hard. They do not have time to rest because they are very poor and have to work even during their pregnancy," he explained. "We have had cases when mothers give birth right in the fields."
Nong said TBAs provide critical counseling and early intervention to help avoid possible pregnancy complications.
"I'm so thankful for the support of Samaritan's Purse," he said.
Restoring Joy
Lu, 27, is a current student in the Samaritan's Purse TBA program. After graduating, she will, like Ha, become the first traditional birth attendant in her village.
Becoming a TBA is especially important to Lu because her sister-in-law died about a year ago due to labor complications. Lu was with her sister-in-law at the time—sadly, she had no idea what to do nor whom to ask for help.
Lu had a harrowing experience herself giving birth to her second child. She was home alone when she went into labor and "felt like I might die," she said.
As tears flowed, Lu recounted how scared she was and how she still feels so much sadness about her sister-in-law's death.
"It would have been much easier if a TBA had been there to support me. But there is no TBA in our village."
Lu is grateful for her TBA training and plans to work hard to care for the 40 households in her poor farming community.
"I want to learn so that I can help," she said.
Please pray for the women who work hard as traditional birth attendants in order to help save many lives. Please pray that mothers and families in northern Vietnam will come to know God's love for them.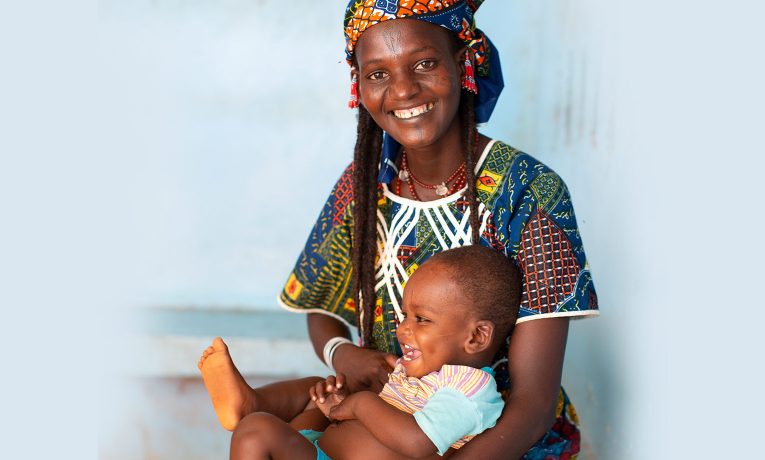 Care for Mothers and Babies
Tragically, hundreds of young mothers and thousands of newborns die every day from preventable causes. Your gift can help Samaritan's Purse reduce the mortality rates of women and their young children by improving obstetric care, teaching essential nutrition practices, and increasing access to quality healthcare.
---
Prenatal & Maternity Care 013717
Suggested $75