Samaritan's Purse volunteer teams are sifting through the ashes to help Boulder County homeowners find cherished items.
U.S. Disaster Relief
013622
Standing on the ash heap of what was once her home, Karla Bennett fought back tears as she said, "Your home is like your mother's embrace, and we miss that. You can be somewhere with four walls, but it's not the same as what you've put around you every day—it's all gone."
For Karla and nearly 1,000 other families living in the suburbs of Boulder County, Colorado, the recent Marshall Fire was an unexpected tragedy that will forever brand their minds with memories of searing loss. Burning over 6,000 acres in less than 24 hours, the catastrophic event has been deemed the worst fire in Colorado's history—creating a mass displacement of families and shaking local communities to their core.
Today, Samaritan's Purse staff and volunteers are on the ground in the hardest hit areas, working to help families devastated by the wildfire. Each day, teams are sifting through ashes and searching for priceless mementos along with anything else that may have survived the flames. By lending a helping hand, volunteers serve as tangible reminders to victims of the wildfire that God is there with them, even in tragedy.
A Frantic Escape
Boulder County residents Jeremiah Ingram and his wife Kim [featured in video at top] had just finished building their "forever home" only 11 months ago. The couple and their 8-year-old daughter became actively involved in the community, making plans to establish their lives there for the long haul. "This is where our daughter was going to grow up," Kim shared while overlooking the charred rubble of their destroyed home.
On the afternoon of the fire, evacuation orders began going out across the county. "We peaked outside and could see the smoke in the distance," Jeremiah said. Concerned residents started packing bags as tremendous winds reaching 100 mph ushered the flames across dry fields—creating enough momentum to guide the fire towards the suburbs.
"Wildfires happen," Jeremiah stated. "They're normally in the mountains, you know? Not so close to us." As the Ingrams began to prepare for the evacuation, debris and embers filled the air. While recounting those final moments in his home, Jeremiah pointed to a nearby hill and shared that he saw flames quickly ravaging everything in their path. "We have to go now!" Jeremiah told his family.
The Ingrams had their neighbors join them in their car and set out towards the main road, unable to see through the heavy smoke and growing blaze. "It was about as close to an apocalyptic sort of thing as you can imagine," Jeremiah explained. As panicked drivers began stopping along the road, Kim continued to drive forward until enough smoke had cleared for them to see they had made it out just in time.
Still Grappling with Loss
A property manager and local artist, Karla Bennett has faced significant loss over the past few weeks. "I'm living in my mother's house who passed away two weeks before the fire," she shared.
While still mourning her mom's death, the unprecedented wildfire burned Karla's home of only eight months to the ground.
"On December 30, my home burned to the ground," Karla continued to share. "I left for lunch, and it was gone. In that short amount of time, I tried to get back and couldn't—it was just gone."
Now displaced, she has resorted to living in her late mother's house, surrounded by the remnants of what her life once was.
Samaritan's Purse staff asked Karla what the most difficult part of this wildfire has been for her. With tears in her eyes and almost unable to speak, she muttered "the loss of your memories that you can touch. You can't touch them anymore. That's hard."
Recovering Priceless Memories
To date, over 260 Samaritan's Purse volunteers have sifted through the ashes of nearly 50 homes in Boulder County. By sectioning off portions of each house where things like dressers and closets used to be, volunteers strategically search for items such as metal, glass, and valuables that may have fully or partially survived.
For Karla, we were able to recover her husband's wedding band, several pieces of additional jewelry, and part of her daughter's letterman jacket. In addition to these treasures, volunteers also salvaged a piece of glass art that Karla shared is one of her most beloved memories. "I feel joy in some way, to have something that is physically there that you can still see," she said.
When speaking of the volunteers who came to assist her, Karla expressed that, "everyone has been fantastic—very kind, very generous, very helpful. I'm very grateful for that. Thank you for coming to help me."
Just a mile away, our volunteers continued delving through the remains of Jeremiah and Kim's home, sharing perspective on the disaster and reminding each other of the blessing it is to still be alive. Through an afternoon of sifting, volunteers were able to recover the couple's wedding rings, priceless souvenirs from their years of traveling together, and even their family safe which contained important documents and files.
When discussing his time working alongside of Samaritan's Purse, Jeremiah said, "The outreach has been comforting. It's been really uplifting, because you have your moments where you start second-guessing your decisions—what could I have grabbed? What could I have done? The folks who came to help us today are from all over the country. It's been a whirlwind, but we're just glad that there are people out there who are willing to help."
A Call to Serve
Samaritan's Purse volunteers have a unique opportunity to minister to homeowners who have lost everything in Colorado. For Jacob Feenstra, the choice was simple. After seeing the devastation, he along with his wife and three daughters traveled from Portland, Oregon, to serve those in need. "It's just heartbreaking," he said. "It's hard to imagine being in the position of losing everything that you have in your home. I just couldn't imagine being in the middle of that."
To see so much suffering can be difficult, but Christians are called by the Lord Jesus Christ to love our neighbors. Jacob said, "I think Jesus wants us to be on the first line of those that help, to be the first to love on those in need— to be a shining light amidst the darkness in a hard time. I think that's what He's all about."
Please continue to be in prayer for the families of those impacted by the Marshall Fire and for our volunteer teams as they faithfully continue sifting through the ashes. For more information on how you can serve in Colorado or other current responses, visit spvolunteer.org.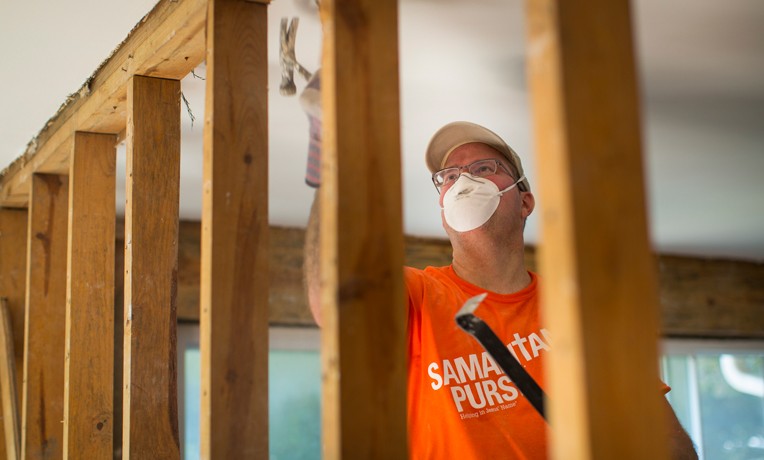 U.S. Disaster Relief
Samaritan's Purse mobilizes and equips thousands of volunteers to provide emergency aid to U.S. victims of wildfires, floods, tornadoes, hurricanes, and other natural disasters. In the aftermath of major storms, we often stay behind to rebuild houses for people with nowhere else to turn for help.
---
U.S. Disaster Relief 013622