A homeowner receives Jesus Christ as his Savior. Another praises God for preserving his life. Samaritan's Purse volunteers are seeing God at work in the aftermath of a historic flooding event.
U.S. Disaster Relief
013622
UPDATE: Our relief response in Middle Tennessee wrapped up on Sept. 8. We praise God for the nearly 200 volunteers who served in Jesus' Name. We also saw God at work as seven individuals came to faith in Christ during this deployment.
In the early morning hours of Sunday, Aug. 22, Jeff Klocko fitted himself into a life jacket and wondered if he would live through the day. The floodwaters had rapidly invaded his home and were threatening to take over.
"I started throwing things in baskets really quick, but the water rose so fast that soon they were tipping over and floating," he said. "The carpet was floating."
Nearly all of Jeff's personal belongings were destroyed in the catastrophic flooding that ravaged communities in Middle Tennessee. All of the equipment Jeff uses for his lawn care business was ruined, leaving him without any source of income. He also had to watch as the mighty raging waters swept his car away.
The neighbor's home fared even worse than Jeff's, with the floodwaters completely removing it from the foundation and dumping it into a nearby field, leaving only a few bricks scattered on a concrete slab as evidence of where the home once stood.
Jeff was stunned by this deadly and historic storm, an unprecedented event for Humphreys County. "I didn't really know what I was going to do. I was in shock," Jeff said. "I felt like I was just roaming around."
Jeff knew he needed a lot of help, but he wasn't expecting it to come from people who didn't even know him—a team in orange shirts willing to come alongside him during a time of desperate need and without expectation of anything in return.
"Total strangers wanted to help me. That's when I lost it," Jeff said. "I hadn't even cried about the house, but when ya'll came up and asked if you could help, it was emotional."
Samaritan's Purse volunteers worked hard for several days removing waterlogged belongings, flooring, walls, and kitchen cabinets. They also sprayed for mold.
Jeff and his family were overwhelmed when the team finished, having prepared the house for contractors to begin the next phase of restoration.
"This wouldn't have happened without all of your help, that's for sure," said Karen Stevens, Jeff's sister. Karen and her husband took a few days off from work and drove 11 hours from Michigan to come and be with Jeff.
"You just need that helping hand. This is amazing," she said. "These volunteers have the knowledge to do the work because they've done this before—we've never been through anything like this."
Salvation After the Storm
Jeff recognized that something was different about the Samaritan's Purse team because as soon as they arrived at his home he felt more positive, encouraged, and hopeful. "You were like a light," he said.
Over the next few days, as he talked with volunteers and Billy Graham Rapid Response Team chaplains, Jeff came to understand that our volunteers were serving in Jesus' Name, with His strength and for His glory.
We praise God that Jeff prayed to receive Jesus Christ as his personal Lord and Savior. Jeff cried as he shared with the Samaritan's Purse team about his decision to follow Christ and how his perspective on life had changed.
"I've lost everything, but I've got peace inside," he said.
Jeff, like all homeowners helped by Samaritan's Purse, received a Bible signed by every volunteer who worked on his home. And at this house, the Bible presentation and prayer time were especially meaningful, as the volunteers celebrated a new believer in Jesus Christ.
"I pray this Word will be a comfort and encouragement to you, and will give you everything for your life, fresh and anew, in Christ," said volunteer Todd Henson.
Thankful to Be Alive
As Shane Gannon watched the floodwaters continue to rise he called 911, only to find out that 100 other families were ahead of him on the evacuation list.
"That's when the panic set in. It was the first time in my life that I thought: I may die today."
At one point, the water was rushing so fast inside the home it nearly knocked Shane down, and the bed where Shane's wife was riding out the storm began to float.
His wife lives with Guillain-Barre syndrome, which, among other things, affects her muscle stability and ability to walk. Shane knew they were trapped until the water receded enough that he could carry her out of their home.
After about three hours of waiting, watching, and praying, the couple finally fled their flood-ravaged home. But exposure to contaminated water isn't good for someone with a compromised immune system, and Shane ended up taking his wife to the emergency room later that day.
As Shane cared for and worried about his wife, he also wondered what in the world he should do next at their home.
"The Lord sent Samaritan's Purse to my door. It was divine intervention—that's exactly what it was," he said.
Just a few days after the storm, our volunteers were at Shane's home ripping up flooring, tearing out walls, and sorting through personal belongings to find anything salvageable.
Despite his current trials, Shane's faith in Jesus Christ remains steadfast. He pointed to the story of Job in the Bible as inspiration.
"Job lost everything, and his faith was not shaken. People don't often look for Christ when things are going good. But if you're knocked down to your knees, your wheels are going to be turning."
Shane is praying that in the aftermath of this devastating flooding, people will seek Christ and trust in Him.
"It's a world of opportunity for souls here to be saved."
Please pray for God's comfort to surround those who lost loved ones in the flooding. Pray that God will continue using Samaritan's Purse teams to bring relief and to call many to salvation.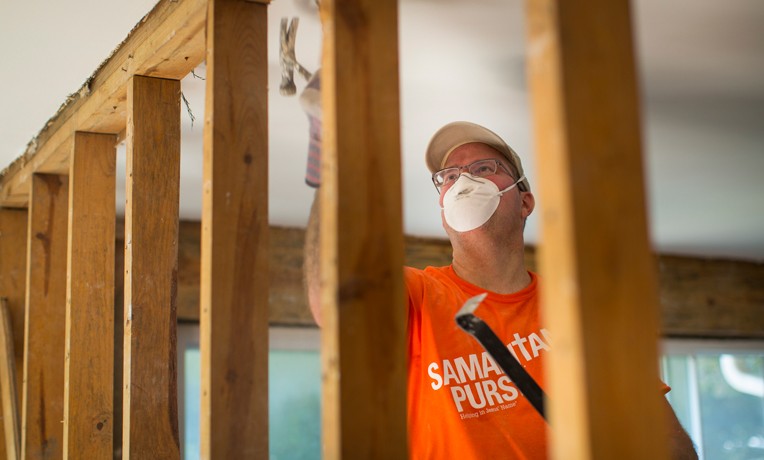 U.S. Disaster Relief
Samaritan's Purse mobilizes and equips thousands of volunteers to provide emergency aid to U.S. victims of wildfires, floods, tornadoes, hurricanes, and other natural disasters. In the aftermath of major storms, we often stay behind to rebuild houses for people with nowhere else to turn for help.
---
U.S. Disaster Relief 013622