Teams are working and sharing the hope of Jesus Christ in and around Laurel, Mississippi, where powerful tornadoes left a path of destruction.
U.S. Disaster Relief
013622
Under a cloudless blue sky in Soso, Mississippi, Samaritan's Purse volunteer Randy Graves crawled over and under downed pine trees searching for valuables. At the request of the homeowners, Graves and other volunteers carefully sorted through strewn belongings. They were on the hunt for photo albums, Bibles, jewelry, and a valuable collection of coins. They were also looking for a gold-colored purse, which the owners remember placing on top of the deep freezer in their kitchen.
Just two days before—as retired pastor Charles Waddell and his wife Kathy were celebrating Easter—a tornado ripped through their community and flipped their home, with them inside, into the trees bordering their property.
"They were both in this structure when the tornado came through, and now they're both in the hospital being treated for their injuries," said Graves, who had come with his teenage daughter from a neighboring county to serve with Samaritan's Purse.
On Wednesday our volunteers started working in Jesus' Name serving the devastated communities of southeast Mississippi. Working out of our base of operations at First Baptist Church of Laurel, Mississippi, teams of day volunteers have been busy cleaning up trees and debris, tarping damaged roofs, and assisting homeowners with recovery of treasured belongings.
Billy Graham Rapid Response Team chaplains have also been serving throughout the area, offering prayer, spiritual encouragement, and sharing the love and hope of Jesus Christ in these difficult times.
All of our day volunteers and all Billy Graham chaplains are required to work within local and national COVID-19 guidelines, including the use of face masks and social distancing while serving in the community.
Samaritan's Purse understands first-hand the need for such measures as we are also serving COVID-19 patients through our emergency field hospitals in New York City and in Italy. We praise God we are able to continue serving the victims of storms and other natural disasters even in the face of this pandemic.
Showing Love Through Hard Work
"We've just been looking and searching, turning over stuff and digging through, following the debris field looking for personal items and keepsakes," Graves said. "I asked the Lord to lead me to what He wanted me to find this morning and I just kept getting deeper and deeper in the woods."
In addition to piles of clothes, photo albums, and Bible commentaries, volunteers recovered a box of jewelry, a number of valuable coins, and a Bible that had obviously been read, studied, and marked up over years of use. Volunteer Jennifer Stevener said it was a blessing to be able to recover such a valuable possession intact for the homeowners after seeing what she described as a "lifetime of memories just thrown all over the place in a matter of seconds."
"It's just sad to see this," she said. "So many families have lost everything in this storm."
A number of deadly tornados tore through the Magnolia State on Easter Sunday as a powerful storm system ripped through the Southeast. The storm spawned more than 70 twisters, killing at least 30 people—including 12 in Mississippi. Samaritan's Purse has disaster relief teams and trucks in Louisiana, Mississippi, Tennessee, and South Carolina.
The tornado that struck the Waddells' community was rated at points as an EF4 with winds as high as 190 miles per hour. At its widest, the vortex measured more than two miles wide, making it the widest tornado on record in Mississippi.
This massive twister stayed on the ground for more than 67 miles, cutting a continuous destructive path spanning multiple counties, flattening homes and shearing off the tops of trees. An EF3 tornado traveled on a nearly-parallel path for more than 80 miles. Hundreds of homes, churches, and other structures were damaged or destroyed.
Thankfully, homeowner Bernard Busby and his wife Birdia were not home when the tornado struck, also twisting their home into a pile of rubble. Volunteers got to work sorting through some of the property and cutting up several large trees that had fallen on his property.
An injured Army combat veteran, Busby said he was grateful that people were willing to come out and help them. He said the storm has caused him to open his eyes to what God is trying to tell him.
"This is a blessing from God. It's very humbling. After all I've been through that's what touches me the most. This can be replaced," he said, pointing to the pile that was once his home. "But people coming together and working together under God. There's nothing that matches that."
At the end of our work with the Busbys, the volunteers presented him with a Billy Graham Study Bible that was signed on the inside cover by everyone who worked at his property. He said his wife had been praying for a Bible because hers had been soaked during the storm.
"My wife was always raised to believe that any question you have there's an answer for it in the Bible," he said. "With her Bible being wet she hasn't been able to read her Bible the way she wanted to. So this will make a world of difference."
Note: We are using day volunteers only as we respond across the South. If you're local and interested in serving at one of our four disaster relief sites, please visit SPvolunteer.org.
UPDATE:We have concluded our response in Mississippi. We praise God that more than 240 volunteers helped with clean up at 125 homes in Laurel and surrounding areas of Jones county. We saw five individuals receive Jesus Christ as Lord and Savior.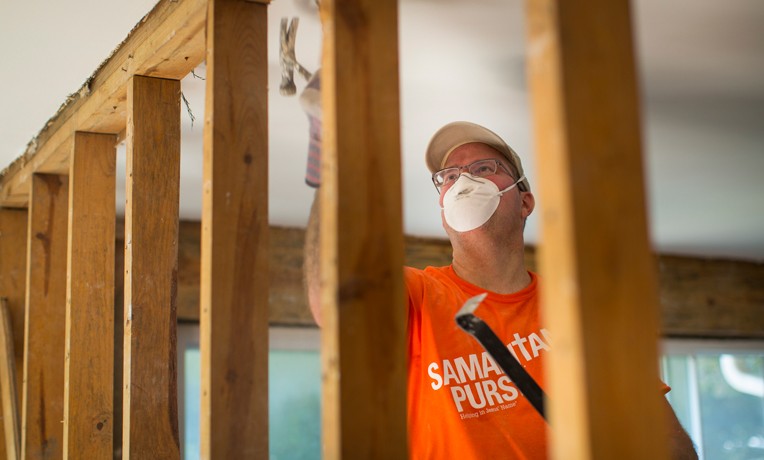 U.S. Disaster Relief
Samaritan's Purse mobilizes and equips thousands of volunteers to provide emergency aid to U.S. victims of wildfires, floods, tornadoes, hurricanes, and other natural disasters. In the aftermath of major storms, we often stay behind to rebuild houses for people with nowhere else to turn for help.
---
U.S. Disaster Relief 013622