By God's grace, military couples found their lives and their marriages transformed this summer in Alaska.
Bless the Marriage of a Military Couple
013960
The metal bracelet on Army Sergeant Justin Gallagher's wrist, light as it was, had weighed on him for years. It was "like an anchor," he said, because he had returned home from Iraq and three of his friends had not.
Just before Christmas 2006, during operations in Fallujah, Iraq, a bomb detonated near two of his friends, killing them both. A third friend was killed during that deployment as well, and Justin himself was injured twice by improvised explosive devices.
The bracelet he wore bore the name of Army Specialist Corey Rystad on it, and it was one of three such bracelets Justin had carried with him for 13 years since leaving the military—and transitioning into his civilian life, into his new marriage, into his years as a father, friend, brother, and son back home in Colorado.
"It's always been a sort of badge of honor, and a badge of guilt," Justin said. "It's been an anchor around my neck for years."
In September he carried Corey's bracelet with him to Alaska not knowing what to expect, or what good things might happen while he and his wife Tara were up at Samaritan Lodge for a week. They came with open hearts.
Old Burdens Shared and Laid Down
The Gallaghers were one of 76 couples who came to Alaska during the July 5-Sept. 11 season of Operation Heal Our Patriots. Here at Samaritan Lodge, alongside other military couples, they hiked, fished, and explored the Alaska wilderness by floatplane, boat, and on foot. They went on excursions of a lifetime in one of the most beautiful places on earth.
But any real change for struggling lives and marriages only happened because these hurting men and women heard and experienced the truth of the Gospel of the Lord Jesus Christ.
Through Biblically based marriage classes, devotions, and counseling provided by retired military chaplains, these hurting couples learned about God's love for them and His plan for their lives. And many couples experienced new life and real hope during their time in Alaska.
Justin and Tara Gallagher learned about letting go of the burdens weighing on them. They were still suffering from the wounds of war—wounds more than a decade old but in some ways as fresh as yesterday.
Tara had helped Justin carry those burdens since college. She had been a part of Justin's life throughout his military career, and still thinks back to her college days when they were dating and Justin was deployed.
"My friends were doing fun things and having college life. I was waiting for a call," Tara said, recounting what a missed call could mean—including the fear of never talking to Justin again. "That's a lot of heavy stuff when you're young and you should be living the college life."
The couple was engaged when Justin was home on leave for a week. The wedding date was set. The next week the wedding was postponed because his deployment had been extended. And when he finally returned home, things weren't the same.
He'd carried home the war, the death of his friends, and everything else tucked deep down, including a silent awe and some guilt that he carried because he was still alive.
After so many years of internal wrestling, the week the Gallaghers spent in Alaska brought healing as some hidden stories were shared and their burdensome power was broken.
Tara said that "stories came up from war this week that I haven't heard in the 13 years that he's been home."
Lives Changed for Good in 2020
Everything during their week—the stories, the classes—was part of their healing journey. Even the fishing. During an excursion on Lake Clark with one of our guides, the question of the bracelet came up.
Each week veterans have an opportunity to honor the memory of fallen soldiers they fought alongside. In a special ceremony led by our chaplains, they can tack their bracelets to a dedicated wooden post situated beneath the American flag that flies at Samaritan Lodge.
"Ed (the guide) told me I could honor them in a bigger way. That they would be a part of a bigger story," Justin said. "I couldn't talk about it then. I was like 'I gotta go fish.'"
"I kept thinking 'why do I get this? A beautiful wife, a house, kids, a trip to Alaska, and those guys don't.' It hit me between the eyes. I wasn't honoring them by not living my life."
By the end of his fishing excursion, Justin decided it was time to let their memory live on as part of a redemptive story. He would tack Corey's bracelet to the post and mail the others to our chaplains who would affix them as well.
"I wanted to be able to just leave that here and have them honored in such a peaceful place," Justin said. "And I'm able to tell their parents that their story continues to go on as part of a way bigger story."
Later in the week, Justin did nail Corey's bracelet to the post, among many others that had been placed there over the years. Justin said "I was holding onto this for myself. Not for them. But now their story continues in a place of renewal and life.
"I decided to do this today for two reasons," he said. "One, obviously, was to honor them and the second was to just leave something up here that has weighed me down since the day that they passed."
The same day, the Gallaghers finished their week in Alaska by recommitting their marriage to God as they moved forward with a renewed sense of purpose and dedication to each other. Tara said that during the week Christ had given them both a new perspective and also a powerful sense of community with other veterans and their spouses.
"I realized we're not alone in this. There are other people like us. There are other wives who wonder if their husband will ever reach that breaking point," she said. "As vets and spouses, it can feel like you're drowning. Then to have people who want to pull you out of the water and love you and care for you. That's what we've experienced here."
As the summer season in Alaska has now been completed, please continue to pray for the dozens of couples who've become a part of Operation Heal Our Patriots this summer. Ask God to continue to heal, strengthen, and renew their lives, marriages, and families.
We thank God that over 10 weeks of Operation Heal Our Patriots in Alaska, 31 individuals received Jesus Christ as Lord and Savior, 42 were baptized in Lake Clark, and 37 military couples recommitted their marriages to God.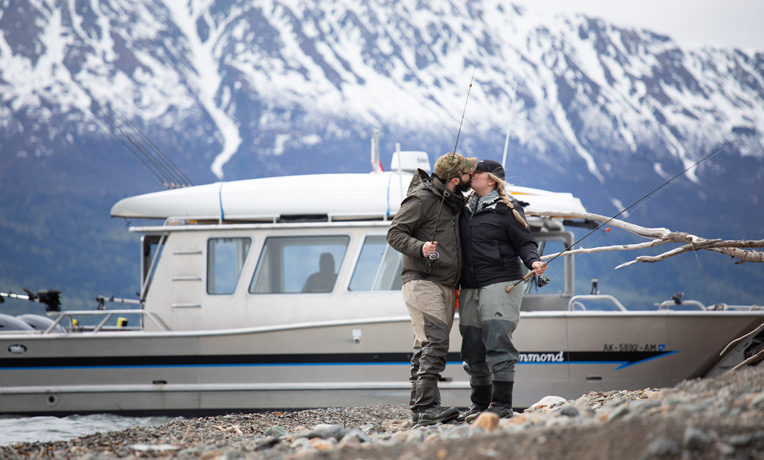 Bless the Marriage of a Military Couple
Operation Heal Our Patriots helps military couples build a strong spiritual foundation during a week of Biblically based workshops, relationship-building wilderness activities, and individual care by our retired military chaplains. We offer all this free of charge to these American heroes as a token of our appreciation for their service and sacrifice. Your gift will help us cover the costs—including transportation, lodging, activities, and long-term Family Care—so that we can help them find hope in the Lord.
---
Operation Heal Our Patriots 013960
Suggested Gift: $60