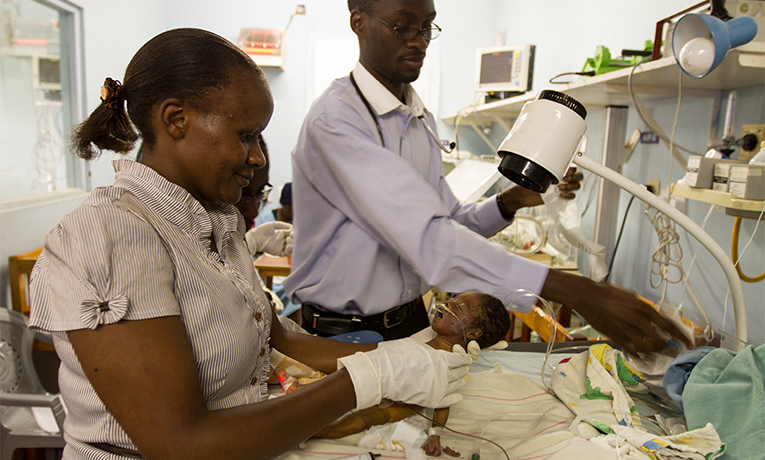 The ministries of hospitals and clinics are strengthened, and they are able to offer better health care and to win more people to faith in Christ
A doctor once said, "Many people tell me what I ought to do, but nobody tells me how to go about it." Samaritan's Purse helps people who have been called by God to short-term overseas service to do just that—to "go about it." Through World Medical Mission, we take the mystery and much of the difficulty out of going overseas. We enable people who want to give of themselves in obedience to God's leading to do so with a minimum of hindrances and red tape. The result is that the ministries of hospitals and clinics are strengthened, and they are able to offer better health care and to win more people to faith in Christ.
When individuals volunteer to serve through World Medical Mission, we coordinate all the details of their experience. This includes:
Evaluating their interests and abilities and matching them with a hospital, clinic, or project needing their services during a mutually acceptable time frame
Providing orientation and spiritual resources in advance of and throughout the short-term experience
Arranging international travel schedules and airline ticketing
Assisting with necessary visas, permits, and other field requirements
Coordinating field housing and transportation arrangements
Assisting volunteers in handling financial details related to overseas service
These and other crucial details of the short-term experience are handled with care for our volunteers. We do our homework to ensure that those who serve through us are freed up to make the greatest contribution possible during their limited time overseas.
In addition to placing Christian physicians, dentists, and other medical personnel who are established in their practices, World Medical Mission also sends qualified residents overseas for short-term rotations. With advance approval, many residency programs allow academic credit for overseas experience. Service in a mission hospital enhances residents' range of experience medically and surgically. It also broadens their perspective spiritually. After serving overseas during their training, many residents have subsequently opted for extended missionary service. This is especially significant in an era when many mission agencies are experiencing a decline in the number of applicants. Residents typically need financial assistance if they are to travel and work overseas, and Samaritan's Purse provides partial grants for qualified individuals.
World Medical Mission also has limited opportunities for volunteer nurses and for other medical personnel in some settings overseas. Biomedical personnel can help refurbish equipment at our Boone, North Carolina, warehouse and also travel overseas to assist and train mission hospital staff in setup, repair, and utilization of medical equipment.
Please call World Medical Mission at (828) 262-1980 if you have any further questions regarding our volunteer opportunities.