Grieving residents of Paradise, California, are looking to the future as they experience the love of God's people.
The deadliest wildfire in California history, the "Camp Fire," roared through Butte County and the town of Paradise in early November. The fire destroyed more than 14,000 homes and over 150,000 acres in this area of northern California. At least 85 people died.
Harrowing stories of escape and tragedy still bring people to tears, but God is writing a new story in the midst of these difficult weeks and months.
Samaritan's Purse volunteers have been responding to hurting communities since the fires were contained in late November. Coming alongside these grieving residents in Jesus' Name, our teams are helping them sift through the ashes and salvage valuables and keepsakes not destroyed by the fire.
During a recent visit to affected areas, Samaritan's Purse president Franklin Graham surveyed the destructive path of the fire.
"This was somebody's hopes, their dreams, and it's gone. People didn't even have time to run back to get something," he remarked, noting how quickly the fire consumed homes. "It's going to take a long time for this place to come back, but we're going to be in the community for months to come."
Local churches also have been faithfully serving their communities in Paradise, Chico, and other areas. A number of members of Paradise Alliance Church, our base of operations, have served with our volunteer teams—even though they're recovering from their own losses.
Since the beginning of our response more than 1,100 volunteers have joined our relief efforts. We've received more than 2,000 requests for assistance, and our volunteers have helped more than 400 homeowners. We praise God that 74 people have received Jesus Christ as Lord and Savior. (Totals as of Jan. 19)
"We've been blessed by people from all over the world that are reaching out," said Paradise homeowner Eric Murray. "It's been overwhelming and quite humbling."
If you're interested in volunteering, see our opportunities listed here.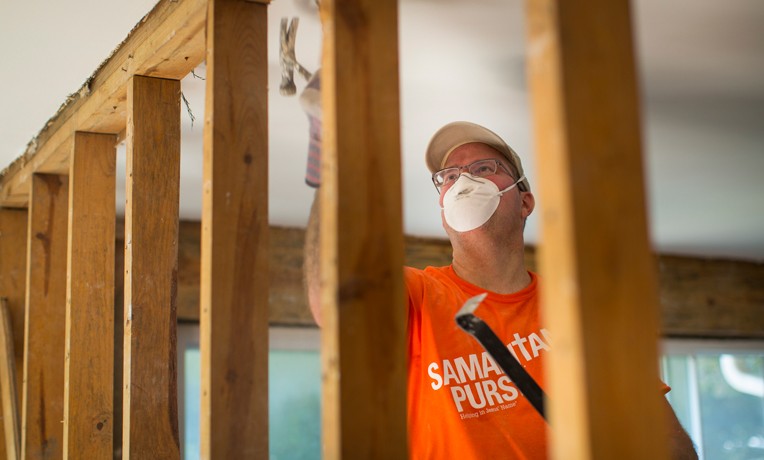 U.S. Disaster Relief
Samaritan's Purse mobilizes and equips thousands of volunteers to provide emergency aid to U.S. victims of wildfires, floods, tornadoes, hurricanes, and other natural disasters. In the aftermath of major storms, we often stay behind to rebuild houses for people with nowhere else to turn for help.
---
U.S. Disaster Relief 013622