Samaritan's Purse remains connected and committed to wounded combat veterans and their families.
One evening this summer, Steve Hammond felt he was hitting an emotional wall. He started to panic. He needed help. He knew it. And he was thankful he also knew someone he could call to deal with the darkness that was closing in.
On the other end of the line was Patrick "Pat" Fleming with the aftercare ministry of Operation Heal Our Patriots, a project of Samaritan's Purse serving wounded combat veterans and their spouses. Pat had been biking when his phone rang. He stopped, took the call, and, for the next 45 minutes, ministered to Steve.
"It helps me to know I have somebody I can call who's going to answer and is going to provide sound advice," Steve said.
Steve and his wife, Lisa, had attended our weeklong marriage enrichment experience in 2015 in the pristine Alaska wilderness. Steve was a staff sergeant in the U.S. Army serving in Iraq when he was injured in 2009. Today he and Lisa are one of the nearly 700 couples we're providing with vital follow-up care.
"What's encouraging to me is that this Aftercare outreach is so far beyond any capability that I might have," Pat explained. "Every day we get to see God work, and He keeps amazing us. That's where I want to be."
Vital Lifeline
While the 16-week Operation Heal Our Patriots summer season at Samaritan Lodge Alaska marks the start of our engagement with military couples, our commitment to these families doesn't end there. The aftercare team is constantly connecting with the 686 couples who have participated since 2012. Through email correspondence, phone calls, Skype counseling sessions, and even the aftercare Facebook group, aftercare chaplains maintain an ongoing conversation that has served as a lifeline to many. We especially contact them on their birthdays, anniversaries, and on their "Alive Days"—the day they were injured in combat.
The "Fortify Your Marriage" retreats and Aftercare Regional Meetings have also given couples the chance to meet face-to-face with chaplains and also to make vital connections with other military couples.
One such Meeting was held Aug. 21 in Atlanta that included attending the Sunday morning service at the Jonson Ferry Baptist Church in nearby Marietta followed by lunch and an Atlanta Braves game.
"We are seeking to help ensure that Operation Heal Our Patriots is not just about Alaska, though that is such a huge life-changing week for many of our couples," said Greg Duvall, an aftercare chaplain. "Our hope is to keep that momentum and care and relationship going. And our ultimate goal is to get each couple settled in a home church and active and growing there, while at the same time we're able to encourage them in their faith and in their marriage."
Kenneth and Dawn Church certainly appreciate that ongoing spiritual dedication. Kenneth is a retired Army staff sergeant, who served in Iraq. He and his wife Dawn attended Operation Heal Our Patriots in 2014.
"If I get down or if there's something really bothering me, I'll get a phone call or a text from one of them, and it comes out of the blue," Kenneth said. "They sense God prompting them to contact me, and it always happens at the right time. That's God!"
Caring for the Whole Family
Ministry to the spouses is also an important facet of the aftercare outreach.
Tracy Jacobs deeply valued the compassion showed to her when her mother was diagnosed earlier this year with Stage 4 breast cancer. Tracy's husband, Michael, served as a sergeant in the United States Marine Corps in Iraq and also in Afghanistan, where he was injured in 2010 in Helmand Province. The couple attended Operation Heal Our Patriots in 2014.
"I reached out to them because I knew they were there and cared," Tracy said. "When my mother passed away in April, they helped me so much."
Ashley Owens is also grateful for how we celebrated the birth of her son this year. Her husband, Anthony, served two deployments as corporal with the U.S. Marine Corps. They were in Alaska in 2014.
"We received a book of Bible verses to meditate on," she said. "That was so special. On a deeper level, when we have a difficulty, they help us work through it in a Christ-like way, instead of leaving us to work through it on our own without God."
We're also sensitive to the needs of the children of our Operation Heal Our Patriots couples. The Friday before the Atlanta Aftercare Regional Meeting, Pastor Pat, as he's affectionately known, and his wife, Karen, enjoyed leading a Bible study at the home of Vince and Nicole Aguilar.
They were in Alaska for Operation Heal Our Patriots in 2013. During that study, Vince and Nicole's daughter Savannah asked a lot of questions about what it means to be saved. Pat listened and shared what the Bible says about trusting Jesus Christ as Savior and placing one's faith in Him. She and her brother, Christian, prayed to receive Jesus that night.
"It was really powerful seeing God move in their lives," Pat said.
Certainly the praise that exudes from the Apostle Paul in Ephesians 3:20-21 resonates with Pat here: "Now to Him who is able to do exceedingly abundantly above all that we ask or think, according to the power that works in us, to Him be glory in the church by Christ Jesus to all generations, forever and ever, Amen" (NKJV).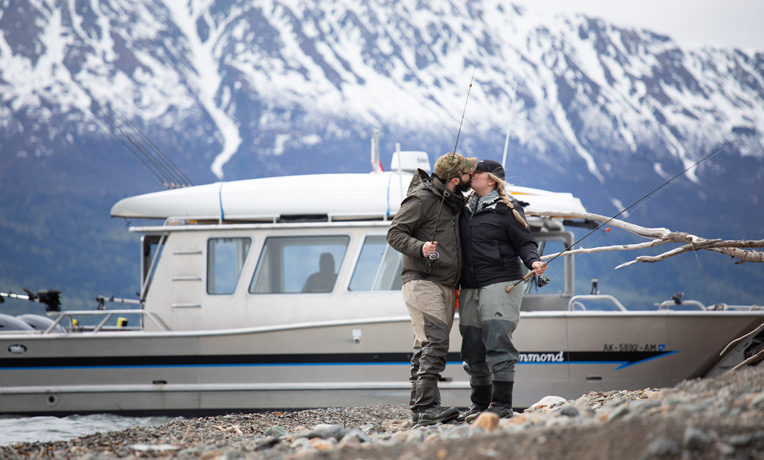 Bless the Marriage of a Military Couple
Operation Heal Our Patriots helps military couples build a strong spiritual foundation during a week of Biblically based workshops, relationship-building wilderness activities, and individual care by our retired military chaplains. We offer all this free of charge to these American heroes as a token of our appreciation for their service and sacrifice. Your gift will help us cover the costs—including transportation, lodging, activities, and long-term Family Care—so that we can help them find hope in the Lord.
---
Operation Heal Our Patriots 013960
Suggested Gift: $60