We praise God that many lives were changed and many marriages were transformed during the 2018 Operation Heal Our Patriots summer season at Samaritan Lodge Alaska.
Army Specialist Shawna Watkins and Army Sergeant Jesse Watkins started dating after serving on combat deployments in Afghanistan. They'd been on the same mission together in 2011 when their convoy was struck by an improvised explosive device, and Shawna was sent flying from atop her vehicle's gun turret.
Next thing she knew she was in a hospital in Germany recovering from leg and knee surgery.
After healing, the relationship continued to blossom, and Shawna and Jesse married in October 2013. However, they ran into trouble quickly. It was the invisible injuries—Post Traumatic Stress Disorder (PTSD)—they had both experienced during their deployments that made them consider the "D word"—divorce.
"When we first got married, he would get angry and he would hit things and I would just shut down," Shawna said. "We didn't really know why that would happen. We didn't really relate it to what happened overseas. We just thought we were these angry, closed-off people.
"Divorce had come up multiple times. We were in a dark place."
By God's grace, Shawna and Jesse stayed together despite their intense struggles over the past five years. They wish they'd had a program like Operation Heal Our Patriots back then when things were so grim.
"Jesse and I thought we were the only ones that fight," Shawna said.
Not Alone
When Shawna and Jesse came to Samaritan Lodge Alaska this summer for a week of Biblically-based marriage enrichment they discovered they were far from alone in their struggles. Every year more than 150 combat-wounded veterans and their spouses come to Samaritan Lodge, many of them with suffering marriages.
Since 2012, God has been faithful each year to transform lives and marriages through the healing power of the Gospel of Jesus Christ. Hundreds have made decisions for the Lord and recommitted their marriages to Him.
We praise God that during the 2018 season, 70 individuals received Jesus Christ as Lord and Savior, 35 rededicated themselves to following Him, 88 were baptized, and 83 couples publicly renewed their marriage vows.
Jesse was one of those this year who was saved by God's grace. He placed his faith and trust in Jesus Christ and was also baptized in Lake Clark.
"It was groundbreaking. Just absolutely groundbreaking. It led me to accepting the Lord," Jesse said. "I learned you can repent and you can be forgiven and the first step is asking to be saved and asking for that forgiveness."
Last week (Sept. 9-15) at Samaritan Lodge marked the last week of the 2018 Operation Heal Our Patriots summer season—16 weeks of watching God change lives and transform military marriages. Ten couples from the Canadian military were our final guests this year.
We will be taking applications for the 2019 season starting February 1, 2019. Visit here to apply.
Please continue to pray for current and future couples who will participate in Operation Heal Our Patriots that they would experience the life-changing power of the Gospel.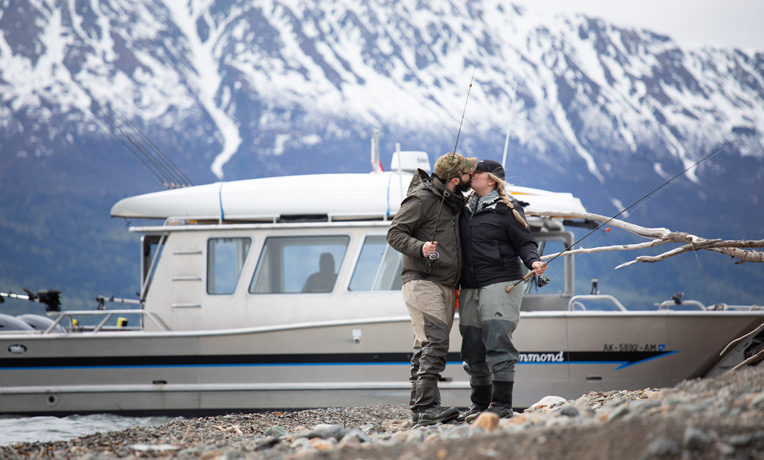 Bless the Marriage of a Military Couple
Operation Heal Our Patriots helps military couples build a strong spiritual foundation during a week of Biblically based workshops, relationship-building wilderness activities, and individual care by our retired military chaplains. We offer all this free of charge to these American heroes as a token of our appreciation for their service and sacrifice. Your gift will help us cover the costs—including transportation, lodging, activities, and long-term Family Care—so that we can help them find hope in the Lord.
---
Operation Heal Our Patriots 013960
Suggested Gift: $60