A professional landscaper volunteering with Samaritan's Purse to help tornado victims in Mississippi uses his talents to glorify God
Sitting high in a tree, often with chainsaw in hand, Shannon Derouen has a unique skill that he says he's blessed to share with disaster victims.
Donate
As a professional landscaper and a recreational climber, Derouen has learned how to spot damaged and potentially dangerous trees from a mile away.
While many trees are toppled during disasters like hurricanes and tornadoes, others can go unnoticed despite having damaged root systems that could potentially cause a hazardous fall later on. Derouen's job is to spot those trees and safely fell them before another storm can, avoiding unnecessary hardship for already stressed victims.
"I give God credit for giving me these talents to climb and to see these scenarios," he said. "To use that for the kingdom of God is amazing. I love it."

Derouen' a business owner from Memphis, began volunteering with Samaritan's Purse when we responded to the massive tornado that devastated Joplin, Missouri, two years ago. Since then, he's deployed with us 15 times. He is currently serving with our teams responding to a tornado in Petal, Mississippi, having just finished volunteering in Calhoun, Georgia.
The flexibility of owning his own business allows him to be able to pick up and leave whenever a need arises—even if it isn't always financially feasible.
Derouen felt called to go to New Jersey after Hurricane Irene, but he hesitated because he couldn't afford the 18-hour trip.
"It didn't fit the budget at all," he said. "(But God) called me to go, not for it to be convenient. People supported the trip and the finances came through. Faith provision is awesome."
What's especially unique about Derouen's service is that he's volunteering with the same skills he uses in his day-to-day professional life. However, he says that working for a paycheck and working for God and the betterment of others is an entirely different feeling.
"Working for your pay check is something you have to do," he said. "But here, I get to do it for free. It makes a difference. There's joy.
But more than joy, serving as a tree climber during disaster relief efforts gives Derouen perspective.
He describes the whole experience as humbling. From looking down on all of the other volunteers as he works high above them in the limbs of a potentially dangerous tree to making a connection between his faith in his safety rope to how his faith in Christ also supports him, he says it all culminates in an experience he wouldn't trade for the world.
"It gives me a unique perspective. It is humbling," he said. "To be the church, to feel needed, and to be an integral part is life-changing."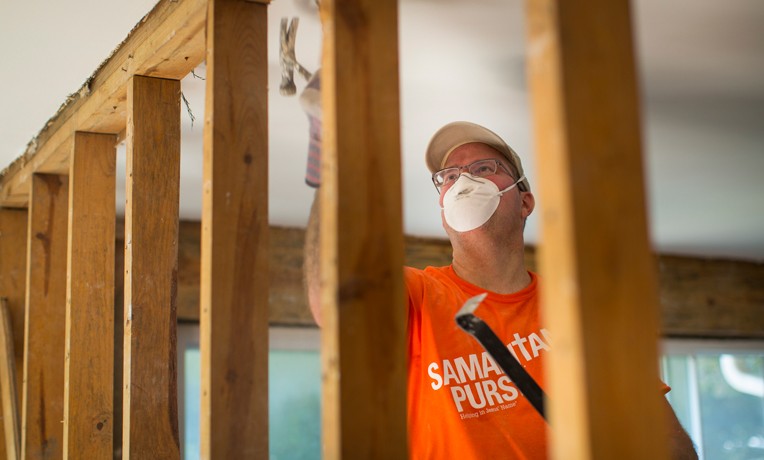 U.S. Disaster Relief
Samaritan's Purse mobilizes and equips thousands of volunteers to provide emergency aid to U.S. victims of wildfires, floods, tornadoes, hurricanes, and other natural disasters. In the aftermath of major storms, we often stay behind to rebuild houses for people with nowhere else to turn for help.
---
U.S. Disaster Relief 013622