Samaritan's Purse is responding to horrible storms in Kentucky and Arkansas. Volunteers are urgently needed. Please pray for all whose lives have been turned upside down by these events.
U.S. Disaster Relief
013622
An unprecedented swarm of deadly nighttime tornadoes tore through several states from Friday into Saturday leaving a long trail of death and destruction. Search-and-rescue efforts continue; more than 100 are feared dead.
States across the heartland of the country were battered by at least 50 tornadoes. The worst damage and highest death toll occurred across western Kentucky. Gov. Andy Beshear called the storms "the most severe tornado event" in his state's history. The city of Mayfield, with a population of 10,000 in Graves County, had its downtown flattened.
Samaritan's Purse has deployed team members, vehicles, and resources to help those whose lives have been turned upside down. Two Disaster Response Units—tractor trailers loaded with equipment and supplies—are now on the ground in hard-hit areas. One is in northeastern Arkansas; the other is in Mayfield, Kentucky. A third DRU is heading to Bowling Green, Kentucky, today (Dec. 13).
Several staff members in both states are currently assessing damage and working with local officials, emergency management, and church partners to develop a strategic relief response in these hurting communities.
Many volunteers are urgently needed and can begin work soon. Our host church in Mayfield is the First Assembly of God, 111 North Sutton Lane. Overnight and day volunteers can start serving Tuesday, Dec. 14.
If you're interested in serving alongside us in Jesus' Name, please sign up to volunteer. (Right now you can register for opportunities in Mayfield, Kentucky; details for our two other sites are still being finalized, but should be announced today).
Also, we have additional partner churches fielding volunteer teams in multiple locations across the region, each utilizing smaller disaster relief vehicles provided by Samaritan's Purse on a standing basis.
Historic Devastation
This unusually violent, late fall outbreak of twisters is believed to be the deadliest U.S. tornado event ever recorded for December, surpassing storms that killed 38 people in Mississippi on Dec. 5, 1953.
One of the Dec. 10-11 tornadoes, known as the "quad-state tornado," formed in Arkansas, crossed parts of Tennessee and Missouri, and then ripped across southwestern Kentucky. This storm, (which may actually have been a cluster of closely aligned tornadoes rather than a single one), left a trail of destruction more than 200 miles long, perhaps the longest twister track ever documented in the United States.
Please pray for emergency responders and ongoing search efforts; for the many people affected by these storms as they grieve and recover; for Samaritan's Purse staff members as they assess the situation and begin to serve the hurting in Jesus' Name.
Note: This story was originally published on Dec. 11 and has been updated through Dec. 13.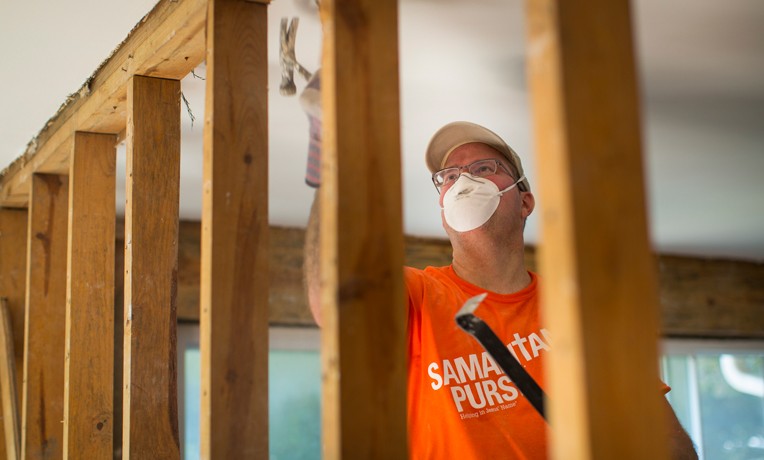 U.S. Disaster Relief
Samaritan's Purse mobilizes and equips thousands of volunteers to provide emergency aid to U.S. victims of wildfires, floods, tornadoes, hurricanes, and other natural disasters. In the aftermath of major storms, we often stay behind to rebuild houses for people with nowhere else to turn for help.
---
U.S. Disaster Relief 013622