Marine Master Sergeant Al Aranda and his wife LeeAnn came to Samaritan Lodge with wounds both physical and spiritual. Praise God they experienced the healing power of the Gospel and received Jesus as Lord and Savior.
Marine Master Sergeant Al Aranda entered a Marine recruiting office as a young man trying to make a better life for himself and to become a good example to the family he might have one day. Now more than 21 years later, after two combat deployments and three years as a Marine Corps drill instructor, Al and his wife LeeAnn are starting to build a new life.
About nine months ago Al was medically retired from the Marine Corps. Then, just this month, the couple prayed to receive Jesus Christ as their Lord and Savior and were baptized at Samaritan Lodge. They also renewed their marriage commitment to each other and to God.
"For 21 years our lives have been wrapped around me and the Marine Corps," Al said.
But what happened to them in Alaska has now given the Arandas a new perspective on their marriage, their family, and, most important, their relationship with God.
A Call at Just the Right Time
It wasn't until July 5 that they received a call inviting them to attend the Operation Heal Our Patriots summer season. Al says when the call came he was alone at home and in a bad place emotionally. His post-traumatic stress disorder (PTSD) has at times led him down a dark path. He said the phone call came at just the right time.
"You're talking to a 21-year veteran and a lot of things compile into what I'm dealing with today," he said.
When Al and LeeAnn came to Alaska, they brought all their questions, doubt, and deep hurt with them. Soon after arriving at Samaritan Lodge Alaska they sought out help from our retired military chaplains.
"I rattled off all the therapy, all the pills, and all the ways I've tried to help myself try to figure out how to handle life," Al said. "[Chaplain Jim Fisher] looked at me and he said 'Have you ever tried God?' That hit me hard."
Al and LeeAnn would not have described themselves as religious people. They'd not been to church in decades. They really rarely thought about God. And Al says things probably would have continued this way had the couple not come to Alaska through Operation Heal Our Patriots.
"We decided to give our lives to Jesus," Al said. "And it would not have happened if we were not there."
Kindness Leads to Changed Lives
From the very beginning of their time at Samaritan Lodge, the Arandas were struck by how much emphasis was placed on them as a couple—husband and wife—rather than as veteran and caregiver.
"I was overwhelmed by the amount of love we felt from everyone there," LeeAnn said. "It was so important to be around people who understand the emotional scarring we've endured."
In many profound ways, coming to Alaska allowed the couple to leave their past behind and find a fresh start. Al recalls feeling like everything taught and talked about in Alaska was directed right at him and his situation. God was talking directly to his heart.
"The whole week I felt like I was the only one in the room when the chaplains were teaching. And it wasn't about my past or my history or whatever got me to this point," Al said. "I really feel like it's a new beginning and that I can actually be at peace with everything and so can move forward."
Al says he's started reading his Bible and sharing verses with his children. Soon the couple hopes to begin attending church services, something they haven't done in a long time.
"We were brought to Alaska for a reason," Al said. "We needed a solid foundation and a solid start and that's what we've experienced."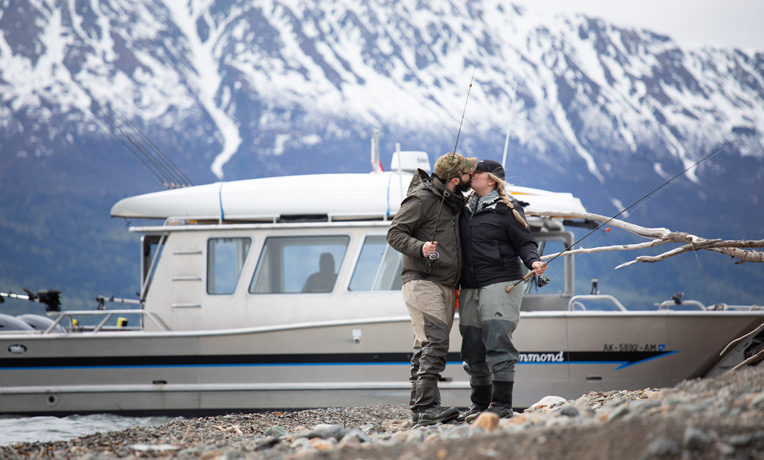 Bless the Marriage of a Military Couple
Operation Heal Our Patriots helps military couples build a strong spiritual foundation during a week of Biblically based workshops, relationship-building wilderness activities, and individual care by our retired military chaplains. We offer all this free of charge to these American heroes as a token of our appreciation for their service and sacrifice. Your gift will help us cover the costs—including transportation, lodging, activities, and long-term Family Care—so that we can help them find hope in the Lord.
---
Operation Heal Our Patriots 013960
Suggested Gift: $60