After undergoing heart surgery in the Cayman Islands through Children's Heart Project, Fatima and her 2-year-old daughter, Maria, can live a normal life with hope and purpose.
Save a Child's Life
013687
A young Bolivian mother was introduced to Children's Heart Project, a medical ministry of Samaritan's Purse, when her young daughter was in critical need of medical attention. Fatima Ramos Cardozo and her daughter, Maria, suffer from the same heart disease: atrial septal defect, a heart defect in which there is a hole in the heart's wall that separates the upper chambers. Through the meticulous care of doctors who partner with Samaritan's Purse, Fatima and her 2-year-old daughter live with hope for the first time.
"I feel happy and thankful that my daughter will not have to live like I had to," Fatima said, reflecting on the surgery. "It's like a weight that has been lifted from me."
Originally only intending to screen Maria, the Samaritan's Purse staff in Bolivia quickly realized that Fatima desperately needed surgery as well. Since she is still under the age of 18, Fatima qualified for heart surgery with Children's Heart Project alongside her young daughter at Health City in the Cayman Islands.
Chief Surgeon Dr. Binoy Chattuparambil operated on Fatima and Maria the same day. After successful surgeries, the mother and daughter no longer have to live in fear and doubt but can thank God for the heart pumping in their chests.
Fatima and her mother, Pura, both also accepted Jesus Christ as their personal Savior, healing their hearts for eternity.
"The power of God exists," Pura said with tears in her eyes. "I want to give thanks to Him, always to Him first."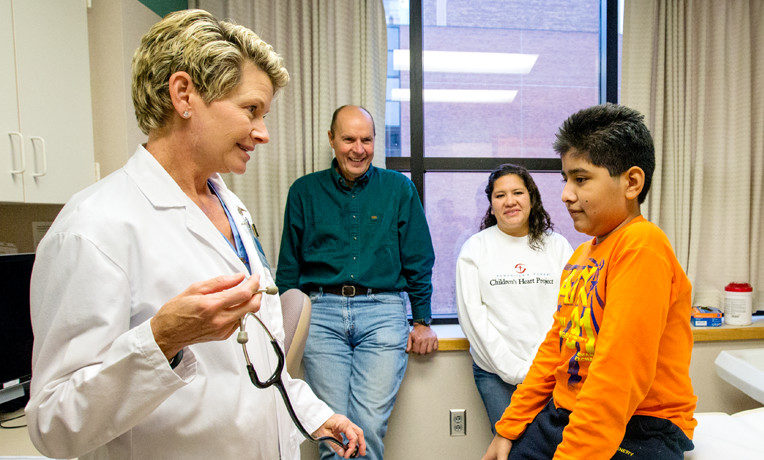 Save a Child's Life
About one out of every 100 babies has a heart defect that surgeons can routinely repair. Unfortunately, many of them are born in poor or remote places where their families cannot access the cardiac care they urgently need. Through our Children's Heart Project, Samaritan's Purse transports boys and girls from places like Bolivia, Mongolia, and Uganda to hospitals in North America. Doctors, hospitals, and host families and churches donate their time and services, but airfare is a major cost—typically $2,200 per person for international flights. For $50, you can share in this cost so that we can offer life-saving surgery and the unsurpassed hope of Jesus Christ, "the way, the truth, and the life" (John 14:6).
---
Children's Heart Project 013687
Suggested Gift: $2,200 | Share the Cost: $50