A boy's life is saved, and a Ugandan village steeped in witchcraft is transformed by the Gospel.
Save a Child's Life
013687
Victor loved the metal walker that his father, Richard, had crafted for him. It gave the 18-month-old the freedom and mobility that he otherwise wouldn't have had to explore his thatched roof home and the surroundings of his Ugandan village. Richard had used what was available to piece the walker together, including bottle caps as makeshift washers to keep the wheels attached to the frame.
The walker eased the strain on Victor's little body when he got winded from overexertion, providing something to lean on for support. He experienced labored breathing and a persistent cough.
Victor was so frequently ill that villagers suspected that he was being tortured by an evil spirit. They believed that his ailments were a punishment that could only be appeased by one of the 20 witch doctors that abound in the village.
Searching for Answers
The family was the keeper of an ancestral shrine that Richard was in line to inherit. Desperate to try anything to help their son, he and his wife, Margret, gave Victor local herbs they believed could heal him. But Victor's condition only got worse, so they took him to the nearest hospital where the boy was diagnosed with a heart defect.
Victor's doctor sent him to the Uganda Heart Institute for further evaluation. Confirming a congenital heart defect, the institute referred the family to our Children's Heart Project for pediatric cardiac surgery that isn't available in Uganda.
Victor's condition only got worse, so they took him to the nearest hospital where the boy was diagnosed with a heart defect.
When our medical staff screened Victor, his parents were torn by a mix of emotions. They were overjoyed that Victor's condition needn't be a death sentence but skeptical that they wouldn't owe a fee. But when our project team visited the family and explained that our Children's Heart Project is funded by financial donations and volunteered services, they were encouraged and relieved.
Our staff also shared stories of children who are thriving after receiving life-saving surgery through Children's Heart Project. Most importantly, they shared the Gospel, and Victor's mother and grandmother accepted Jesus as Savior.
Through our Children's Heart Project, we brought Victor, his aunt, and an interpreter to Grand Cayman, where he would have surgery at one of our partner hospitals. Their Christian hosts welcomed them with open arms and surrounded them with love during Victor's recovery.
Drawn to the Gospel
After a successful operation, Victor and his aunt returned to their Ugandan village in the summer of 2019. Word quickly spread that the little boy was walking with ease and breathing without difficulty. This drew crowds from surrounding areas to witness the change in Victor.
When the family told them that it was God who had healed the boy— not any spell or potion—the people wanted to know more about Him. Each time members of our Ugandan staff visited the village to follow up with the family, more people from the village came to meet them and hear the Gospel.
During one of these follow-up visits, Victor's aunt and his father gave their hearts to the Lord. Another time, 11 children prayed to receive Christ after the team shared Bible stories about how much Jesus loves them. The number of new believers in Victor's village continued to increase, meeting regularly to study God's Word. A pastor who moved to the area a few years ago stepped up to shepherd the congregation.
Now, there are 70 regular attendees at the church. Thirty-eight people have placed their faith in Christ and are being discipled.
"What a blessing it is to be saved and be loved by God!" declared Richard, Victor's father. He and Margret no longer use their ancestral shrine, grateful to have broken the cycle that has gone back generations. "We are contented in Christ Jesus, and we do not need any other god," he said.
The new congregation meets in the couple's yard under a roofed, open-air structure. Attendance has grown so much that they ran out of chairs, so some sit on the ground or bring chairs from home. Church members use an empty, plastic jerrycan as a drum and a locally made shaker to praise the Lord. On weekdays, several of the congregants collect dry grass and clay to form bricks that will one day make up the walls of their church building.
The witch doctors in the village are not pleased to see people turning to Christ instead of coming to them for help, but the new believers are becoming strong in their faith in Jesus as the One, True God.
"The Gospel gives us hope, healing, peace, and unity," said Jaspa, pastor of the new church. "It is a privilege to be in the family of God."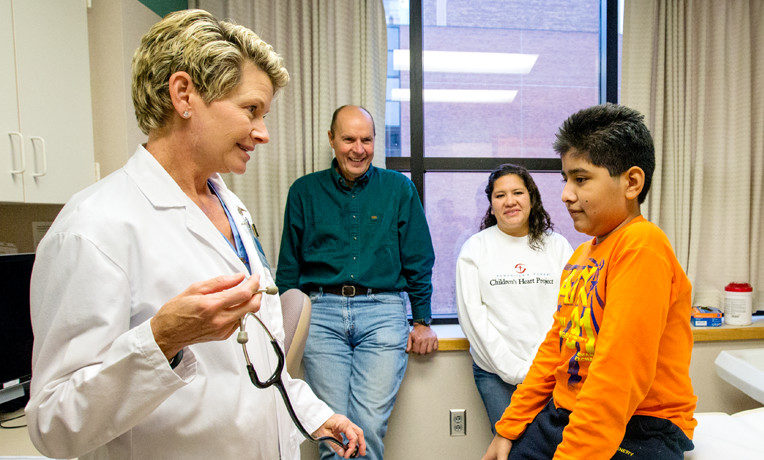 Save a Child's Life
About one out of every 100 babies has a heart defect that surgeons can routinely repair. Unfortunately, many of them are born in poor or remote places where their families cannot access the cardiac care they urgently need. Through our Children's Heart Project, Samaritan's Purse transports boys and girls from places like Bolivia, Mongolia, and Uganda to hospitals in North America. Doctors, hospitals, and host families and churches donate their time and services, but airfare is a major cost—typically $2,200 per person for international flights. For $50, you can share in this cost so that we can offer life-saving surgery and the unsurpassed hope of Jesus Christ, "the way, the truth, and the life" (John 14:6).
---
Children's Heart Project 013687
Suggested Gift: $2,200 | Share the Cost: $50