Beloved Samaritan's Purse chef, whose food and testimony were his ministry, is now with his Lord. He died Wednesday in Alaska.
What better way to describe chef Jean-Claude Mille than with a phrase from his native France: joie de vivre. He loved to joke; he loved to smile; he loved food; he loved life. Most important, he loved the Lord Jesus Christ.
He was an immediately unforgettable friend and coworker whose passion for the Lord was clear even through an endearing French accent. He often said God had given him a ministry through food, and it is likely many waistlines can attest to the richness of his culinary skills.
"Jean-Claude faithfully served the Lord through Samaritan's Purse, the Billy Graham Evangelistic Association, and The Cove for many years," said the ministries' President Franklin Graham. "He was a strong witness for the Gospel everywhere he went—in Haiti, in Alaska among our wounded veterans and their spouses, and around the world."
Born near Bordeaux, he moved to the United States at age 22. After a tumultuous early adulthood in which he achieved worldly success, addiction to drugs and alcohol landed him on the streets at age 50. He was planning to commit suicide but his life began to change while sitting in a church parking lot.
"I was crying and I hear Jesus talk to me, 'Come, come the way you are, because I love you.' That day the seed was planted," he said in a recent interview.
Not long after that experience, he surrendered his life to Christ. God saved him on May 22, 1995.
Worldwide Witness
In 2004, he came to work as the executive chef for The Billy Graham Training Center at The Cove. After the massive earthquake in January 2010, Jean-Claude went to Haiti to minister there as a chaplain and chef. He later retired from The Cove in 2011.
"His infectious enthusiasm and grin brought light into many lives."
In 2012, Jean-Claude joined the Samaritan's Purse family and became the chef at Samaritan Lodge Alaska, where he ministered to wounded veterans and their spouses in our Operation Heal Our Patriots program. Each week he shared with participants the mercies God had shown him in his life. He also prepared the meals at our annual reunions for patriot couples.
"Jean-Claude was a character in the best sense of the word. His infectious enthusiasm and grin brought light into many lives," said retired Marine Brigadier General Jim Walker, the executive director of Operation Heal Our Patriots. "I called him the 'Minister of Food' because of the way he used his culinary abilities as a ministry tool. His impact on wounded veterans at OHOP was just amazing. Frankly, I wasn't sure the veterans would easily connect with a French Chef but Jean-Claude easily bridged all cultural gaps. He cooked the first meal for OHOP couples in June 2012 and ministered to over 500 couples at OHOP since. I was privileged to count him as a friend and miss him greatly."
In addition to his work through OHOP, Jean-Claude traveled the world with Samaritan's Purse, training field staff in food preparation, sharing his special recipes, and giving his personal testimony. He held a special place in his heart for the children of Haiti and especially enjoyed helping there with our Greta Home and Academy. Named in honor of journalist and television personality Greta Van Susteren for her work in highlighting the cholera outbreak in Haiti in late 2010, the Greta Home and Academy is a Christ-centered school and residential facility where 70 Haitian children are growing up in a loving environment.
Greta Van Susteren recently offered a touching tribute to Jean-Claude Mille during the "Off the Record" portion of her On the Record program:
Tonight's 'Off the Record' commentary is dedicated to my dear friend Jean-Claude Mille. It's so tough when the really good guys die. Samaritan's Purse Franklin Graham Operation Heal Our Patriots

Posted by Greta Van Susteren on Tuesday, September 8, 2015
Navy Petty Officer Third Class Brandy Wollney, who attended Week 9 of Operation Heal Our Patriots in Alaska this summer with her husband Navy Chief Petty Officer Tom Wollney, wrote a poignant remembrance of Jean-Claude on her Facebook page. Tom was injured in support of Operation Iraqi Freedom.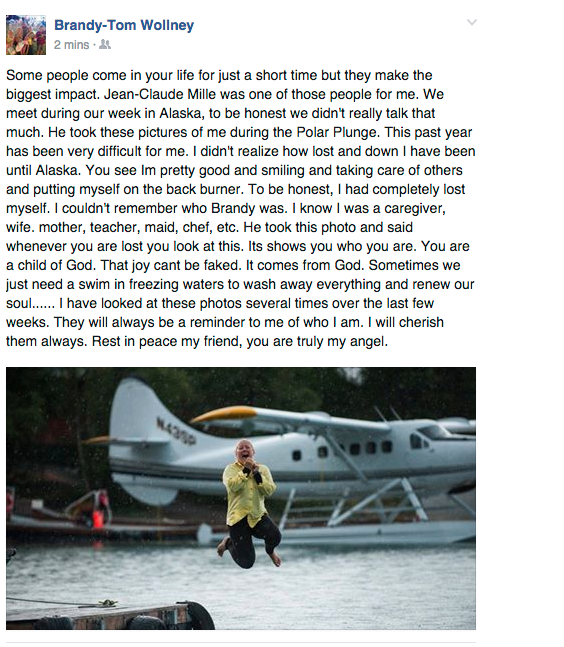 As a lover of photography and food, a dear coworker and friend, and, most important, a brother in Christ, Jean-Claude will be missed by those of us left behind.
"But I do not want you to be ignorant, brethren, concerning those who have fallen asleep, lest you sorrow as others who have no hope. For if we believe that Jesus died and rose again, even so God will bring with Him those who sleep in Jesus." 1 Thessalonians 4:13–14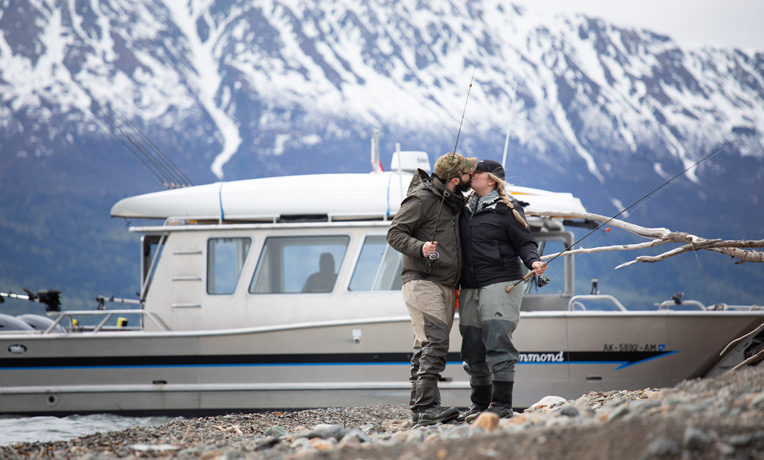 Bless the Marriage of a Military Couple
Operation Heal Our Patriots helps military couples build a strong spiritual foundation during a week of Biblically based workshops, relationship-building wilderness activities, and individual care by our retired military chaplains. We offer all this free of charge to these American heroes as a token of our appreciation for their service and sacrifice. Your gift will help us cover the costs—including transportation, lodging, activities, and long-term Family Care—so that we can help them find hope in the Lord.
---
Operation Heal Our Patriots 013960
Suggested Gift: $60